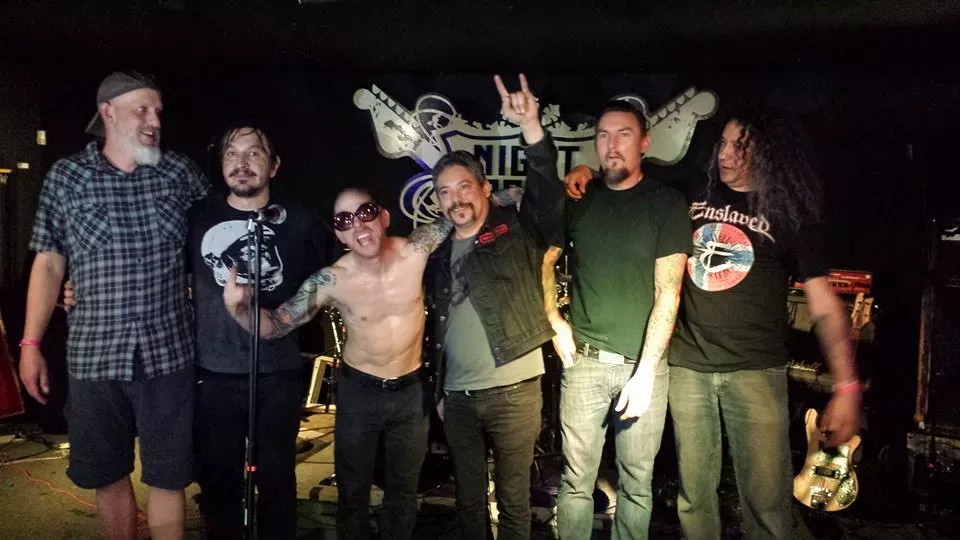 Roland Fuentes (fourth from left) with World Bizarre, the band that gave him his "Nightrocker" nickname (photo by Bell Solloa)
World Bizarre reunited last night for the first time in 20 years to bid farewell to Nightrocker:Live, the nightclub on San Pedro Avenue that closed its doors. The last song they played around 1:45 a.m. on Sunday, was wrapped in symbolism: it  featured the band that gave Nightrocker owner Roland Fuentes its "Nightrocker" nickname and, 43 seconds into it, power was lost for a few seconds, leaving the club in complete darkness.
"We met [Fuentes around 1990] through [bassist] Wamplers' girlfriend, as they both worked at KSYM," World Bizarre singer Andy Beres told the Current (Wamplers is currently the bassist for San Francisco band HeWhoCannotBeNamed). "We'd play gigs at Alfred's on Blanco Rd. and [Fuentes] would come hang out... He was really into the band. However, we could never remember his name, all we could recall was his late night metal show on KSYM that he DJ'd, so we referred to him as 'the Nightrocker Dude.' Once we became buds the name just kind of stuck with him, then he took it up as his own. Soon he was running sound, helping book shows, getting us a showcase gig at SXSW that eventually led to a label deal with Belt Drive Records with local studio owner/producer Donnie Meals."
Even though Fuentes was visibly moved at the end of the night, he minimized the drama and stressed that he'll be back soon at a new location.
"What is there to say?" he said. "It's not the end, we're going on. 'Nuff said."