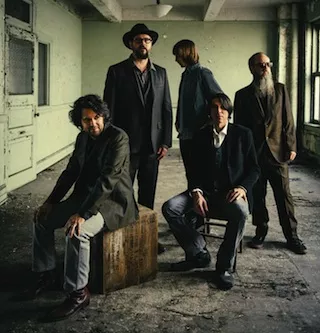 After nearly 20 years as a band, numerous line-up changes and a few less than impeccable offerings, Athens, Ga.'s Drive-By Truckers released English Oceans in March, one of their best albums to date. A return to the Truckers' gritty, southern-rock-laced alt-country, English Oceans just feels right. To be sure, the band is kinda doing what they've always done—lyrically rich and provoking songs that embrace the myriad untold stories populating the American night—but Oceans is a crystallization of former styles and ideas.
Hood Life: A Q&A with Drive-By Truckers' Patterson Hood 
Ahead of the five-piece's first proper SA show (the Truckers did play Floore's in Helotes back in 2006), the Current caught up with lead Trucker Patterson Hood over the phone to discuss the group's new approaches and reinvigorated sound, among other topics.
Regarding the band's first trip to San Antonio, Hood gushed that he's "excited to see Downtown because [he's] heard it's beautiful." You're damn right it is. Hood continued, "It's strange, San Antonio is like the biggest American city that we haven't played." We get that a lot.
Oceans, the clear focal point of Wednesday's show, works so well because the Truckers' line-up has gotten leaner since their last effort, slimmed down to a five-piece.
Hood told the Current that this "tightening up" has made for "extra breathing room musically," quickly adding, "I have to work harder too, and I like that."
But, more than any other Truckers album to date, Oceans is also a product of the hard work of longtime co-pilot and guitarist Mike Cooley. Cooley's six songs on the album represent the largest contribution he's made to any Truckers work. It is Cooley's input (especially "Primer Coat" and "Hearing Jimmy Loud") that anchors Oceans with some of its richest characterizations and imagery. When asked about Cooley's expanded role, it was obvious by Hood's answer that he thinks that Cooley's efforts helped cement one of the best Truckers releases in recent memory:
"I love it, because I love his songs. I probably personally have more fun playing his songs than mine. I enjoy my role in the band on those songs. I get to be more of a guitar player and I like singing harmony better than lead. We never did it in the past because he's never had enough songs to do that. By us taking off a little more time between records this time, it allowed him to really write some great ones. That might just be how we need to do it from now on."
As English Oceans shows, there's always room to try something new.
Drive-by Truckers featuring JD McPherson
$27-$32
7pm, Wed, April 30
Aztec Theatre
104 N St. Mary's
(210) 812-4355