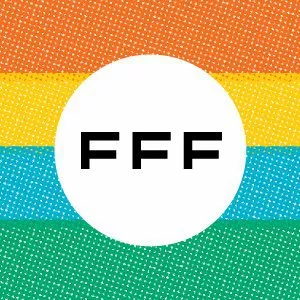 Fun Fun Fun's 2014 logo
The ninth annual Fun Fun Fun Fest announced its 2014 daily lineup, with tickets available for each individual evening of fun and fellowship. On their impeccably-designed schedule, Fun-goers can search by day and by stage to make their purchasing decision. With its wide booking policy and stages of black (punk/metal), orange (indie/rock) and blue (rap/electronic), Fun Fun Fun vibes all over the place.
With daily tickets at $85 and the weekend pass at $195, Fx3's experienced the usual price growth of a festival exploding in size and recognition. For the discerning shopper, here's our picks for the best day for each stage.
Black: Friday
"Breakin' the law, Breakin' the law"—with Judas Priest topping Friday night's bill, of course it's the banner day for the black stage. Joining the prestige of Birmingham's heaviest, Death from Above 1979 play Friday's penultimate set. Though they only released one album, '04's You're a Woman, I'm a Machine, Death from Above have become a cult classic, their drum and bass attack unmatched elsewhere.
https://www.youtube.com/watch?v=vb37ErN-_JU
Orange: Sunday
The band that launched a thousand college freshmen mixtapes, Neutral Milk Hotel have re-banded in the past couple years to sold out crowds around the US. Given that their club dates sell out about as fast as you can say "Anne Frank," the massive Orange stage offers a guaranteed listening, if not visual, experience. Also looking strong are Hoboken, N.J.'s old-ass, badass Yo La Tengo and S.F.'s Foxygen, whose live set notoriously sucked on their entrance in the touring circuit, but they're improving rapidly.
https://www.youtube.com/watch?v=SHIAupaYv08
Blue: It's a Wash
All three days are sick. Friday boasts federally-observed rap yeller 2 Chainz, the magnanimous Run the Jewels project of Killer Mike and El-P and multi-platinum R&B singer and Adult Chocolate Milk advocate Ginuwine. On Saturday, Nasty Nas is in the area, mashup master Girl Talk presses play and electronic pioneer Gary Numan does his "Cars" thing. On Sunday, some of rap's greatest producers are on display: Flying Lotus, Thundercat and Madlib, performing with Freddie Gibbs on their stellar Piñata collab.
https://www.youtube.com/watch?v=3hOZaTGnHU4