Friday, December 12
Voodoo Glow Skulls, Piñata Protest


El Valiente
EP. Like a lot of great punk works,
El Valiente
is under 20 minutes of speed and teeth-gritting guitar intensity. But unlike most punk, Piñata Protest integrates the two-step accordion rhythms of Norteño into their tunes, helping to land the SA four-piece on NPR's Austin 100—their playlist of the most anticipated acts at SXSW in 2014. With Mustard Plug, Dan PottHast.
$10, 7pm, The Korova, 107 E Martin, (210) 226-5070
—Matt Stieb

Saturday, December 13
Ghost Police (Tour Kickoff), The Grasshopper Lies Heavy, No Gods


Facebook
Ghost Police
On their 2013 self-titled LP, Ghost Police revved through radly named tunes like the hungry, spitting "Day of the Bacon" and the authoritarian anger of "North Korean Soap Opera." The Grasshopper Lies Heavy's recent
All Sadness, Grinning Into Flow
serves a master's class in long droning riffs, expansive textures and the importance of badass amps. On "The Mountie," No Gods pounds through powerful doom riffs.
$3, 9pm, Hi-Tones, 621 E Dewey, (210) 785-8777
—Matt Stieb

Saturday, December 13
'St. Sucia Zine' Release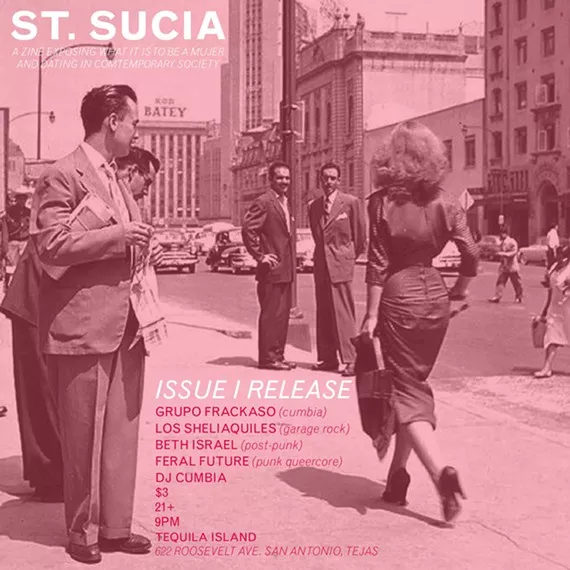 The
St. Sucia Zine
, exploring "what it is to be mujer and dating in contemporary society," celebrates its first publication with a sweet soundtrack. From Austin, Beth Israel's debut album
Dental Denial
lives in a state of minimum wage, bored between shifts at the strip mall. Dark, funny and 27 minutes short, it's like a visit to the corner store through the lens of a kaleidoscope stuck on the 'bad trip' filter. Los Sheilaquiles' punk fury is as enticing as the totopo dish from which they borrow their band name. Grupo Frackaso's self-described "cumbia thrash" is a whirlwind of dance grooves and psychedelic textures.
Haematic
, the debut album from Austin's Feral Future, is a ragged, queercore assault. With DJ Cumbia.
$3, 9pm, Tequila Island, 622 Roosevelt, (210) 532-4488
—Matt Stieb
Saturday, December 13
Doyle Bramhall II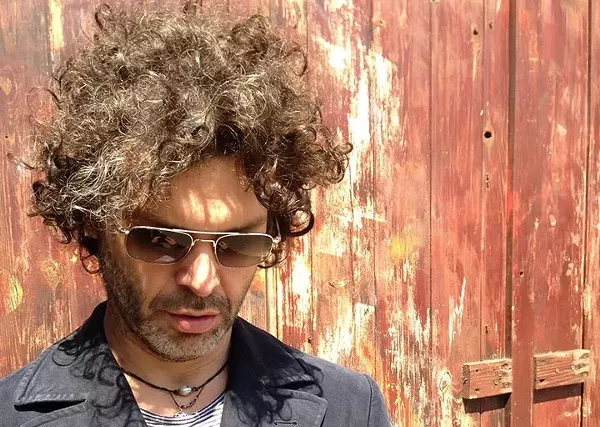 Facebook
Doyle Bramhall II
This Texas native has a nepotistic edge over his six-string competition—Bramhall's father played drums for Lightnin' Hopkins and Freddy King, and his childhood friends included Stevie Ray and Jimmie Vaughan. But with his left-handed bends on a right-handed guitar, the younger Bramhall has proved his own worth, playing with both Vaughans, Roger Waters, Eric Clapton and B.B. King.
$20-$70, 8:30pm, Sam's Burger Joint, 330 E Grayson, (210) 223-2830
—Matt Stieb




Saturday, December 13
Alamo Basement Sessions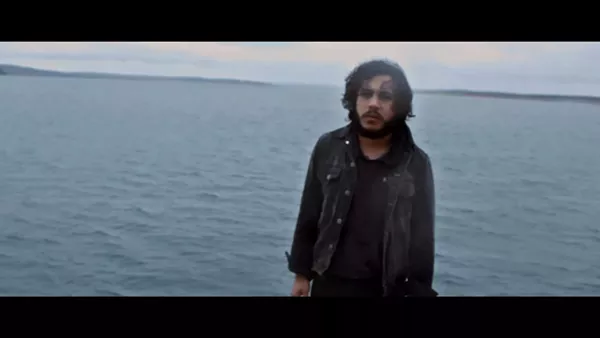 Facebook
You and I Underwater
The folks over at SATX Music have, with Alamo Music Center and others, cooked up a real doozy here. The Alamo Basement Sessions is a monthly music series featuring local acts in the basement of Alamo Music Center downtown. This inaugural incarnation will showcase the melancholy, spaced-out singer-songwriter styling of You and I Underwater and the experimental/progressive math rock of Televangelist. This unique pairing will make for an eclectic evening, which will be further improved by snacks and booze.
$10 suggested donation, 6:30pm,
Alamo Music Center
, 425 North Main, (210) 224-1010
—James Courtney


Saturday, December 13
This is Where Two Oceans Meet


Facebook
This is Where Two Oceans Meet
In a culmination of local artists, High Wire hosts an EP release party for former Cure for the Radio member Ted Martinez's new solo project This is Where Two Oceans Meet. Combining elements of soundscape and shoegaze, Martinez has cultivated a natural ambient sound with intricate guitar loops and digital samples. Additionally, the night includes cloud-inspired installations highlighting local designer Roxy Eguia's fashion line Rainbowstarchild. Hip-hop artist Chris Conde and ambient electronic project Trip the Light round out the bill and refreshments will be provided by Day of the Dead Beer.
Free, 8-11:30pm, High Wire Arts, 326 West Josephine, (210) 827-7652
—Erik Casarez