Thursday-Sunday, March 19-March 22
SouthXSouthtown


One positive side effect of all the SXSW spillover shows we see this time of year — aside from the influx of traveling bands — is that they get local bands playing more frequently, too. The SouthXSouthtown Concert Series features both traveling and local talent, and plenty of it (more than 30 acts in all). The four day affair will feature exciting locals like ska-punk act Kill Liberal and Chicano soul outfit Los Nahautlatos, as well as out-of-towners that include Mothercoat, Japan's answer to Radiohead, and Roz and the Rice Cakes, a lovable alternative pop act from Providence, RI.
$7-$20, Thursday 19, 3-11 pm, Friday 20, 3-11 pm and Saturday 21, 12-11 pm, 101, Southtown 101, Pereida, (210) 263-9880
— James Courtney

Thursday, March 19
Downtown Boys




Providence, Rhode Island sextet Downtown Boys channels the no wave scene of the '70s, with skronking horns, a churning rhythm section and a bilingual vocal affront. With Signalman, The Awols, Oh Kingdom, This Is The Life.
$3 for 21 and up, $4 for Minors, 10pm, Nesta. 122 Nogalitos, (210) 354-3399
— Matt Stieb

Thursday, March 19
Olmeca, Buyepongo, Lonely Horse

Brown Is Beautiful
cleverly blends hip-hop traditions with Afro-Cuban rhythms, whether a hybrid of cumbia and trap or chicano soul and backpack rhymes.
From Southern California, Buyepongo works in party-rocking combos of merengue, punta and cumbia. Singer and percussionist Edgar Modesto drives the cross-cultural display, with emotional energy in his voice and rhythmic blasts from his congo and guacharaca. On saxophonist, Angel Hernandez wanders outside the parameters of Afro-Cuban jazz, with fluttering, angry bee lines reminiscent of Jackie Mclean.
San Anto's Lonely Horse rounds out the genreless bill, with guitarist Nick Long's Native American roots informing the band's heavy desert rock.
$5, 10pm, Hi-Tones, 621 E. Dewey, (210) 785-8777
— Matt Stieb

Friday- Sunday, March 20-March 22
Petrushka


The San Antonio Symphony presents Igor Stravinsky's Petrushka, the Russian icon's interpretation of his country's folk tradition. In four scenes, the ballet burlesque tells the story of Petrushka, a a melancholy puppet that springs to life and yearns for love. With conductor Daniel Raiskin and pianist Alexei Volodin.
$20-$96, Friday 20, 8pm, Saturday 21, 8pm, Sunday 22, 3pm, Tobin Center, 100 Auditorium, (210) 223-8624
— Matt Stieb

Friday, March 20
Spurs Rock On Night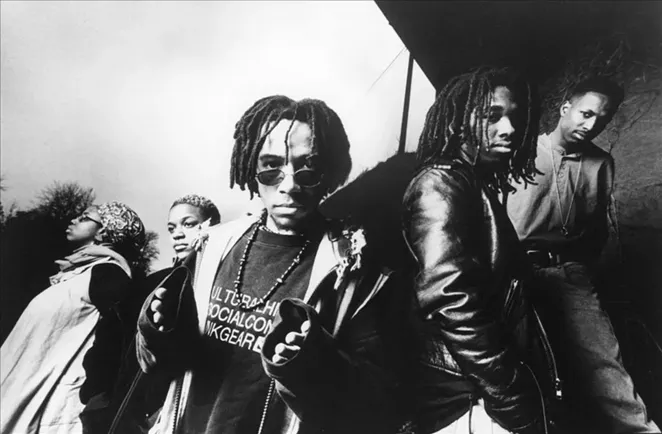 Courtesy
Arrested Development
Put on by Spurs forward Bonner's non-profit Rock On Foundation and the Spurs' Silver & Black Give Back program, the concert will take place before, during and after the Spurs game against the Celtics. Attendance is only available with a ticket to the game.The show begins at 5:30 p.m. in the Bud Light Courtyard, with a pre-game performance by Rochester rockers Joywave and Cambridge indie-pop outfit Dirty Bangs. At halftime, Vermont teen poppers The Snaz will perform in the courtyard. After the game, Arrested Development will bring Golden Era hip-hop to the fans of the AT&T Center. With their 1992 album
3 Years, 5 Months & 2 Days in the Life Of...,
the Atlanta rap collective dropped an album of party funk and positive energy. The four-times platinum album offered an answer to the performed violence of Death Row gangsta rap, while helping put Atlanta on the spot as a capitol of Southern rap.Throughout the game, Bonner's buddy and Arcade Fire frontman Win Butler will provide the house music, spinning as DJ Windows 98.
5:30pm, AT&T Center,1 AT&T Center, (210) 444-5000
— Matt Stieb

Friday, March 20
Shishio, The Freebies


From the surprisingly vibrant scene of Norman, Oklahoma, Shishio produces bizarre and shouty music, ranging from rock 'n' roll to ambient textures. The theme of repetition and droning rhythms holds together the wide array. On the Freebies self-titled 2014 EP, physicality dominates in both rock and noise forms. On the noise opener, "Masturbating in a Hostel (Is a Beautiful Thing)," guitarist Joseph Erik Montano begins with some dark, pedal-bent chords before opening up into a field of scratches and tense noise. With Selfies, Stefan Scott.
$5, 9pm, Nite Lite, 714 Fredrickesburg, (210) 254-4313
— Matt Stieb
Saturday, March 21
Buttercup, Michael J. and the Foxes


$10, 6:30pm, Alamo Music Center, 425 North Main, (210) 224-1010
— Matt Stieb

Saturday, March 21
Slim Thug


$20, 9pm, Alamo City Music Hall, 1305 E Houston
— Matt Stieb

Saturday, March 21
Zig Zags, The Oblios


$6,
9pm, K23 Gallery, 704 Fredericksburg, (210) 776-5635
— Matt Stieb


Sunday, March 22
Doc Watkins Trio

Unlike some jazz musicians whose claim to a doctorate is just a nickname (looking at you, Dr. Lonnie Smith) and others who have won honorary degrees (congrats, Sonny Rollins!), Brent 'Doc' Watkins has a doctorate in music from UT Austin. It's a degree he's put to good use, swinging viciously on his piano or Hammond B3 rig.
3pm, Esquire Tavern, 155 E Commerce, (210) 222-2521
— Matt Stieb