Linda Romero
Iceage melting the Paper Tiger main stage
The smell of fresh paint slowly gave way to beer, sweat and rain on the Friday opening of the Paper Tiger. The deep blue coat, blending well with the new house lights, was one of several new additions to the venue formerly known as The White Rabbit. Bitchin' new speakers, a second stage, $4 dollar Lone Stars and a strong creative vision were all on display for the first day of the Paper Tiger's free, three-day opening.
Spokesmodel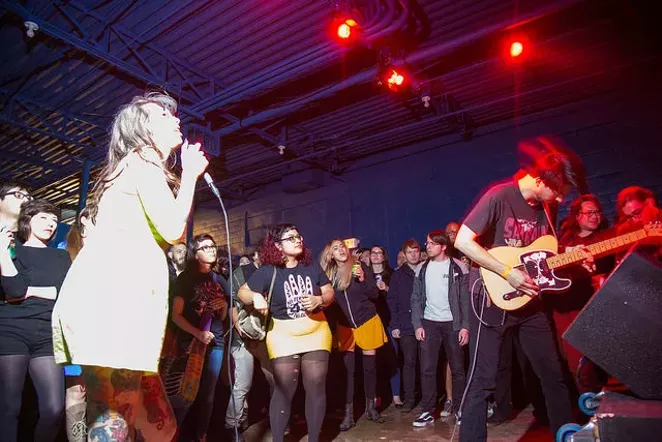 Linda Romero
San Antonio punk quartet Spokesmodel
A lot of inner ear nerves are going to die in the Paper Tiger's smaller room. With a capacity of around 100 people, the venue intends to use the spot for smaller touring bands and SA outfits, offering a more intimate setting.
Or, with the case of Spokesmodel, a more punishing set. The twin guitars play high and furious riffs, blasting through tempos of muscle-cramping speed.
Iceage
Linda Romero
Iceage melting the Paper Tiger main stage
i didn't understand Iceage's new album,
Plowing Into the Field of Love
, until I saw the band in person. At first listen, their third effort sounded like an unsuccessful transition record, trying to put their scathing and short works behind them. With 47 minutes to stretch out — an eternity in punk time — I thought the Danish punks aimed above their target, with horns, strings and
cowpunk
coming in a little over-ambitious.
In action, the material becomes clear as a more sophisticated take on relentless rock 'n' roll. The uncomfortable stop-start arrhythmia becomes an enticing thing, coiling and uncoiling with incredible energy. Iceage are a band toying with the rhythmic expectations of punk, pivoting in and out of the heavy tempos expected in the genre.