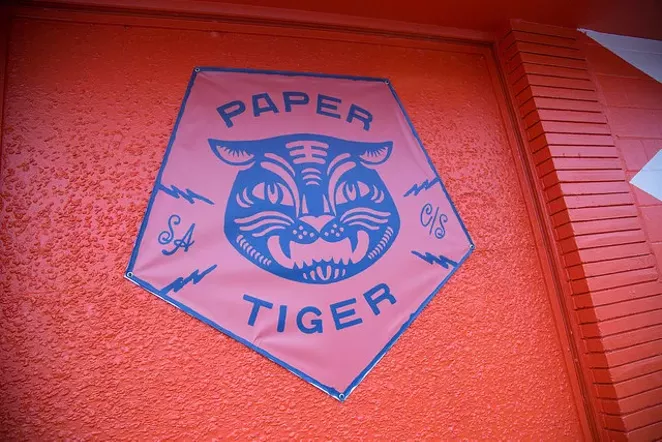 Linda Romero
Paper Tiger, Con Safos
Closing out the second night of Paper Tiger's insane opening weekend extravaganza, Jacco Gardner and Roky Erickson put on a veritable psych-rock clinic, each in turn plying their own brand of lysergic bliss.
For their part, Gardner and his band patiently meandered through a set of jangly, mildly austere, baroque-pop-leaning psych-rock. The Dutch artist's warm if wiry voice sounded gorgeous in the wide open space and was as mesmerizing as any of the instruments on stage. Songs from Gardner's 2013 album
Cabinet of Curiosities
were complemented in the hour-long set by cuts from his magnificent upcoming release
Hypnophobia
(due out May 5).
Considered by many to be the main event of a weekend full of badasses, Roky Erickson absolutely did not disappoint. Suddenly, the place was as full as it had been all weekend, with many folks no doubt having showed up exclusively to see the high priest of Texas psych. In a rousing and remarkably loose hour-plus set, Erickson and his band ran through the best of the man's output, old and new. If Jacco Gardner is a psych-sophisticate, gently tugging on the edges of your consciousness with his refined explorations, Roky Erickson is a psych-savage, inciting madness and exploding your consciousness with an all out assault.
Near the end of the performance, a wild and unhinged rendition of the 13th Floor Elevators classic 1966 track "Tried to Hide," led the crowd to a frenzy and left me amazed at how raw and youthful the whole thing felt. Not bad for the 67 year old rock legend. And not a bad second night of existence for Paper Tiger.