Courtesy
Boz Scaggs in 1976

Monday, May 4
Boz Scaggs
Looking at Boz Scaggs, it's hard to believe that the man is 70 years old. Hearing him play confirms that suspicion, as Scaggs plays with a vitality that many teenage musicians would trade with the devil for. Including his brief tenure with the Steve Miller Band, Scaggs has seen 12 of his albums reach the
Billboard
Top 200. The most famous of which is his '76 album
Silk Degrees
, a soulful Grammy winner that went five-times platinum.
$32.50-$59.50, Tobin Center, 7:30pm
Courtesy
Wyclef Jean's 2000 album The Ecleftic: 2 Sides II a Book

Monday, May 4
Wyclef Jean


Moving from Haiti to New Jersey at the age of nine, Wyclef Jean has become a major figure in the Haitian diaspora in the United States. With The Fugees, Jean created some of the most memorable and powerful hip-hop of the '90s with his bandmates Lauryn Hill and Pras Michel. Since 1997, the multi-instrumentalist has been on a solo kick, creating socially-conscious and party-rocking music across the spectrum of genre.
Free with Mix 96.1 voucher. Tobin Center, 7pm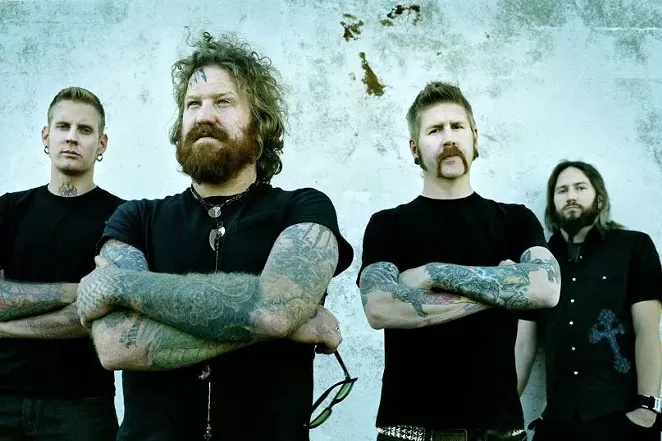 Tuesday, May 5
Mastodon
From Atlanta, Mastodon is one of the most talented and overwhelmingly succesful metal bands of the 21st century.
$29.50, With Clutch, Graveyard. 210 Kapone's, 6pm
Courtesy
Chicago in the early days

Wednesday, May 6
Chicago
Of all the accolades given to Chicago over the years, no higher praise has been given to the band then a quote from Jimi Hendrix in 1968: "Jeez, your horn players are like one set of lungs and your guitar player is better than me."
$47-$87, Majestic Theatre, 7:30pm
Courtesy
Chicago trio Killer Moon
Wednesday, May 6
Killer Moon
Killer Moon This Chicago band is a response to Jim Morrison's early exit stage left in 1971. Their song "Heavy Trip" feels like an underwater tornado of sound. With Crown, Collective Dreams. $5,
Paper Tiger
, 8pm