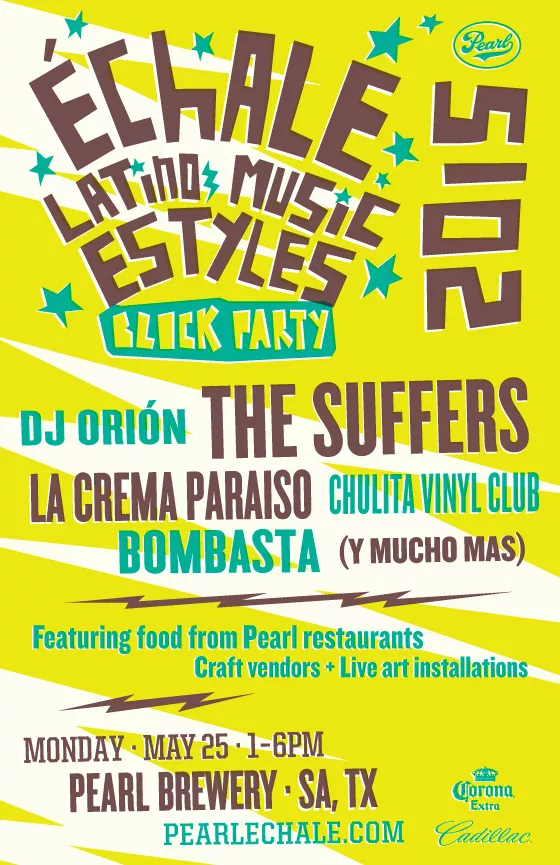 The lineup to Échale!'s Memorial Day gig
Échale! Latin Music Estyles
Monday, May 25
With confirmed dates on both Memorial Day and Labor Day, the Pearl's Échale! Latin Music Estyles is set to deliver an eclectic summer soundtrack. Slightly reinvented late last year as a block party, the concert series gears back up with a triple bill combining Houston's 10-piece "Gulf Coast soul" ensemble The Suffers, New York-based Venezuelan fusionistas Los Crema Paraiso and San Anto's barrio big band Bombasta. To sweeten the deal, the kid-friendly shindig also promises beats from Austin-based Panamanian DJ Orión and Chulita Vinyl Club, plus artisan vendors, and food and drinks for purchase. Free, 1-6pm,
Pearl Brewery
(parking lot under Hwy. 281), 303 Pearl, (210) 212-7260
Courtesy
Emo/Christian quartet Emery
Emery
Monday, May 25

Now in their fifteenth year, Seattle emo outfit Emery just released their sixth album
You Were Never Alone
, their first on their BadChristian record label. With Sleeping Giant, Wolves at the Gate, Forevermore. $16, 7pm,
The Korova
, 107 E. Martin, (210) 226-5070
Dacbert Studios
SA saxophonist John Magaldi
Prime Time Jazz Orchestra
Tuesday, May 26
Prime Time saxophonist John Magaldi riffs through straight ahead standards with his big breathy tone. He's a worthy bandleader and first chair, having performed with Johnny Mathis, Boots Randolph, Tony Bennett and Marvin Gaye. Free, 8pm,
Blue Star Brewery
, 1414 S. Alamo, (210) 212-5506
Courtesy
Of Mice and Men

Of Mice and Men
Wednesday, May 26


After bailing on metalcore notables Attack Attack, Austin Carlile and Jaxin Hall continue in the genre with Steinbeckian quintet Of Mice and Men. With Crown the Empire, Volumes. $22, 6pm,
Alamo City Music Hall
, 1305 E. Houston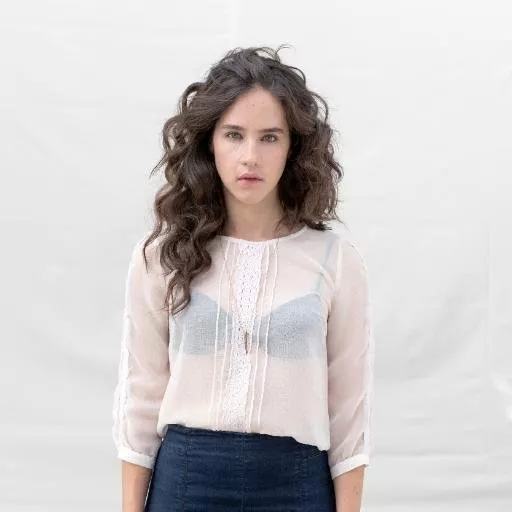 Via Twitter
Mexican singer Ximena Sariñana
Ximena Sariñana
Wednesday, May 27
Growing up in the public eye (her father is a well-known Mexican director), Guadalajara native Ximena Sariñana is used to the limelight. As a classically trained pianist/singer, Sariñana integrates singer-songwriter intimacy with enough alt-rock flair to keep the torch of interest burning. Her debut album, 2008's
Mediocre
, stunned critics and international listeners with its unique take on Mexico's indie music scene. With it, she garnered both a Latin and American Grammy nomination, the tenth spot on Billboard's Latin Pop charts and platinum status in Mexico.
On "Different," Sariñana's first single off of her sophomore album
Ximena Sariñana
, she proclaims herself as an alien living amongst conformity, a theme found throughout both albums. As always, it's with with an up-beat pop attitude characteristic of her shimmering career. $13, 7pm,
The Korova
, 107 E. Martin, (210) 226-5070