Friday, July 17
Salim Nourallah, Wreckless Eric

The Fab Four are the typical RIYL reference for Denton's Salim Nourallah, though for my money, I'd go with Elliott Smith. From the haircut to the cutting language of his five albums,
Nourallah
carries the depth and bittersweet joy of that late Oregon prophet. On "The Quitter," from a perfect Smithian perspective, it's hard to tell if the hook — "You're the Quitter," repeated like a father over and over to a washout teen — is directed toward himself, toward audience members or all of the above. From the deep south of England, Wreckless Eric is known for his '77 two-chord Rickenbacker masterpiece
"(I'd Go The) Whole Wide World."
Featuring Nick Lowe on guitar, the pub-rock staple has been covered by artists including Elvis Costello, Mikal Cronin, The Monkees and Will Ferrell. With jovial quartet, Buttercup.
$15-$45, 8pm, Sam's Burger Joint, 330 E. Grayson St, (210) 223-2830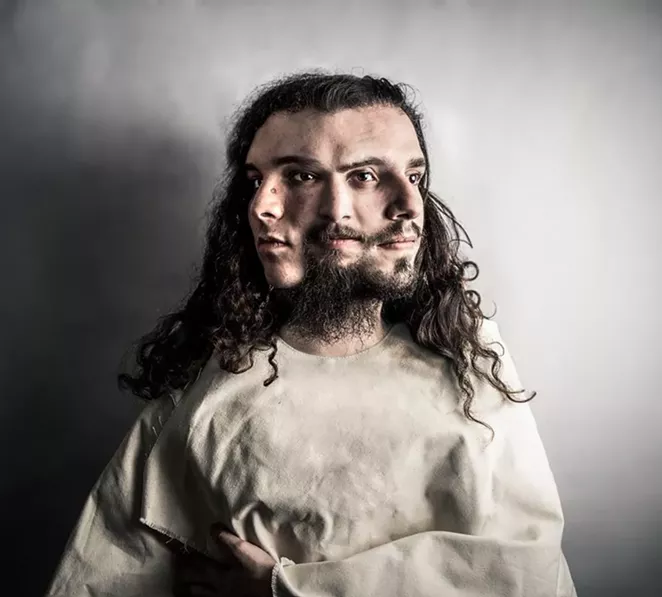 Courtesy
Crown

Friday, July 17
Crown, The Sun Machine
Catch SA power trio Crown around town and it's obvious that the three-piece believes deeply in their riffs and shredding them as viciously as possible. Groove-centric bassist Josh Borchardt holds it down on the low end as guitarist Carlos Zubillaga draws the most out of each bent tone. Drummer Oscar Webber's fill-friendly rhythms drive the trio forward, as Borchardt and Zubillaga swap on vocal duties. With thick bundles of hair slapping around on stage, a blues rock style with a lysergic drop of psych and a badass take on "Helter Skelter," Crown is one of the best live acts currently operating out of SA.
Although coming off as a newly freed spirit believing that they're finally awakened from the confines of society into complete mental "consciousness" on their artist statement, The Sun Machine's music speaks for itself. Its newest release
Drag City
is a solid example of Austin garage (once you get past the numerous voicemail skits) with hints of the '60s coinciding with new age lo-fi. With Annabelle Chairlegs, Fishbrain.
$8, 9pm, K23 Gallery, 702 Fredericksbug Rd, (210) 776-5635





Friday, July 17
Key!


Although he slurs his lines to the point where only bits and pieces are clear, Atlanta rapper Key! has enough passion in his bars to make his an enduring habit. His video for "Tighten Up" juxtaposes the facially inked MC in front of Japanese script with footage of
Street Fighter
, giving fuel to hip-hop's increasing Japanophile tendencies.
8pm, Paper Tiger, 2410 N. St. Mary's


Friday, July 17
Calabrese, Ghoultown
Taking a page from the horrorcore book of the Misfits, Phoenix's Calabrese waxes morose on tunes like "Eyes Down" and Voices from the Dead." Dallas gothabillies Ghoultown combine Halloween themes with the traditions of Americana.
$10-$13, 8pm, The Korova, 107 E. Martin, (210) 226-5070



Saturday, July 18
The Smashing Pumpkins and Marilyn Manson

The Smashing Pumpkins are a hell of a lot better than Marilyn Manson. Which is why the pair of '90s-repping, alt-rock icons' "The End Times Tour" that swings through SA on Saturday seems somewhat preposterous. It's like giving equal billing to a footnote and a multi-chapter section in a book. At any rate, Billy Corgan and company, who released their surprisingly killer ninth album
Monuments to an Elegy
last year, are experiencing a renaissance of sorts and, we all just have to deal with the fact that they've brought along their sometime ally, sometime enemy for the ride.
$37.50-$47.50, 7pm, Freeman Coliseum, 3201 E. Houston, (210) 226-1177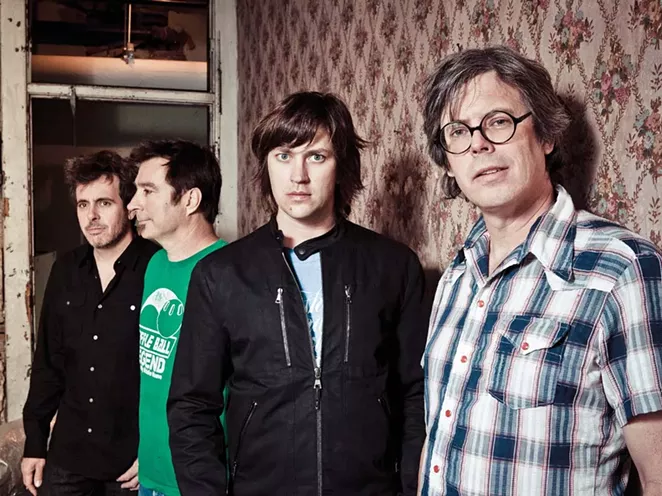 Courtesy
Old 97's
Saturday, July 18
Turnpike Troubadours, Old 97's

Red dirt up-and-comers Turnpike Troubadours made a solid
Billboard
debut with 2012's
Goodbye Normal Street
, reaching No. 14 on the country charts and No. 57 on pop. The Old 97's aren't shy about their longevity, as evidenced by
Most Messed Up
's five-minute-and-53-second-long opening opus "Longer Than You've Been Alive." The song chronicles the band's career and living life on the road ("Most of our shows were a triumph of rock/although some nights I might have been checking the clock") and methodically builds from pretty, acoustic restraint to balls-out, country-fried rock, packing in both Miller's sly one-liners ("love is a marathon/sometimes you puke") and a hearty, sing-along refrain ("Rock 'n' roll's been very, very good to me/the open road's the only place I wanna be"). It's like a CliffsNotes version of the Old 97's impeccable yet genre-resistant style.
$15-$20, 9pm, WhiteWater Amphitheater, 11860 FM 360, (830) 964-3800
Encyclopaedia Metallum
Power Trip

Saturday, July 18
Power Trip
Power Trip plays heavy music in the way that Manu Ginobili is a pretty good off-the-bench option. On their 2013 album
Manifest Decimation
, the Dallas quintet comes out with hair spinning, riffing through thrash licks with dexterity. The apocalyptic album cover, complete with a seeping metal font, suggest that Power Trip traffics only in metal and speedy guitar runs. But their eight tracks on Southern Lord Recordings prove that the the band is equally as versed in hardcore.
$10, 9pm, Paper Tiger, 2410 N. St. Mary's


Sunday, July 19
Toadies, Everclear, Fuel, American Hi-Fi

The Aztec Theatre hosts a nostalgic evening in '90s alt-rock, featuring the owners of hits like "Father of Mine," "Possum Kingdom" and "Flavor of the Week."
$33-$53, 6:30pm, Aztec Theatre, 201 E. Commerce, (210) 760-2196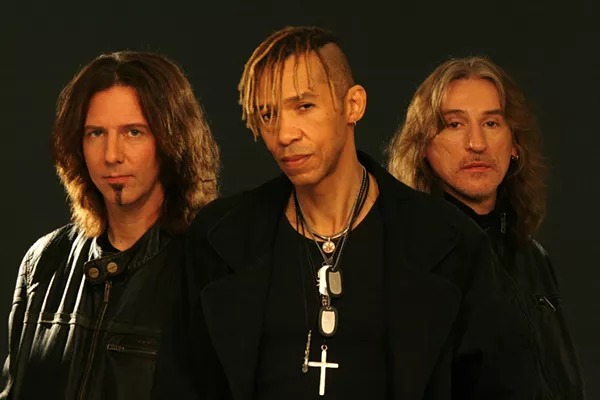 Courtesy
King's X
Sunday, July 19
King's X


Hair pop-metal trio King's X made a strong run dabbling in the themes of Christian rock.
$15, 6pm, Alamo City Music Hall, 1305 E Houston St.


Sunday, July 19
Kehlani, Pell


Content with being an R&B hipster's dream (check out the YouTube wars over who discovered her first) Kehlania puts a feminine spin on songs with names like "FWU" and "Ni*gas." Instead of giving the mic to a full-time singer, the multi-talented Pell is a one-man show as his silky crooning shines alongside his easy-to-digest "dream rap" and lucid lyrics. Off his debut
Floating While Dreaming
, "Runaway" is a good example of Pell's abilities working toward a common goal.
$15, 8pm, Alamo City Music Hall,1305 E Houston