Courtesy
The Georges
Monday, August 3
The Georges

The Georges South Texas stalwarts The Georges inject rockabilly with the pop stylings of the Fab Four. For the weekly swing night at Sam's, expect a cow-poking addition of the Western style of Bob Wills. $10, 8:30pm,
Sam's Burger Joint
, 330 E. Grayson St., 210-223-2830
Via Bandcamp
LA Witch doing Witch-like things
Tuesday, August 4
LA Witch
Dang, these California rock 'n' rollers know how to name their bands. This summer, LA Witch intends to release a full-length on Lolipop Records. In the mean time, the single "Kill My Baby Tonight" is a dark and memorable tune to hold us over. Death Valley Girls bump an organ as their leading instrument, fighting a trad-psych guitar line on the funhouse number "Wait For You." With Alamo City party animals The Bolos. $5, 9pm,
Limelight
, 2718 N. St. Mary's St.
Courtesy
The poster for The Beatles' 1964 flick

Tuesday, August 4
A Hard Day's Night

It's an overused word, but "iconic" applies here. Beatlemania was well under way when the moptops' rough and ready film début charmed even the critical fuddy-duddies with its good-natured youthful exuberance, offhanded "day in the life" non-plot and interruptions for hits such as "Can't Buy Me Love." The Beatles' sensibility blended with witty American director Richard Lester, who'd worked with Peter Sellers and Spike Milligan, and the results shaped the development of music videos. Texas Public Radio closes out its Cinema Tuesdays series with a screening of the G-rated gem. $10-$15, 7:30pm,
Santikos Bijou
, 4522 Fredericksburg Rd., (210) 734-4552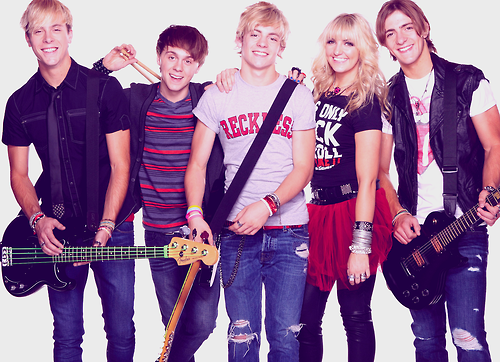 Courtesy
Lord help us, the haircuts! The haircuts!

Wednesday, August 5
R5
Dang, I didn't know Disney Channel was still pimping its underling teen stars into high-fructose teen idols, but apparently it's still a viable business model. R5 is the pop project of Ross Lynch and his siblings all with the same initials. Known for his Disney Channel work on
Austin & Ally
and
Teen Beach Movie
, the Mickey Mouse cash lords look to strike gold again with another tow-headed family of nascent stars. With Jacob Whitesides, Ryland. $35.50-$960, 6pm,
Whitewater Amphitheater
,11860 FM 306, New Braunfels, (830) 964-3800
Courtesy
Terry Cavanagh and the Alpine Express
Terry Cavanagh and the Alpine Express New Braunfels' Terry Cavanagh and the Alpine Express hit the polka hard. This lederhosen-featured evening is also a great oppurtunity to ogle at the Pearl Stable, the ideal wedding venue that you definitely cannot afford. Free, 5:30pm,
Pearl Stable
, 307 Pearl Pkwy., (210) 212-7260