Via Bandcamp
Circuit Des Yeux

Monday, August 11
Circuit Des Yeux, Saakred, Marisa Anderson
With expansive textures and an utterly unforgetable voice, Circuit Des Yeux's
In Plain Speech
is a transformative listen. A bellwether of creativity and queer art in San Antonio, Saakred has stepped into new territory with
Make Believe
, a vision of taut and emotional rock 'n' roll. Blues guitarist Marisa Anderson dropped out of college at 19 to walk the US for 15 years, an experience that informs her flawless guitar playing and crisp songwriting. With Aux Aux. $7, 9pm
Paper Tiger
, 2410 N. St. Mary's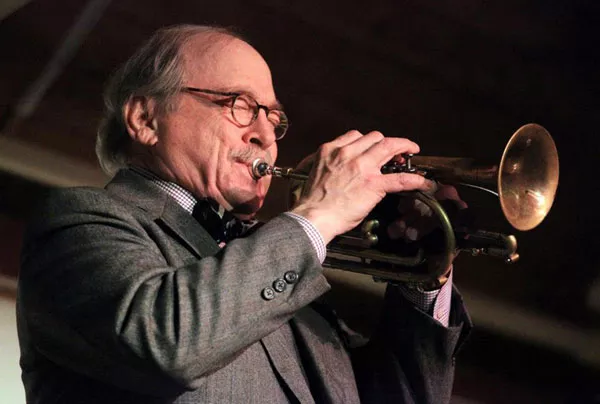 Tuesday, August 11
Jim Cullum Jazz Band




Any serious reputation San Antonio has as a jazz town has to be chalked up to Jim Cullum, Jr., the man in charge of the long running public radio show Riverwalk Jazz and who's been consistently swinging in the Alamo City for decades. Free, 7pm,
Bohanan's
, 221 E. Houston St., (210) 472-2202
Guitar Player Magazine
Eric Johnson on the cover of Guitar Player in 1986

Wednesday, August 12
Eric Johnson
Austinite Eric Johnson is a guitar nerd's dream player — full to the brim with chops and a desire to express them. Since the late '70s, Johnson has worked as a session musician for Cat Stevens, Carole King, Christopher Cross and anybody who needs a crisp Fender tone. In 1990, his platinum-selling album
Ah Via Musicom
produced the Grammy-winning single "Cliffs of Dover." $35, 7:30pm
Tobin Center
, 100 Auditorium Cir., (210) 223-3333
Bandcamp
Miami emcee Yung Simmie

Wednesday, May 12
Yung Simmie

Miami rapper Yung Simmie is a rising star in SpaceGhostPurrp's Raider Klan, one of the premier crews of internet rap. As can be expected of most Raider players, Simmie cooks in a codeine-slow, purple-filtered Southern style. On "Popeye," Simmie gets his strength from a different leafy green — "I'm smoking on spinach, I'm feeling like Popeye," he sings on the hook.
With Fat Nick, Don Krez, Cashy, Yung Yogi. $20, 7pm, The Korova, 107 E. Martin, (210) 226-5070
YouTube
Miss Fame

Wednesday, August 12
Miss Fame

According to her official Facebook page, New York-based drag star Miss Fame is "beautiful, confident, powerful, hilarious and … condemned to hell." But she also loves chickens — like the ones she used to tend to on the family farm (as California boy Kurtis Dam-Mikkelsen). After building a fanbase via YouTube makeup tutorials covering everything from old-school Hollywood to alien glam, Miss Fame landed on season seven of RuPaul's Drag Race and parlayed that success into a record deal that recently reared its latex-clad head in the
Billboard
-charting album
Beauty Marked
.
$15-$25, 11:30pm, Heat, 1500 N. Main Ave., text (210) 386-4537 for reservations