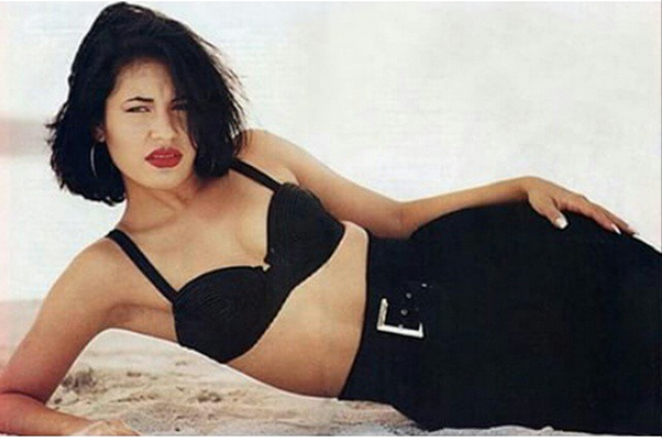 Courtesy
Selena's highly coveted look: red lips, dark locks, bustiers, and high-waisted pants.


How embarrassing would it be if you were the only one at the Biddi Biddi Banda show this Friday who wasn't singing along?



Don't worry, we'll set you up with 16 Selena (and Selena y Los Dinos) songs that you should know the words to by the end of the week. And if that's too much to handle, we've included a bit of each song, courtesy of AZ Lyrics, so you can at least try to sing with the rest of the crowd.

El Chico Del Apartamento 512


"El chico del apartamento 512
El que hace a mi pobre corazon saltar
Es a quien le hago cartas noche y dia
El chico del apartamento 512
Es el quien me hace tartamuda y mas
Es en quien yo pienso y sueño noche y dia,
Amor Prohibido





"Amor prohibido murmuran por las calles
Porque somos de distintas sociedades
Amor prohibido nos dice todo el mundo
El dinero no importa en ti y en mí, ni en el corazón
Oh, oh baby"

Besitos



"Necesito tus besitos cada noche cada día
Dime amorcito que yo soy tu alegría
Dime cariñito que yo soy la dueña de tu corazón"
La Carcacha



No Me Queda Mas



Porque esto si fuera amor
Y aunque siempre lo renuncies
Contigo Quiero Estar



Como la Flor


"Como la flor (como la flor), con tanto amor (con tanto amor)
Me marcho hoy, yo se perder
Pero, Aaaayyy! Como me duele
No Debes Jugar



"No debes jugar con mi amor
No debes jugar con mi cariño
Si me quieres o no ya dímelo
Para seguir ya mi camino"
Si Una Vez



"Si una vez dije que te amaba
Si una vez dije que te amaba
No sé lo que pensé estaba loca
Si una vez dije que te amaba
Y que por ti la vida daba
Si una vez dije que te amaba
Ese error es cosa de ayer"
Tu Solo Tu



Has llenado de luto mi vida
Eres causa de todo mi llanto
Amame, Quiereme



"Abrázame, como nunca me han abrazado
Y besame, como nunca me han besado
Porque tu eres la luz, la luz que ilumina, mi vida
Y escúchame, quiero decirte que te amo
Con tenerte aquí, y tenerte aquí a mi lado
Porque tu eres la dueña, la dueña de mi corazón
Y te daré todos mis besos y todo mi cariño
Yo Te Sigo Queriendo




"Yo te sigo queriendo, amando
Porque todo esta frio, tan vacio
Yo te sigo extrañando, llorando
Solo quiero tenerte aqui"
Bidi Bidi Bom Bom



Make sure to shout these lyrics:
"
Me canta así, me canta así
Cada vez que lo veo pasar, woah"
Baila Esta Cumbia



"Baila, baila esta cumbia
Un ritmo, ritmo sin igual
La Llamada



Oh excusas, y mas mentiras.