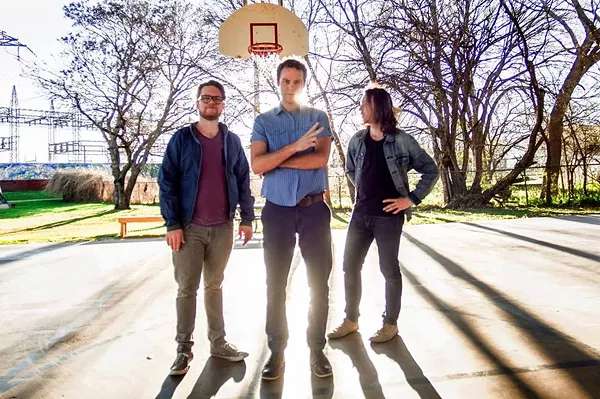 Courtesy
Brady Dietert and Ranch\House
Ranch/House
Friday, July 1
Songwriter Brady Dietert of Ranch\House officiates the matrimony of Northwestern indie folk rock with Texas chicken-stranglin', bonfire-buildin', bb-gun-shootin' music like a parson who has overseen more than one shotgun wedding.
$5, 9pm, Limelight, 2718 N. St. Mary's St., (210) 995-7229

Courtesy
Austin's Troller, of Holodeck Records
Troller, Calico Club, Filthy, Moze Pray
Friday, July 1

This show finds the trippy little rock 'n' roll hut K23 hosting four dark, heavy and experimental electronic acts. The ridiculously good bill features Austin's Troller (pictured), repping Holodeck Records with its evil-electro scream chants to vanishing, and San Anto's Calico Club, with its synth-driven schizo-disco, Filthy, with its electro/post-punk hybridism, and Moze Pray, with a decidedly femme-power take on death-dance/drone.
$5, 9pm, K23 Gallery, 704 Fredericksburg Rd.
Courtesy
Arish Ahmad Khan, King of The Shrines
King Khan & The Shrines
Friday, July 1

King Khan & The Shrines is more than a psychedelic soul band with a spectacle of a stage show. They are a cult musical phenomenon with more than 12+ years of international touring, multiple studio records and a fan base of fervent punk, soul, free jazz and garage rock heads. King Khan, the spiritual guru and front man, cobbled together a fierce line-up of musicians while in Berlin in between reading Tarot cards and raising a family. What he ended up with in 1999 is one of the most entertaining groups the world has seen and heard since the days of Ike & Tina. The line-up includes Chicago-born, Ron Streeter (veteran percussionist for Curtis Mayfield, Stevie Wonder), a horn section consisting of trumpeter Simon Wojan (member of Kranky Records recording artists Cloudland Canyon), tenor sax man Torben Wesche (Germany's John Coltrane), and famous French rockabilly baritone saxophonist Frederic Brissaud. The rhythm section of the Sensational Shrines has been called a German/French version of the Freak Brothers – Till Timm on guitar, organist Frederic Bourdil, Jens Redemann on bass and drummer Mirko Wenzl.
$15, 8pm, Paper Tiger, 2410 N. St. Mary's St.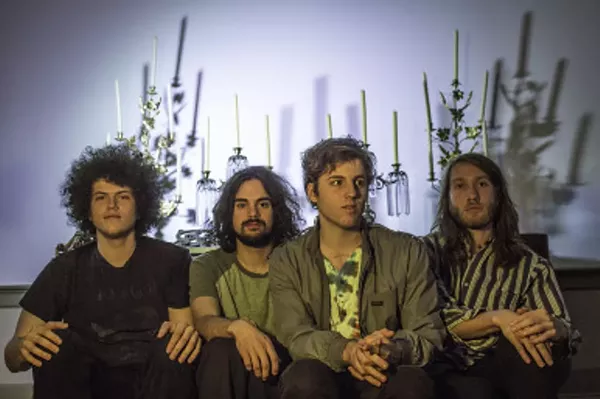 Athens, Georgia's New Madrid
New Madrid
Friday, July 1


New Madrid formed in the fall of 2010, and shortly after was approached by Barbe, who invited them to his studio to record their first full-length album, Yardboat. It happened fast. Inspired, they finished in three days. Signing with Normaltown/New West Records, the band released their sophomore album,
Sunswimmer
in 2014.
$10, 8pm, Paper Tiger (small room), 2410 N. St. Mary's St.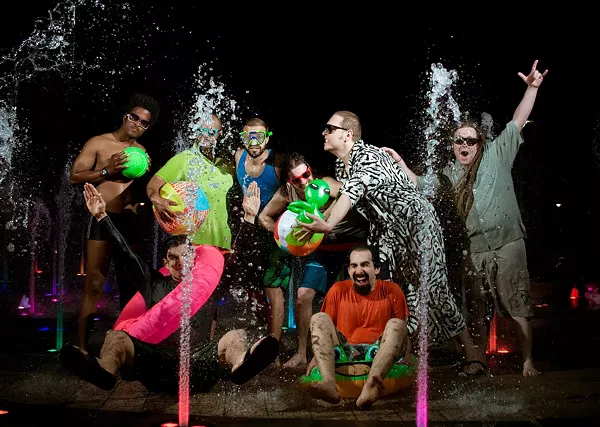 Austin funk big band Cilantro Boombox
Cilantro Boombox
Saturday, July 2
Imagine the Woodstock Santana band dosed with mescaline instead of acid and you've got a pretty solid foundation for the relentless funk of Cilantro Boombox. On their self-titled debut, the Austin octet shreds into the ether on long-form jam material, but can turn on a dime for strands of psychedelic disco-funk. Led by bassist Félix Pacheco and saxophonist Joe Woullard, the band's mold of Latin rock, Afro-Cuban rhythm and street brass has made Cilantro Boombox a nimble asset on the bill, opening for Cafe Tacuba and Willie Nelson in recent years. With Los De Esta Noche and DJ Steven Lee Moya.
$5, Hi-Tones, 621 E. Dewey St., (210) 785-8777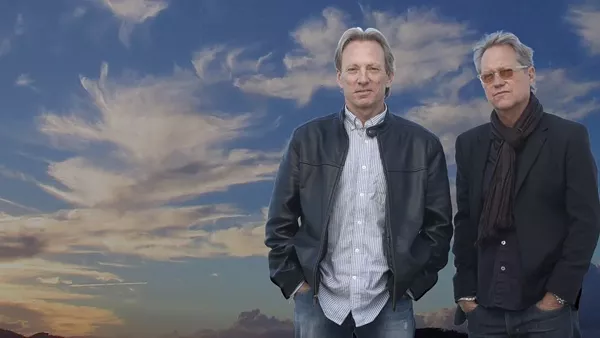 English rock band America
America
Saturday, July 2

America, the longhaired feel-good group behind such hits as "A Horse With No Name," "Ventura Highway" and "Sister Golden Hair" will be bringing their peaceful, easy feeling to the Tobin Center on Saturday.
$34.50-$100, 8pm, Tobin Center, 100 Auditorium Circle, (210) 223-8624
Jacqueline Sotelo of The Zen Dilettantes
The Zen Dilettantes
Saturday, July 2


The Zen Dilettantes (ZD) is a jazz ensemble featuring the talents of some of central Texas' finest jazz artists. With a classic lineup of vocals, saxophone, keyboard, upright bass, and drums, ZD will provide a delightful evening of members' original compositions and some favorite jazz standards.
$30-$35, Cave Without a Name, 325 Kruetzberg Road, Boerne, (830) 537-4212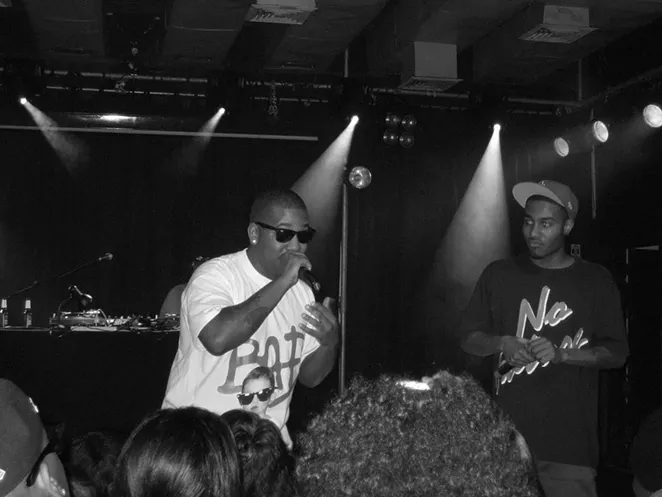 Via Wikipedia
Chuck Inglish, formerly of The Cool Kids
Chuck Inglish
Saturday, July 2
In the mid-'00s, Detroit rapper Chuck Inglish took the nascent internet rap community by storm as one half of The Cool Kids, a duo with Sir Michael Rocks specializing in laid-back confidence and left-field rhymes. Since the duo's split in 2011, Inglish has release three albums of similarly sweet, stoned hip-hop.
$15-$40, 7pm, Paper Tiger, 2410 N. St. Mary's St.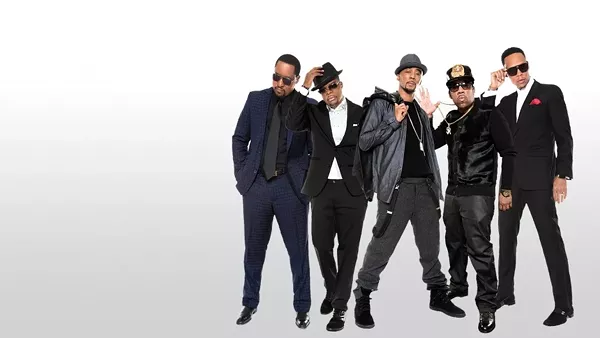 A Bobby Brown-less New Edition
New Edition
Sunday, July 3


Let's just rip the band aid off right now: There's no Bobby Brown. The widower of the divine Ms. Houston is not touring with the ensemble that helped define the new jack swing sound also heard in groups such as New Edition offshoot Bell Biv DeVoe, Tony! Toni! Toné! and Boyz II Men. Ricky Bell, Michael Bivins and Ronnie DeVoe will be in attendance, however, and that means that not only can we expect to be serenaded with "Candy Girl" and "Cool it Now" but maybe a little "She's Dope" and surely some "Poison." BBD is in the house!
$50-$130, 8pm, Tobin Center, 100 Auditorium Circle, (210) 223-8624
Okkervil River, performing at the Lone Star Texas Heritage Festival
Lone Star Beer Texas Heritage Festival
Sunday, July 3

For the second annual Lone Star Beer Texas Heritage Festival, said National Beer of Texas and Feeding Texas (FKA Texas Food Bank Network) once again join forces to bring us a sweet lineup of music. Proceeds will benefit Feeding Texas' mission to combat hunger in the Lone Star State through raising awareness and providing food relief, with the goal being ultimate food security for all. But, with tickets priced at just ten bucks a pop and a tremendous bill of performers, you don't exactly have to be a full-fledged philanthropist to get behind this cause. This year's performers include two acts with highly-anticipated albums on the way, Okkervil River and Shovels & Rope, one act with a recently released solo foray, Matthew Logan Vasquez of Delta Spirit, and one of Saytown's most beloved homegrown originals, Girl in a Coma.
$10, 8pm, Aztec Theatre, 2o1 E. Commerce St., (210) 760-2196