Courtesy
Shaq in a promo picture for his third album, You Can't Stop the Reign (1996)
Over the years, a few rappers have tried to hoof it in college hoops or the NBA. Lil Romeo and Lil B even made it in the gym to try out for the Development League. But, due to their titular littleness on a court dominated by giants, nothing ever came of their delusions of grandeur.
Unfortunately for anyone with ears, many more NBA players have tried their hand in hip-hop. With a microphone, a laptop and a few friends who weren't brave enough to say 'don't do it,' basketball stars from Shaq to Kobe have given emceeing a shot. Most often, the result is an airball, their prodigious talent not translating from the court to the recording studio. But every time, it's immensely entertaining to watch millionaires and gifted athletes flop helplessly or land a solid bar that would make a more committed rapper proud. And so, with the most boring months of the NBA year upon us, let's dive into the rap careers of the NBA, from the worst to the slightly less awful.
Steve Francis — "Finer Things"

Remember those faux-designer glasses you bought outside the mall that turned out to look nothing like Chanel? Steve Francis is the rap equivalent, posturing on "Finer Things" as the knockoff of Juvenile or Ja Rule, the closest name brand corollaries of this raspy form of rap.
On the hook, Francis rhymes "things" with "drinks" and boasts of a purchase of "diamond baguettes," which sounds neither practical as a sandwich bread or appealing as a form of jewelry.
Delonte West — "It's Bout 2 Go Down"
In 2011, the NBA locked out for the fourth time in its 70-year history, with players hoping for a more equitable division of league revenue. While some athletes lobbied their cause with the Players Association, Delonte West found employment on the sales floor of a
Regency Furniture in Maryland
and spent his free time recording
The Lockout
, an album so bad it never saw the light of day. With lyrics like "If you swish the swish-a, you got the swish-a swag," there's a lot of material for derision. But, let's abstain. Earlier in June, West was seen in Houston, walking barefoot and
panhandling
in a Jack in the Box parking lot.
Kobe Bryant feat. Tyra Banks — "K.O.B.E."
"Uh, what I live for? Basketball, beats and broads." On "K.O.B.E.," it's mostly the broads, displaying a sexual politics that shouldn't be surprising for a man who settled out of court with a 19-year-old on a
sexual assault charge
.
Metta World Peace — "Champions"
Released after the Lakers won the 2010 title, World Peace/Artest sticks to a wheelhouse of mixed sports metaphors on this woefully unmastered cut: finish lines, trophies, 9th innings, holes in ones, drinking vodka out of the Stanley Cup. I just wish their was another verse so that he could get into obscure sports metaphors — putting on a Kobe face at the bowling alley or finding the Golden Snitch and winning the house cup.
In full disclosure, I've watched this video way too many times. There's something very endearing about a recent NBA champion hanging with his friends in an SUV lip-syncing to a decent hook they just wrote, nervous in front of the cellphone camera. If I ever win some major or personally gratifying award, that's how I want to celebrate.

Stephen Jackson — "America Da Beautiful"

In 2014, former LA Clippers owner and LA slumlord Donald Sterling was recorded by girlfriend V. Stiviano on a phone call saying a
litany of racist comments
. As the NBA instituted a lifetime ban on Sterling, many players tweeted their support for the ban and anger toward this cartoon villain of a billionaire.
Former Spur Stephen Jackson's diss track "America Da Beautiful" is one of the more powerful reactions from an NBA player, asking "Is this a court or a cotton field?" in a dominantly African-American league with majority white franchise owners. Released the day the National Guard withdrew from Ferguson, what Jackson lacks in subtlety he makes up for in raw energy.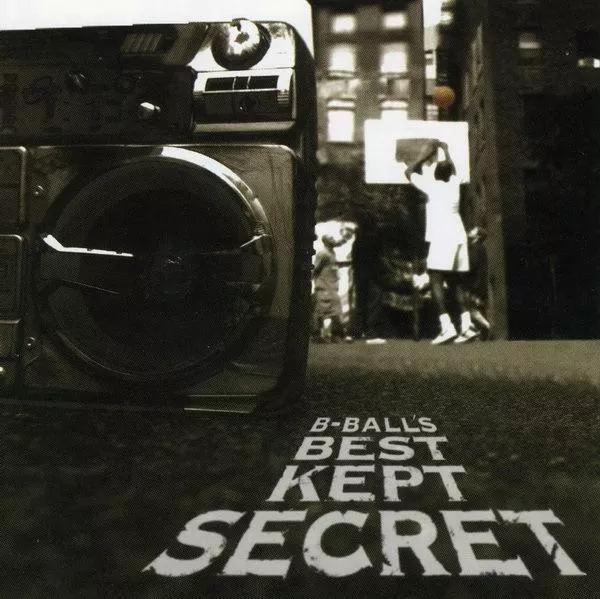 Courtesy
The 1994 NBA rap compilation B-Ball's Best Kept Secret

B-Ball's Best Kept Secret feat. Shaquille O'Neal, Cedric Ceballos, Jason Kidd, Gary Payton, Dana Barros
In 1993, Shaquille O'Neal's Shaq Diesel went platinum in a golden-era year that boasted decade-toppers like
Enter the Wu-Tang
,
Reachin'
,
Strictly 4 My N.I.G.G.A.Z...
and
Midnight Marauders
. By 1994, enough NBA players thought they had a shot at hip-hop success that Epic Records released
B-Ball's Best Kept Secret
, a curio of lukewarm rap from hall of famers and role players alike.
If anyone can find a physical copy of this thing, I will pay your rent for a year.
The comp's best effort is from Lakers forward Cedric Ceballos who teamed with Warren G for a decent few minutes of g-funk with "Flow On". Ceballos, on the LA tip, understands the slow-roll delivery of the city's rap style, though, lyrically, he's a few G's short of a Nate Dogg — "Mary J ain't the way for me / I get high off my jumpers and my dunks, you see."
Damian Lillard — "Freestyle" on Sway in the Morning

Normally, Damian Lillard's viral content concerns his impossible vertical or a game-winning death knell in the eye of a defender, but last February, a video of the Blazers star on
Sway in the Morning
blew up on Facebook in the way that only unexpected celebrity talent can. Though clearly he isn't freestyling, Lillard is far and away the best NBA rapper in dexterity and flow.
Shaquille O'Neal — "What's Up Doc? (Can We Rock)?"
With a camera presence as immense as his physical size, Shaquille O'Neal, the born entertainer, will be remembered as the only NBA player to successfully moonlight in hip-hop. The 7-footer holds down the final verse of this posse cut,
getting in 16 bars without causing too much damage. Though he knew to surround himself with a more talented team, the main reason for Shaq's title as the least-bad NBA rapper is simple: a golden child of media, Shaq's energy and dynamism shines through on anything he does.
Kazaam
not included.