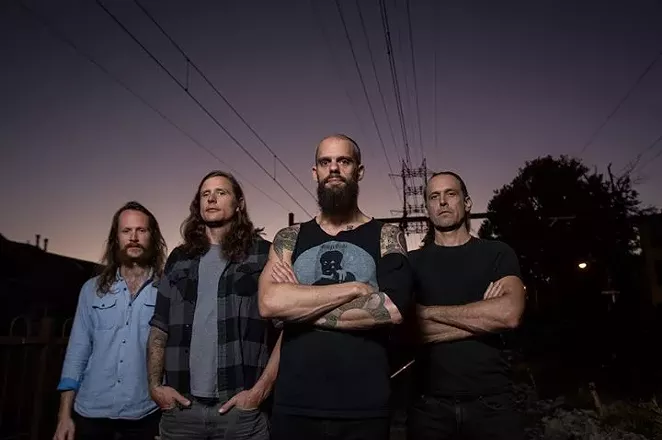 It appears that thanks in large part to Paper Tiger's efforts, San Antonio is pulling in some impressive rock acts these days. But with sludge-metal band Baroness, we can consider ourselves doubly lucky. While on tour in England a few years back, the band's tour bus – its driver blinded by heavy rain – plummeted off a bridge to a thirty foot drop, a nearly fatal blow. But Baroness has survived. Broken bones mended, front man and album cover artist, John Baizley, is back and leading the charge on tour behind a tremendous new album,
Purple
.
The new songs employ the rhythmic power, shouted melodies and dueling guitar harmonies similar to the group's earlier efforts, but incorporate the more soulful, alt-progressive component honed on the band's previous double-album,
Yellow
and
Green
. Not only is this some of the band's best song-crafting, Baroness is performing with a vigor and vitality perhaps unparalleled by any other point in its over-decade-long career.
Only taking its breath with the occasional interlude of somber psychedelia, Baroness is a thundering power show, an exultant, soaring, fist-raising uplift of grit, beard and balls. And it is thrilled to be alive.
$22.50, 7pm, Saturday, September 24, Paper Tiger, 2410 N St. Mary's, papertigersa.com