The only plan for Day 3 was to be relatively front-and-center for LCD Soundsystem. Because I'm always late to the party, I didn't get into LCD just before they announced their retirement. So when the James Murphy-led band reunited in late 2015, and after learning of the lineup earlier this year, I had a pang of "Oh, man, that'd be awesome." When I landed my media wristband, I knew I had to go. It was a spirit quest of sorts.
But instead of conserving my energy for the dance party that would be LCD, I did a bit of everything. I caught snippets of several shows including Odd Future's
Domo Genesis
, New Zealand's folk-bluegrass
Marlon Williams,
everyone's new girl crush and Grammy-winner
Kacey Musgraves
, L.A.-based
Local Natives
, Vancouver-formed duo
Bob Moses
before making our way to Miike Snow at 7 p.m. Oh, and hitting up ACL Eats for just about every dessert on the board.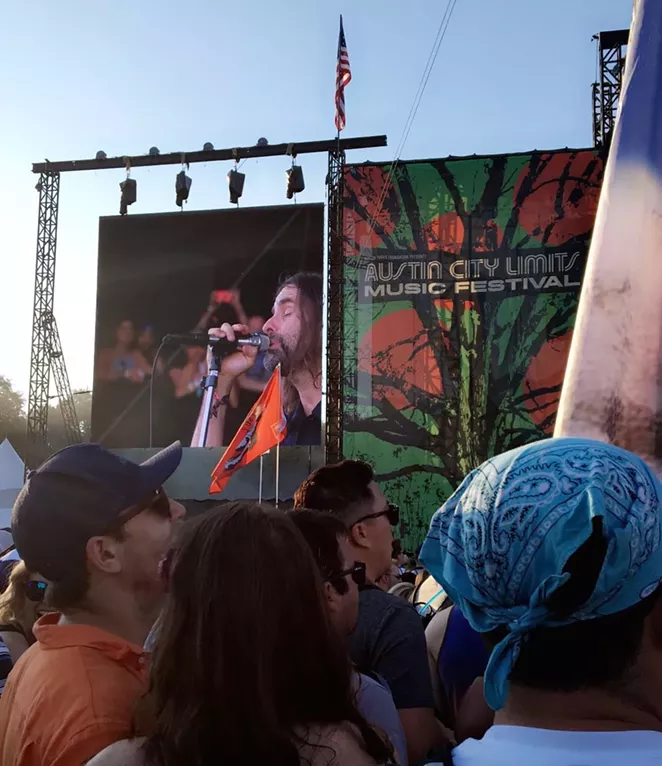 So even though I was essentially destroyed by the time singer-songwriter Andrew Wyatt and Swede bandmates Christian Karlsson and Pontus Winnberg hit the Honda stage, their combined stage presence, Wyatt's gentle demeanor and the fire setlist was enough to carry our group through more waiting for LCD. The 10-minute version of "Animal," the Miike Snow's 2009 hit, with its raw intensity was definitely one of the weekend's highlights.
But THE highlight of the weekend was closer LCD Soundsystem, which lived up to the hype that I'd built up in my head (at least) for the past several years. The set started out with "Us v Them" on a hazy smoke-filled stage complete with massive disco ball and red-hued lightshow, and stayed evenly paced with "Daft Punk Is Playing at My House," and took a turn after the bouncy and mournful "Someone Great." The bonus round of bottled water helped carry the crowd through "New York, I Love You But You're Bringing Me Down," "Dance Yrself Clean" and closing song, "All My Friends." The evening was dreamy, energetic and downright magical.
The soreness in my legs from the three-day dance-athon capped off by this bucket list band is more than worth it. Now, if I could only say the same for the buckets of dirt I inhaled... Anyway, it's back to reality where flash tattoos are frowned upon, I can't wear glitter in my hair and business casual attire is a must.