Photo credit: Richard Thurman
The Indigenauts (L to R): Pablo Mancias, Robert Sabo, Alvaro Itzli Ramirez, John Fernandez, Carlos Sanchez de la Garza.
The Indigenauts are a homegrown collective that makes genre-defying, multicultural music which sometimes reaches for enlightenment in the stars and sometimes revels in the plain, warm truth of the dirt.
On the band's ambitious debut album
Paso Stellar
, which will be released this Friday night at The Squeezebox, Indigenauts' sound runs the gamut from indie-folk with punk infusions to reggae with rap to mariachi, cumbia, rock, and sincere pop balladry. (And, I still feel like I left some elements out.)
Indigenauts lead singer, principal songwriter (along with Alvaro Itzli Ramirez), and guitarist Pablo Mancias told the
Current
that the band's name—which goes a long way in helping us understand where the band's music is coming from—can be explained in two different ways. "The long answer," he said, "[is that] we are a group of empowered musicians who celebrate our indigenous heritage, learn from the experiences/knowledge of our ancestors, and navigate this modern world with a true sense of self." Continuing on a lighter note, he added, "The short answer is that we are all indigenous and we like Star Trek!"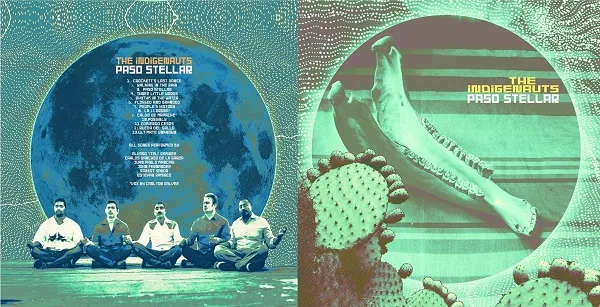 Artwork for "Paso Stellar," The Indigenauts debut LP
Suffice it to say that within these songs of protest, of celebrating identity, of reflecting on humans' place in the cosmos and the state of our little Earth—there's a little something for everyone. You can get your hands on a copy and, more importantly perhaps, experience the album in the live and organic style in which it was created at Friday's show.
Indigenauts Album Release Show feat Los Galacticos, Formative Fire, DJ El Gran Sabor, Wache
$3, 9pm, Friday, October 14, The Squeezebox, 2806 N St Mary's, facebook.com/thesqueezebox.