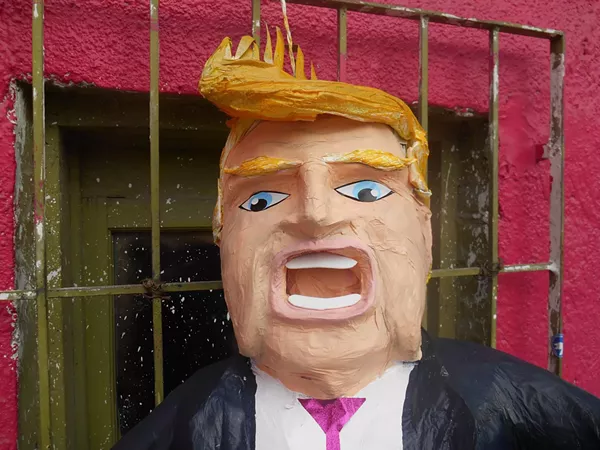 Pinateria Ramirez/Facebook
An original Trump pinata from Pinateria Ramirez.
Holy shit folks. This election just keeps getting crazier (and more frightening) by the day. Whether you're an avid follower of American politics or an apathetic so-and-so, it's highly unlikely that the ballistic balderdash of this particular presidential race hasn't impacted you in some way. It's hard to avoid engaging with a spectacle so preposterous. And, at the same time, it's crucial to remember that it's more than just an absurdist play about hyper-masculine fascism and neo-liberalism—this is real life and our choices (or refusals to choose) have real consequences.
In an attempt to play a little lighthearted game with an election that is occasionally too depressing to be fully serious about, we asked some local musicians to suggest a song that might represent this election cycle and their feelings on it. The song choices and explanations that they came up with, however, are far from whimsical, and point to the dread, disgust, anger, disappointment, apathy, and hopelessness that characterize our collective stress levels at this point. Enjoy!
Facebook
Buttercup.
Erik Sanden of Buttercup/Demitasse
Fugazi, "Suggestion"
From Sanden: "This election is breaking my heart. And I am typically an optimist. Donald Trump is vile and this newest tape only confirms what we already knew (or for some, don't care to admit)—that he is a predator and treats women like objects. Fugazi's anti-date rape anthem 'Suggestion' would be a nice anti-anthem to the worst of what Trump represents."
Amygdala
Amygdala, "We Are The Resistance"
As a band, Amygdala chose their own song and chose to merely explain via lyrics from the track:
We are the resistance to the common mind
If we can't fight together
There's nothing to keep us growing
And if we prevent ourselves from growing how can we ever be wise?
<!——————EndFragment——————>
Courtesy Garrett T. Capps/Dave Terry
Garrett T. Capps
Mortiis, "Mental Maelstrom"
Says Capps: "There is room for only one locust master in this country, let alone on the planet, and that would be the gothic industrial troll known as Mortiis. He is the one responsible for all of these cities and forests, and he's going mental because of us dumbass humans."
The cities that I built, the forests that I grew, got stained by your filth, and now they smell like you. You stink! Just! Like! The pigs you are.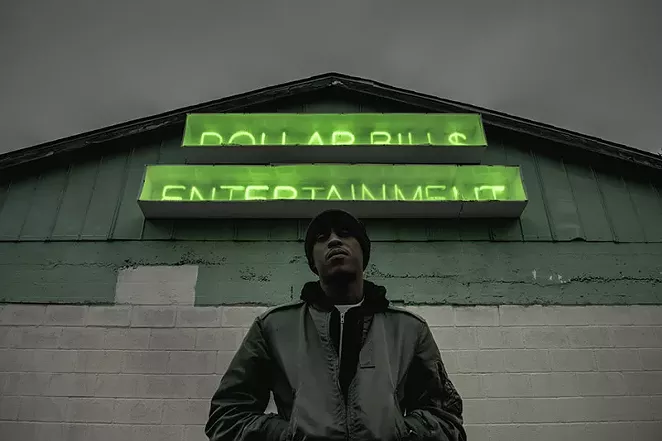 Autumn Olivia
There's a dollar-green hue to Milli Mars' Red Klay
Milli Mars
Public Enemy, "Fight The Power"
Succinctly put: "Because that's exactly what we should be doing."
Kevin Sanchez of At War With Dust
Erykah Badu & Nas, "This Bitter Land"
From Sanchez:
"Alongside Killer Mike, Nas preferred Sanders in the Democratic primary while Erykah Badu has expressed the belief that national politics is mostly spectacle. We must situate those views within the well of despair that exists paradoxically in this land of plenty. This song eulogizes the black lives unaccountably taken by law enforcement. 'Cop shot us up, he get a medal then retire,' raps Nas, evocatively pulling us back down to the concrete. Our love of country conflicts with our love of justice. And who represents those who've fallen between the cracks?"
Ila Minori
Massive Attack Feat. Hope Sandoval, "Paradise Circus"
"America and the world are watching this election or 'Paradise Circus' as the two candidates smile and even marvel in their sins. People cheer, boo, hiss, and applaud, because we also like being in the grips of sin. "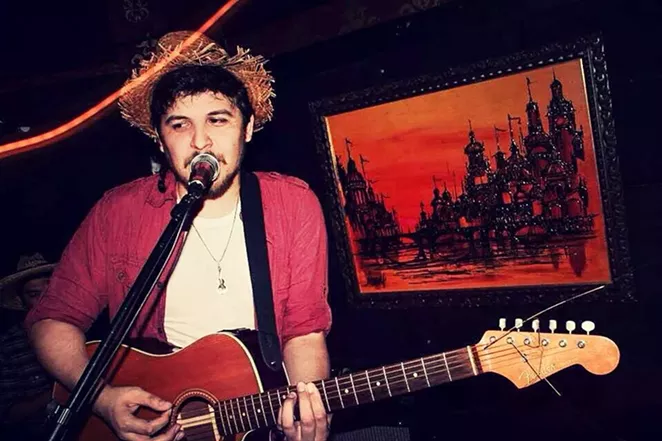 Facebook
Michael Carrillo performing with Deer Vibes
Michael Carrillo of Deer Vibes/Michael J and the Foxes
Loudon Wainwright III, "I Had a Dream"
From Carrillo: "It's straightforward, but in a somewhat playful setting, with a clever title. While humorous, the candid nature of this song leaves the listener thinking about the chilling possibilities surrounding this (joke of an) election.
We were made great again, embarrassed and feared.

Best. Line. Ever."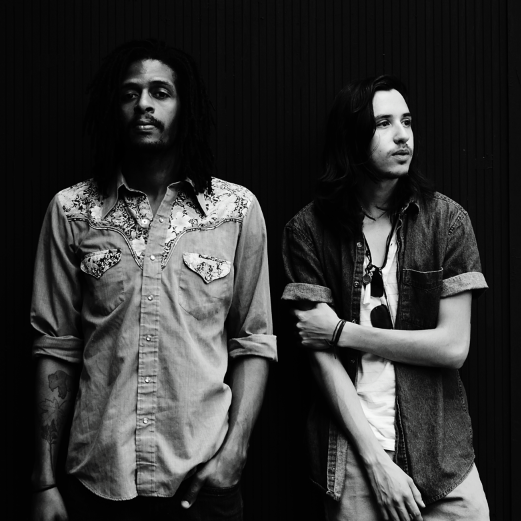 Via Facebook
Nick Long and Travis Hild of Lonely Horse
Nick Long of Lonely Horse
Poison, "Every Rose Has Its Thorn"
In the spirit of this election season, Long chose something he hates: "I chose this song because it fucking sucks. And, Trump and Hilary suck just as hard as this fucking lame ass, pathetic example of a hit song. Shit is weak."
<!——————EndFragment——————>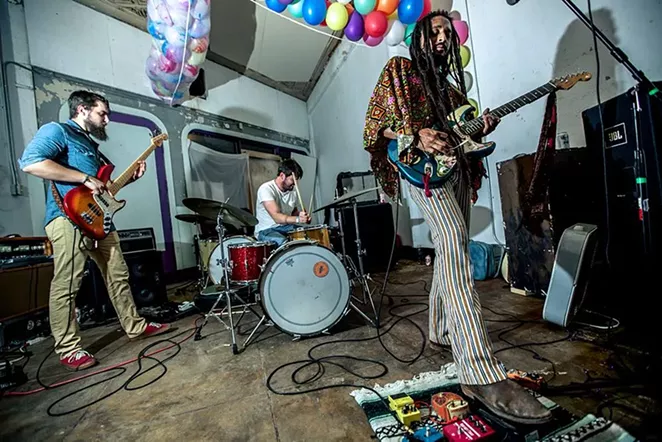 Facebook
Mockingbird Express invite you to trip on this
Marc Smith of Mockingbird Express/Shiva's Medicine Chest
Frank Zappa and the Mothers of Invention, "Plastic People"

Smith explains his choice: "It starts out with a faux presidential address and talks about materialistic Nazis running the town. Seems pretty appropriate."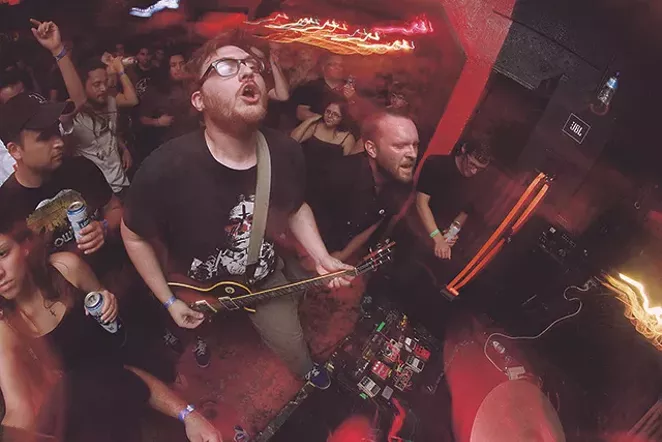 Courtesy
The Grasshopper Lies Heavy
James Woodard of The Grasshopper Lies Heavy
Brujeria - Raza Odiada (Pete Wilson)
Woodard gave us this thoughtful response:
"I feel really, really bad for my black and brown friends this year. I truly do. Like, holy shit, man. What a shit show. Something about fuckin' Donny Trump really brings out the 'racist uncle' in crackers. What the fuck is wrong with white people? Anyways, this isn't a new problem. 'Raza Odiada' tells the story of another racist piece of shit, this time a California good ol' boy politician named Pete Wilson (played/mocked here by patron saint Jello Biafra) spitting the same old vitriolic racist bullshit. It's a cautionary tale to other Mexicans, (crudely) warning ,
The american Christ will be president - first wets - after mayates. Purely white or purely dead.
"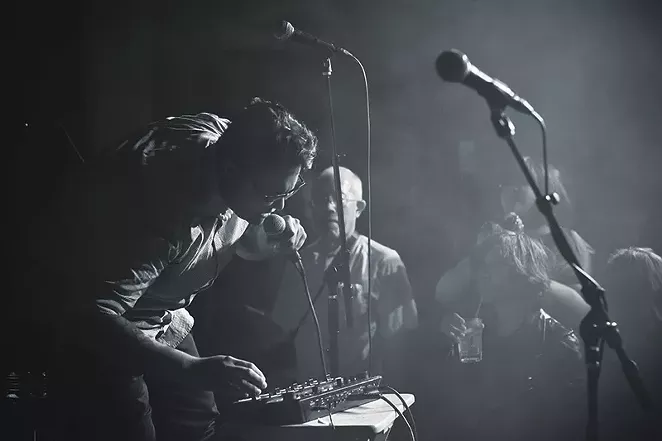 Jade Hernandez
Alyson Alonzo
Alyson Alonzo
Ozzy Ozbourne, "Crazy Train"
From Alonzo:
"The lyrics tell the most truth:

I've listened to preachers
I've listened to fools
I've watched all the dropouts
Who make their own rules
One person conditioned to rule and control
The media sells it and you live the role
I mean come on. Also, for the record, fuck Trump. Fuck that guy and his tiny, pussy-grabbing mittens."