Eisley
Monday, October 17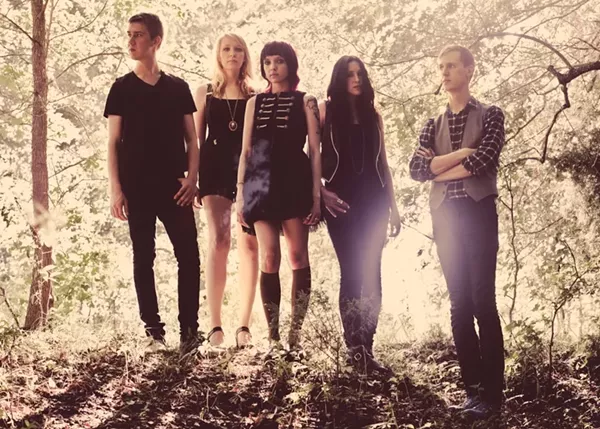 Image via Facebook (Eisley)
Although the stylish members of Eisley seem like they belong in a Bushwick coffee shop, the indie rock band originated as small family affair in Tyler, Texas. After honing their skills in a makeshift venue behind a church, the kids of Eisley stumbled upon radio success with songs like 2003's hit "Telescope Eyes." Now with four studio albums under their belts, the band is known for writing autumnal melodies in the vein of Rilo Kiley. Playful and plaintive, Eisley weaves contemporary fairytales about hanging out and finding love. Catch them along with Merriment at Jack's Patio Bar.
7pm, $15, Jack's Patio Bar, 3030 Thousand Oaks Dr.
M.D.C. (Millions of Dead Cops)
Tuesday, October 18
Image via Houston Press/David Ensminger
Facing the wasteland of the American political landscape, seasoned fans of punk rock are hard-pressed to name a group more timely than M.D.C. (a moniker that's abbreviated for "Millions of Dead Cops"). Brash and brutal, the leftist group is a product of Austin's hardcore heyday during the early 1980s. Decades after they first snarled "John Wayne Was a Nazi" into a microphone, the remaining members of M.D.C. are as unapologetic as ever. Unwavering in their disdain of capitalism ("Corporate Death Burger"), homophobia ("America's So Straight") and bigotry ("Violent Rednecks"), M.D.C. is a force of consistency within the chaotic subculture of punk politics. The Korova opens its doors to the petulant provocateurs of M.D.C. on Tuesday night for a small basement show.
7pm, $10, The Korova, 107 E. Martin
Margaret Garrett (Mr. Airplane Man)
Wednesday, October 19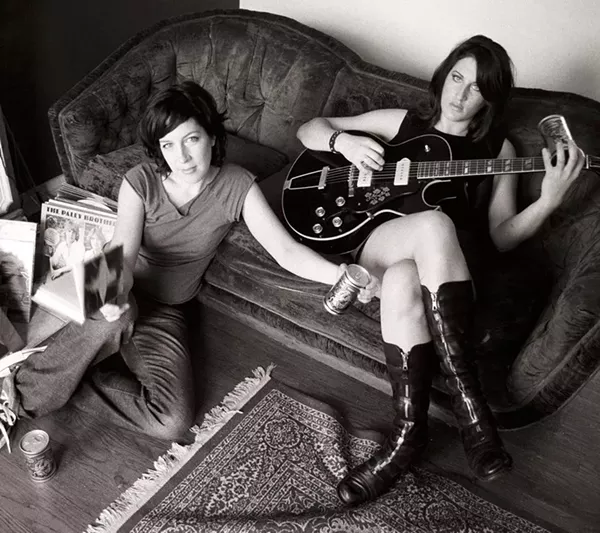 Image via Facebook (Mr. Airplane Man)
The recent surge of hipsters turned cowboys – looking at you, Edward Sharpe wannabes – should take a hint from a long cool woman named Margaret Garrett. Slinging a slick electric guitar and battery-powered amp, Garrett provides vocals to Mr. Airplane Man, a female duo hailing from Boston, Massachusetts. Alongside drummer Tara McManus, Garrett is known for a visceral fusion of punk rock and dirty Delta blues that's similar to Jack White's minimalist sound in
De Stijl
. (Not coincidently, Garrett and McManus hit the road with the White Stripes in 2001.) Today Garrett croons numbers like "Tell Me Baby" with a subtle twang that's not brazen enough to alienate a city slicker's ears. She pays a visit to Southtown's Lowcountry with the cosmic sons of Flower Jesus as she plays her way across the nation.
8pm, $10, Lowcountry, 318 Martinez
Machine Gun Kelly
Wednesday, October 19
Image via Facebook (Machine Gun Kelly)
Depending on who you ask, Machine Gun Kelly is either the best or worst part of MTV's runoff programming. The Midwestern rapper, record producer and actor is Richard Colson Baker, although he prefers "Kells" from the homies and "Daddy" from the ladies. Beyond dirty South rappers like Ludacris, Kelly names screwing his haters' girlfriends as a major influence, which lends some nuance to rapcore singles like "Wild Boy" and "Invincible." Kelly's latest studio album – last year's
General Admission
– revisits the rapper's spitfire lyricism and unapologetic attitude, but suggests a newfound sense of maturity in darker trap anthems such as "Till I Die." Despite this shift in tone, Kelly's artistic development won't put off fans who want to throw down. Embrace the tattoo infections and lace up with Machine Gun Kelly at the Aztec Theater.
8pm, $20-30, The Aztec Theater, 104 N. Saint Mary's
Fea
Thursday, October 20

Intelligent and irate, the punk rockers of Fea show no mercy for misogyny. In furious tracks like "Feminazi," the band repossesses slurs and indignations hurdled at women who identify as feminists. As vocalist Letty Fea professes the song's titular line – "I am no feminazi!" – the group issues the perfect battle cry for feminists who are tired of being misunderstood and misrepresented. After winding down a tour across the country, Fea seizes the spotlight at Planned Parenthood's
Get It On!
, a salacious event that aims to promote safe sex education. Rock out and wrap it up with the proud badasses of Fea.
8:30pm, $10-15, Paper Tiger, 2410 N. Saint Mary's