Kishi Bashi (Of Montreal)
Friday, October 28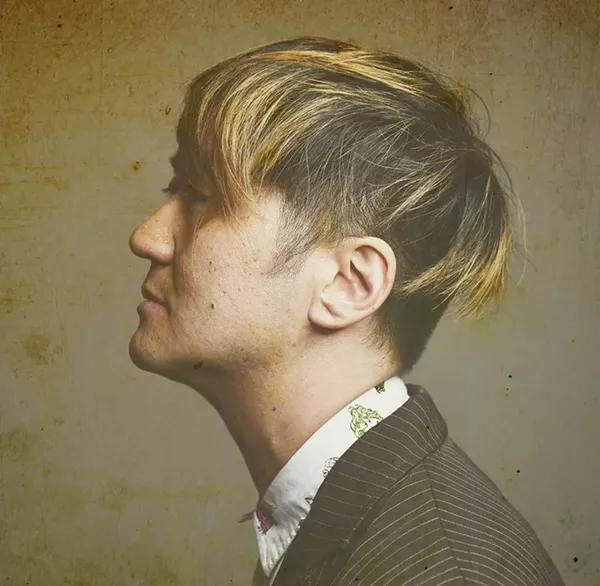 Image via Facebook (Kishi Bashi)
Proclaim your undying love to a space traveler on the moon with the cinematic Kishi Bashi, bona fide cool freak and founding member of indie rock outfit Jupiter One. Kishi Bashi's most recent solo release is last month's
Sonderlust
, a radiant gem produced by Joyful Noise Recordings that features a cameo from spacey soul mate Kevin Barnes in the song "Hey Big Star." Forged in the midst of an artistic crossroads,
Sonderlust
is straight from the heart, tackling the complexities of love and desire in what emerges as a thematic departure for the quirky composer. Kishi Bashi shoots for the stars with singer-songwriter Laura Gibson at Paper Tiger.
8pm, $15-63, Paper Tiger, 2410 N. Saint Mary's
Nina Diaz
Friday, October 28
Image via Facebook (Nina Diaz)
French writer and existential philosopher Simone de Beauvoir famously quoted in
The Second Sex
: "One is not born a genius, one becomes a genius." An established veteran of San Antonio's growing rock scene, Nina Diaz deserves her reputation as a musical genius in the making. The critically acclaimed Girl in a Coma alumna is celebrating the release of her first solo album –
The Beat is Dead
– with a concert at the distinguished Tobin Center for the Performing Arts. Deeply affecting, this latest album portrays the artist's grueling journey toward sobriety through electrifying tracks that push the listener's emotional extremes. Feel the sound and fury for yourself in darkly emotive head bangers like "Rebirth" and "Screaming Without a Sound." In this rousing spectacle, Diaz's seductive showmanship is sure to inspire fans, both new and old.
8pm, $15, The Tobin Center for the Performing Arts, 100 Auditorium Cir.
Mantra Love
Saturday, Oct. 29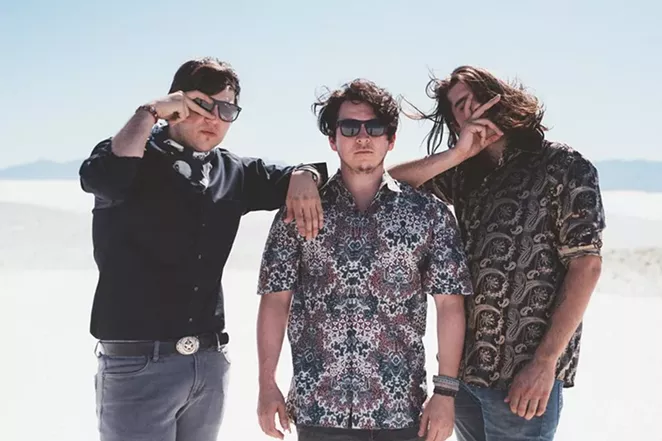 Image via Facebook (Mantra Love)
Anyone guilty of busting out their air guitar to festival headliners like Tame Impala needs to put Mantra Love on their buzzband radar. Thick with smoky layers of distortion and reverb, the lesser known group is a psychedelic trio that appropriately hails from Space City, U.S.A. Boasting a shrewdly crafted self-titled EP, the band has trekked across the country on dreamy walkabouts from Miami to Los Angeles with like-minded indie stoners such as Ringo Deathstarr, Ghostland Observatory and TV Girl. Just as mesmerizing as their former touring mates, the young dudes of Mantra Love compose soft swells of kaleidoscopic bliss in hypnotic tracks like "Howlin." Who says the greasy Third Coast isn't totally tubular? Mantra Love tunes in and drops out with local acts Urban Youth and 16 The Olympus at Imagine Books and Records.
8pm, $5, Imagine Books and Records, 8373 Culebra
Christian Bland and the Revelators
Saturday, Oct. 29
Image via schedule.sxsw.com
The tastemakers and trendsetters of K23 Gallery are waking the dead this Halloween weekend with their devious Trip or Treat showcase. Christian Bland and the Revelators usher in the dark night with brooding beats and demonic drones. Guitarist for the Black Angels, Christian Bland is a prolific shoegazer who helped found Levitation (formerly known as Austin Psych Fest) alongside the aptly named Reverberation Appreciation Society. Drenched with obscured vocals and heavy guitar riffs, Christian Bland summons supernatural vibrations in ominous tracks like "Black Crayon." Drifting through the air like the wispy smoke of a burning cigarette, the song feels like the soundtrack to a midnight drive through a sinister dreamscape. The synthy savants of Verisimilitude keep it real with Christian Bland at K23, the hotbed for live and local music in Beacon Hill.
$7, 9pm, K23, 702 Fredericksburg
Mexrrissey
Sunday, October 30
Image via Facebook (Mexrrissey - Mexico goes Morrissey)
It's a truth universally acknowledged that Morrissey is worshiped by the sullen sons and daughters of San Antonio, so this news comes with little surprise: there is a Mexican supergroup dedicated to reimagining Moz through a pan-Latin lens. The surreal experience that is Mexrrissey transports the Smiths' melancholy mastermind across borders in what emerges as brilliant – and kind of inevitable – cultural crossover. Expect good times for a change this Día de los Muertos with Mexrrissey at the quaint Arneson River Theater.
12pm, Free, Arneson River Theater, 418 Villita St.