Creepoid
Friday, November 4
Image via Facebook (Creepoid)
Nocturnal and brooding, the cerebral Creepoid is a post-punk quartet borne off the dirty streets of Philadelphia. Reverting to the melodic noise rock heard in 90's grunge – remember Sonic Youth's primordial
Goo
? – Creepoid waltzes through waves of distortion in a way that evokes the phantasmal presence of Kurt Cobain. Fittingly, the band's lyrics plunge into the weariness and exhaustion of creative minds, but executes this thematic descent in a way that never demands too much of its listener. Although Creepoid often slips into darker moments that feel fractured and detached, the band is able to transcend the doom and gloom of its grungy texture in lush tracks like "American Smile." What emerges is a blissful arrangement of strange loops that borders on déjà vu. Creepoid enters the void along with Future Museums and Hypersleep at the psychedelic mainstay of San Antone, K23.
8pm, $8, K23, 703 Fredericksburg
Hunny
Friday, November 4
Image via Facebook (HUNNY/Andrew Waller)
A band as cool as its SoCal roots, Hunny made big waves while warming the stage for the sunshine rockers of Bleached and Beach Slang this year. Pulling inspiration from both disco dives and the punky ghosts of the 80s, the dreamy hipsters of Hunny craft tunes that reflect on their botched love affairs of the past. Even in their most lighthearted moments, you can hear Hunny straining to negotiate their terminal optimism with the dire consequences of their nagging Peter Pan complexes. Refusing to acknowledge a single care in the world, the lively group spins sadwave riots like the shimmering single "Cry for Me," which is simultaneously upbeat and deceptively depressing. Catch a case of the feelies with Hunny and Sad Diet at Paper Tiger.
8pm, $12, Paper Tiger, 2410 N. Saint Mary's
STRFKR
Saturday, November 5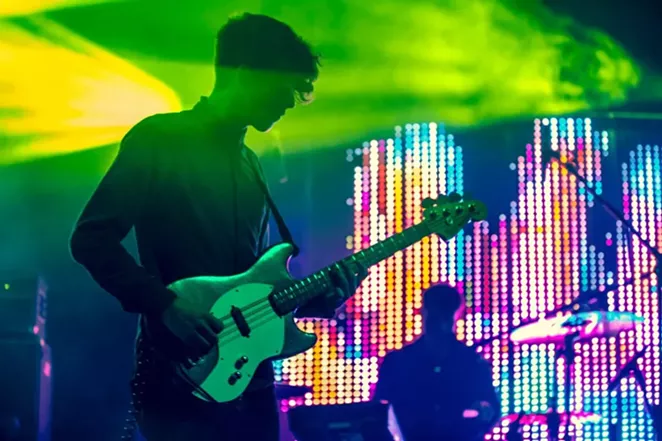 Image via Facebook (stfkr)
A band by any other name wouldn't smell as skeezy. Formed in 2007, synthpop staple Starfucker began as the quasi-joke of founding member Joshua Hodges. While living in Portland, Hodges unwittingly stumbled into a conversation with someone who was openly bragging about sexing up celebrities. Not too charmed with the encounter, Hodges decided to repurpose the phrase "star fucker" with a tongue-in-cheek twist as the moniker of a personal project. As fate would have it, the name stuck. Sometimes stylized as STRFKR, the band produces lively confections that are both danceable and thought-provoking. A prime example is the wildly successful "Rawnald Gregory Erickson the Second." (If that track sounds familiar, it was probably seared into your brain by a popular Target commercial a few years ago.) With release of the band's fifth album rapidly approaching, Starfucker's amusing ironic streak continues to make the band an indie essential.
8pm, $17, Paper Tiger, 2410 N. Saint Mary's
Health, Deafheaven
Sunday, November 6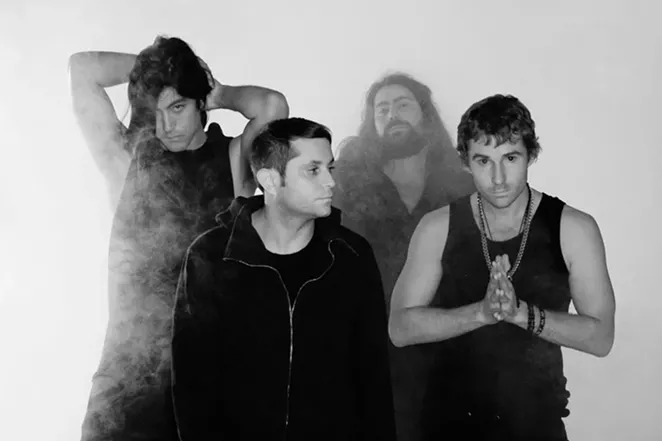 Image via Facebook (HEALTH)
There's something ironic about the deadly aesthetic that colors the freakish thunder emanating from a band called Health. Bursting out of the sinister corridors of the Los Angles art scene, the noise rock group left audiences speechless while opening for electro duo Crystal Castles back in 2007. (Later that year, Health famously amped up the duo's low resolution sound in their notorious remix of "Crimewave.") Matching Health in aggressive showmanship, the black metal shoegazers of Deafheaven stare into the void and snicker sarcastically. Don't expect the smoke to clear from this roaring battle zone anytime soon.
7pm, $20, Paper Tiger, 2410 N. Saint Mary's
Vinyl Williams
Sunday, November 6
Image via Facebook (Vinyl Williams)
Although the artist scrawls his legal signature as Lionel Williams, the quirky character concealed beneath a puff of messy hair performs under the very punny title of Vinyl Williams. Borrowing darker notes from murkier indie outfits like Lower Dens, the esoteric frontman of Vinyl Williams listlessly wanders through aural soundscapes in tracks like "Shield Zavior." Heavily relying on intuition, Williams' music shivers and slinks around the unexamined facets of the human experience. What results is a raw and unadulterated blur of instrumentation. Get lost with Vinyl Williams and the funky cats of More Eaze and Dulang Dulang at K23.
8pm, $7, K23, 702 Fredericksburg