Thu 11/17

"Beck Whitehead & Pulparazzi"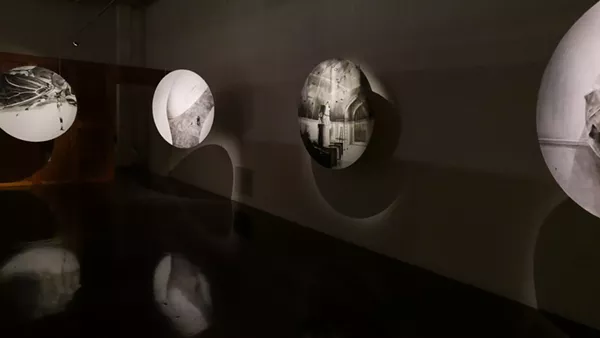 The Southwest School of Art bids adieu to its longtime papermaking and book arts department chair Beck Whitehead with a survey showcasing her work — some of which entails "painting" with colored paper pulp — alongside like-minded "pulparazzi" John Babcock (California), Shannon Brock (New York), Joan Hall (Rhode Island), Lois James (Washington), Anne McKeown (New Jersey), Michelle Samour (Massachusetts), Peter Sowiski (New York) and Lynn Sures (Maryland).
Coinciding with the school's annual McMahon Fiber Arts Symposium, the group exhibition opens in tandem with solo shows featuring Israeli mixed-media artist Hadar Sobol (who embroiders "emotionally burdened female figures" on vintage linen napkins and paper), local photographer Erin Neve (whose "Bread Towers" reference liturgical rituals and the human body) and New Mexico's Todd Christensen (whose new site-specific installation employs "hundreds of old and decommissioned library books" to explore "nostalgia for a past that doesn't exist."
Free, 5:30-7:30pm, Southwest
School of Art, 3000 Augusta St., (210) 224-1848,
swschool.org.
— Bryan Rindfuss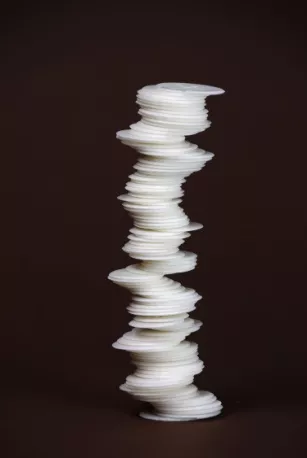 Thu 11/17 - Sun 11/20
Dustin Ybarra

You might have seen Bedford-born stand-up comic Dustin Ybarra as a character actor in
Gotham
,
We Bought a Zoo
, and
Ted 2
, but watching him on stage, it's impossible to imagine him being anyone but himself. In all the right ways, Ybarra's act seems indistinguishable from watching him telling a story to friends at a party — the setups and punchlines are so well crafted they're nearly invisible. Rejected coupons, stealing toilet paper from Long John Silver's, video game trash-talking and other day-to-day activities serve as launching pads for tangential rants that sound like they could come from your funniest friend — if he or she spent countless hours working them out on the road.
$17, 8:30pm Thu, 8pm & 10:15pm Fri-Sat, 8pm Sun, Improv
San Antonio Rivercenter, 849 E. Commerce St., (210) 229-1420, rivercentercomedyclub.com.
— Jeremy Martin
Thu 11/17
Sir Doug and the Genuine Texas Cosmic Groove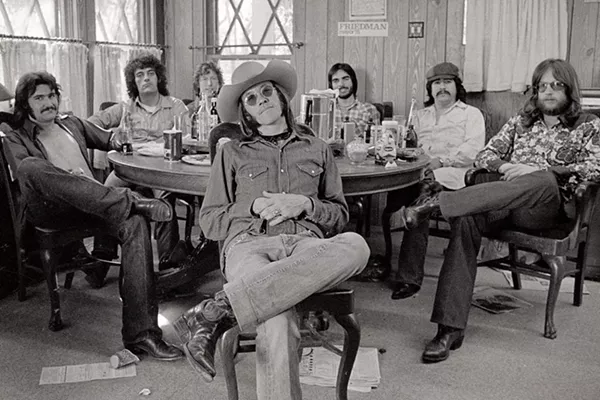 During the Texas Tornados heyday in the '90s, a bunch of friends and I went to some club in West Covina, California, to see Flaco Jiménez in person (he had just recorded an amazing solo on Café Tacuba's debut album). Once the TT concert started, though, we quickly forgot about Flaco. We encountered, instead, a human tornado named Doug Sahm. He was the heart and soul of the band and one of the best performers I'd ever seen. Joe Nick Patoski's excellent doc portrays the different Sahms (the rocker, the bluesman, the Tex-Mex vato, the country crooner and even the Scandinavian hit maker) in a fond but also critical light. The movie is entertaining, informative and funny as hell, but even with the endorsement of Bob Dylan himself ("the Sir Douglas Quintet is probably the best," he said in the early '60s), Sahm remains one of the most underrated figures in the history of Texas music, partly because of his tendency to not spend enough time developing a project. Perhaps Wilco's Jeff Tweedy explained it best in the closing credits: "He was incapable of following anybody else's plans for him." Fortunately, the music remains and this film makes the ultimate case for a true Texas musical genius.
$8,
7:30pm, Guadalupe Theater, 1301 Guadalupe St., (210) 271-3151, guadalupeculturalarts.org.
—
Enrique
Lopetegui
Thu 11/17
Jim Breuer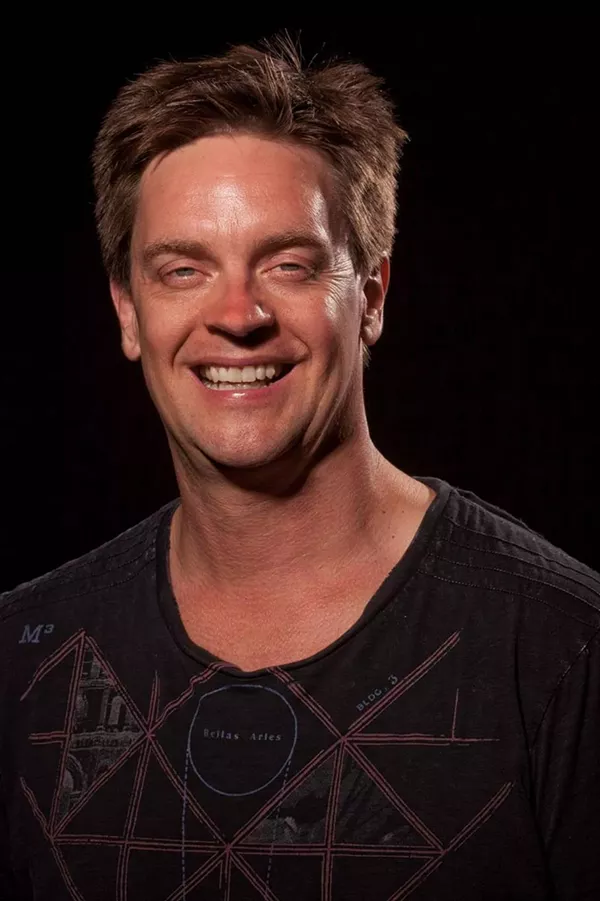 As might be expected of the dude who played Goat Boy in the late '90s and the guy who carries Jerry Garcia's ashes in a bag around his neck, Jim Breuer isn't quiet or subtle. His high-energy humor is delivered with great effort, but that's a large part of his charm — he isn't afraid to work for every laugh. A bit about common stand-up fodder like drinking unto nausea, for example, requires Breuer to impersonate several varieties of booze all seeking admittance to an uptight stomach, and he visibly burns calories in its execution. Always a crowd-pleaser, Breuer does celebrity impressions too: Sylvester Stallone, Joe Pesci, '80s metal singers doing kids songs. Some comics try to reinvent the wheel; others it's just fun to watch them take it for a vigorous spin.
$35, 8pm, Aztec Theatre, 104 N. St. Mary's St., (210)
812-4355, theaztectheatre.com.
– JM
Thu 11/17 - Sat 11/19
The Other Mozart

Tobin Center for the Performing Arts
On a worldwide tour making a stop at the Tobin,
The Other Mozart
is a one-woman show about the Mozart sister we've never heard about: Nannerl, who, as a child touring with Wolfgang, earned rave reviews for talent equaling or even surpassing her brother's. When she turned 18, however, she had to sit out Wolie's next tour so as not to damage her marriage prospects. So as Virginia Woolf imagined Shakespeare's brilliant sister, playwright and actress Sylvia Milo can only imagine the career as a musician and composer that child-prodigy Nannerl might have achieved, piecing together her personality using Mozart family letters. Hailed by
The New York Times
as "strikingly beautiful," Milo's experimental work pairs Wolfgang's iconic music along with an original score by Nathan Davis and Phyllis Chen, featured composers of Lincoln Center's Mostly Mozart Festival. In this decidedly-feminist play, the set is a stunning 18-foot dress with a cage-like corset and side hoops. Milo expresses Nannerl's musical creativity and stunted dreams in a vibrant performance for which she trained in period movement and earned the award for outstanding solo performance from the 2015 New York Innovative Theatre Awards.
$29.20-$36.50,
7:30pm Thu, 8pm Fri & Sat, Tobin Center for the
Performing Arts, 100 Auditorium Circle, (210) 223-
8624, tobincenter.org.
– Rachel Cooley


Tobin Center for the Performing Arts
Fri 11/18
Great Good Fine OK, Dreamers

A pair of young synthpop starlets, the two working halves of
Great Good Fine OK first met in 2013 when they crossed
paths out of sheer coincidence on the busy streets of
Brooklyn. After crafting a smattering of alarmingly good remixes
– just check out their buoyant take on St. Lucia's "Elevate" if you
need proof – the aural alchemists amassed a sizable following
of their own while opening for more trendy acts like the techy
Joywave, Penguin Prison and Tove Lo. Now virtual darlings of the
buzzing blogosphere, the duo is aunting a competitive indie resume
covering the short span of only three years. In the spirit of their former
labelmates Ellie Goulding, Icona Pop and Gotye, the group wiggles
around the lines that preclude indie songwriters from mainstream
success, so get in the loop with Great Good Fine OK before the boys
make it big. $10,
8pm, Paper Tiger, 2410 N. Saint Mary's St.,
papertigersa.com
.
— Abby Mangel
Sat 11/19
Texas Tornados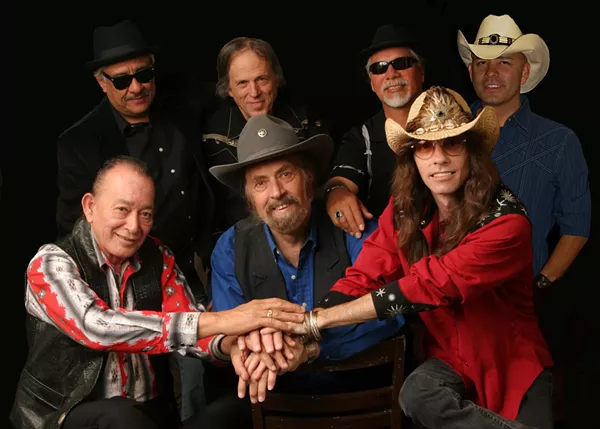 A Tex-Mex supergroup of unrivaled proportions, the Texas Tornados — with an original lineup consisting of Freddy Fender, Flaco Jiménez, Augie Meyers and Doug Sahm —make a damn-near- perfect (and consistently critically acclaimed) hybrid of Tejano and rootsy rock 'n' roll. Now, with Freddy and Sir Doug gone, Shawn Sahm (Doug's son) and several others have stepped in to keep the tradition alive. For this special show at historic Gruene Hall, the group will be joined by several guests as they pay tribute to fallen brother-in-song Doug Sahm. Going down just one day after what would have been Sahm's 75th birthday, the show promises to be an occasion for somber remembrance, a nostalgic trip through some of the best songs ever to come out of the Lone Star State, and, true to the Tornados estimable reputation, a wild pachanga.
$15, 8pm,
Gruene Hall, 1281 Gruene Road,
New Braunfels, (830) 606-1281,
gruenehall.com.
— James Courtney
Sat 11/19
The Halfways

Tune in and drop out with your favorite intoxicating co-eds, The Halfways. Conjuring the nebulous bliss of Tame Impala's first breakout record, the ambitious group is a psychedelic quintet sopping with the moral ambiguity of noir. (Let that digest for a second.) A quaint product of the capital city here in Texas, their individual styles reinforce their band's cohesive shtick. Poised like Stevie Nicks in the late 70s, they fashion themselves in imaginative vintage apparel and billowing menswear while portending personal ruin in tracks like their latest single, "I Don't Know How to Say No." Perfect for The sunburnt fans of lo-fi fuzz, the Halfways obscure the thresholds fantasy and reality at Imagine Books and Records. $5, 8pm, Imagine Books and Records, 8373 Culebra Rd., (210) 236-7668, facebook.com. — Abby Mangel


Sat 11/19
Terence Blanchard & The E-Collective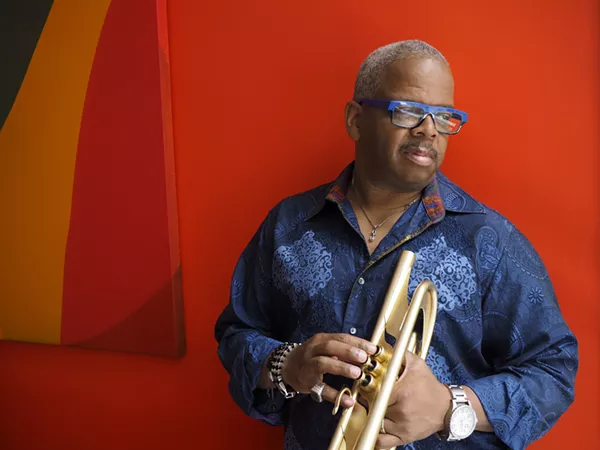 Trumpeter, composer, and bandleader Terence Blanchard is set to play a special show at The Carver with his new group The E-Collective. Blanchard, who boasts jazz cred for days, having worked with the likes of Art Blakey, Herbie Hancock, and childhood friend Wynton Marsalis, to name a few, has won five Grammys and contributed to more than 30 film scores, including
Malcolm X
,
Barbershop
, and Spike Lee's recent
Chi-Raq
. With Terence Blanchard & The E-Collective, Blanchard spreads his wings and diversifies his chops, presenting a sound that fuses jazz elements with aspects of funk, R&B, and blues.
Breathless
, Blanchard's excellent 2015 release with The E-Collective, is an album of resplendent storytelling that was inspired, at least in part, by Eric Garner's final words: "I Can't Breathe."
$35, 8pm, Carver Community Cultural
Center, 226 N. Hackberry St., (210) 207-7211, thecarver.org.
— JC
Sun 11/20
The Olate Dogs

Growing up poor alongside 21 siblings in Santiago, Chile, Richard Olate found his niche for training dogs after adopting a stray off the street. Reinforced with subsequent rescues, he developed a canine circus that toured South America and relocated to the U.S. in 1989. Since earning top honors ($1 million) on
America's Got Talent
in 2012, Olate, son Nicholas and their jumping, flipping, rolling, scooter-driving, conga-line-dancing poodle mixes have become touring sensations with starring roles in the #RescueFilm series produced by Ellen DeGeneres' holistic pet food company Halo. Trained to bark along with holiday classics, the multitalented pooches return to the Tobin as part of their Santa Paws Holiday Rescue Tour.
$35-$75, 2pm and 6pm, Tobin Center for the
Performing Arts, 100 Auditorium Circle, (210) 223-
8624, tobincenter.org.
— BR