Tera Ferna
Friday, November 18
Image via Facebook (Tera Ferna)
Borrowing their band name from a Latin phrase with a few down-to-earth connotations, Tera Ferna approaches contemporary rock as the natural inheritor of traditional rhythm and blues. The San Antonio quartet echoes the modern giants of the indie rock, casually switching momentums as they meander between the visceral urgency of Foals and the slacker sensibility of Portugal, the Man. But, they refuse to simply recycle their stylistic inspiration; the ambitious group's salute toward the genre of indie rock never muddles their unit's raw originality. Dramatic numbers like "Eyes of the Sun" fluctuate on a timbral level, showcasing the diversity that underlies the group's myriad influences. What results is something that resists the blanketing effect of a single label. Freak the folk out with Tera Ferna at Imagine Books and Records alongside Sweden's Secret Circus.
8pm, $5, Imagine Books and Records, 8373 Culebra Rd.
Great Good Fine OK
Friday, November 18
Image via Facebook (Great Good Fine Ok)
A pair of young synthpop starlets, the two working halves of Great Good Fine OK first met in 2013 when they crossed paths out of sheer coincidence on the busy streets of Brooklyn. After crafting a smattering of alarmingly good remixes – just check out their buoyant take on St. Lucia's "Elevant" if you need proof – the aural alchemists amassed a sizable following of their own while opening for more trendy acts like the techy Joywave, Penguin Prison and Tove Lo. Now virtual darlings of the buzzing blogosphere, the duo is flaunting a competitive indie resume covering the short span of only three years. In the spirit of their former label mates Ellie Golding, Icona Pop and Gotye, the group wiggles around the lines that preclude indie songwriters from mainstream success, so get in the loop with Great Good Fine OK before the boys make it big.
8pm, $10, Paper Tiger, 2410 N. Saint Mary's
Eli Young Band
Friday, November 18
Image via Facebook (Eli Young Band)
Way back when radio stations blared Lee Ann Womack's "I Hope You Dance" on a daily basis, two complete strangers found themselves sharing a tiny dorm while studying at the University of North Texas. These awkward freshmen – Mike Eli and James Young – quickly bonded over their mutual love of guitar and decided to form their own acoustic set after penning a few promising tunes together. After buddies Chris and Jon hopped on the bandwagon, the project began snowballing into a heartland phenomenon. Now counting the greats among their touring partners, the unlikely country crooners pack stadiums with rollicking anthems about drunk dialing their ex-flames and falling in love with crazy girls. (Try not to dwell on the utter lack of political correctness at play, here.) Grab a cold beer and cozy up with the wholesome guitar heroes of the Eli Young Band at Cowboys Dancehall.
7pm, $20-50, Cowboys Dancehall, 3030 N.E. I-410 Loop
The Lochness Mobsters
Friday, November 18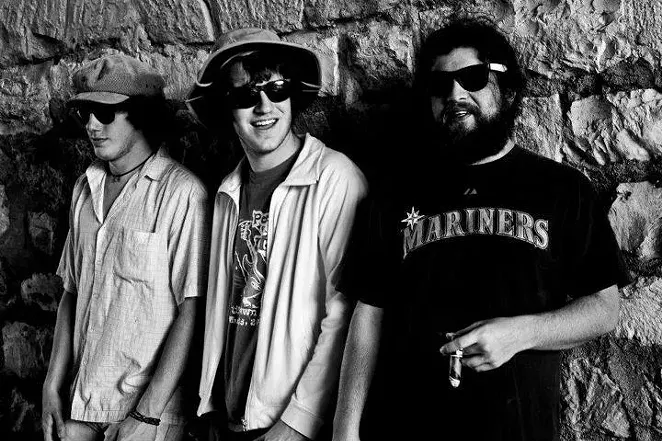 Image via Facebook (The Lochness Mobsters)
Apart from their obvious knack for badass word play, the Lochness Mobsters are picking up steam in the psychedelic arena with their killer style of southern surf rock. Deep fried in a greasy vat of scuzz and reverb, the wicked Mobsters crawled out of the Louisiana coastline like the scaly amphibian that starred in
Creature from the Black Lagoon
. Conjuring the cornerstones of modern garage rock – think Thee Oh Sees, King Tuff, Ty Segall, ect. – the slimy rockers experiment with aggressive guitar riffs and neurotic injections of percussion. What results are howling tracks like "Mud Rug" and "Flyin Hawaiian" that sound like the lost recording sessions between Dennis Wilson with Charles Manson. Plunge into the watery depths and hang ten with the Lochness Mobsters if you dare.
8pm, $5, K23, 702 Fredericksburg
The Halfways
Saturday, November 19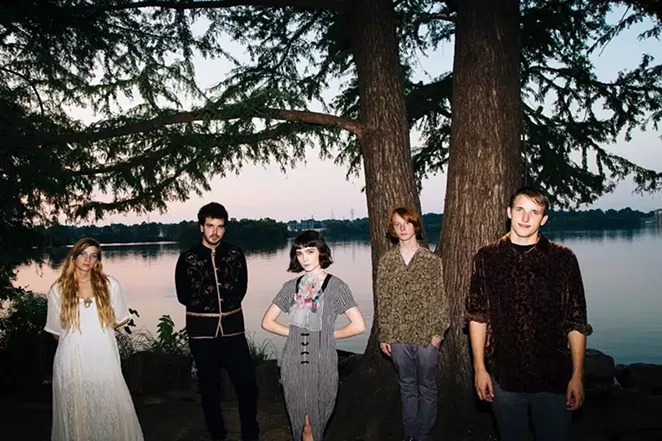 Image via Facebook (The Halfways)
Tune in and drop out with the intoxicating co-eds of the Halfways. Evoking the nebulous bliss of Tame Impala's first breakout record, the ambitious group is a psychedelic quintet sopping with the moral ambiguity of noir. (Let that digest for a second.) A quaint product of Capital City, the style of each individual player reinforces their band's cohesive shtick. Poised like Stevie Nicks in the late 70s, they fashion themselves in imaginative vintage apparel and billowing menswear while they portend personal ruin in tracks like their latest single, "I Don't Know How to Say No." Perfect for the sunburnt fans of lo-fi fuzz, the Halfways obscure the threshold that separates fantasy from reality at Imagine Books and Records.
8pm, $5, Imagine Books and Records, 8373 Culebra Rd.
Taco Bout That (Feat. Wonderbitch, Last Nighters, Tickle Torture)
Saturday, November 19

Image via Facebook (Tickle Torture)
Creative Creature's cofounder is throwing a birthday bash complete with greasy tacos, rivers of booze and a wicked lineup that includes Wonderbitch, Last Nighters and Tickle Torture. Setting off the evening, Austin's Wonderbitch waxes poetics about surreal cityscapes and the postmodern crisis. Tracks like the interstellar duo's "San Diego" combine shoegazey ambiance with New Wave textures heard in hits like M83's "Midnight City." Next up, San Antonio's Last Nighters take a dutiful detour to reverb nation, wailing dramatic indie anthems about human connection that loosely echo Local Natives' swelling pop sound. The night takes a weird turn with the Minneapolis exports of Tickle Torture, who moan choruses like "fuck me with the lights on" to broken R&B beats. (Imagine the sinister swag of the Weeknd's first mixtape transformed into maniacal house music.) There's something for everyone at this feast of off-the-wall acts. Taco 'bout that.
9pm, $5-8, Limelight, 2718 N. Saint Mary's St.