Back in Black: An AC/DC Tribute
Friday, November 25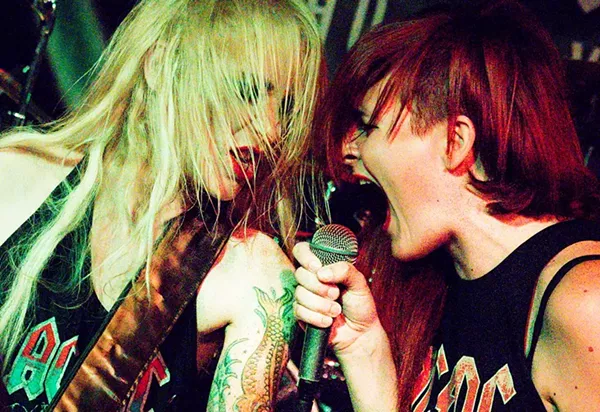 Image via Facebook (BACK:N:BLACK/Dangler Photos)
Descend the timeless "Highway to Hell" with five women who fuckin' adore AC/DC. As rowdy as their arena rock muses, Back in Black are a female tribute band hailing from the snowy caps of Switzerland. (Pretty random, right?) Praised for their diehard antics, the femme fatales recreate the snarling vocals and shredding guitars heard in AC/DC's rambunctious anthems about fast machines and American thighs. After performing a string of shows across the pond during their recent European tour, the ladies of Back in Black arrive to the Alamo City to shake us all night long – because it's rock or bust with these hellish belles.
8pm, $10, Paper Tiger, 2410 N. Saint Mary's St.
Brandon Cunningham
Friday, November 25
Image via Facebook (Brandon Cunningham Music/Anthony Barlich)
Steeped in the acoustic trappings of rootsy rockers like Dawes and Blitzen Trapper, Brandon Cunningham is a minimalist that evokes the woodsy romanticism of Bon Iver's reclusive phase. (Not coincidentally, Cunningham considers his first exposure to Justin Vernon as a personal revelation.)
Beyond his folky inspirations, traces of Cunningham's former gospel training manifest in the simple structures and hyperbolic devotion heard in somber tracks like "Baby." A swift slash to the core, Cunningham's barefaced writing unfolds as a stark and sincere testament to the melting pot of Americana. The Shiner Music Series presents Brandon Cunningham alongside Ellis Redon at Viva Tacoland.
8pm, $5, Viva Tacoland, 103 W. Grayson St.
Rivers Want, Dolphin Dilemma
Saturday, November 26

Image via Facebook (Wayne E. Holtz)
There's something wicked in River City: Richard Evans and Mike Kee are Rivers Want, a cool and detached outfit with a penchant for the "Thursday Afternoon" drones of Brian Eno and the screwy synths of witch house artists like Salem and Purity Ring. The duo are sharing a stage with Dolphin Dilemma, a simple man espousing the virtues of electronic beats and aquatic mammals. Dabbling in the watery soundscapes of vaporwave, the shy musician crafts neatly packaged melodies that induce the soft, hypnagogic sensations that we feel before falling asleep. Rivers Want and Dolphin Dilemma are slated to make a big splash with Phantom Chatter at Imagine Books and Records.
8pm, $6, Imagine Books and Records, 8373 Culebra Rd.
Ventura's Night of Hip-Hop
Saturday, November 26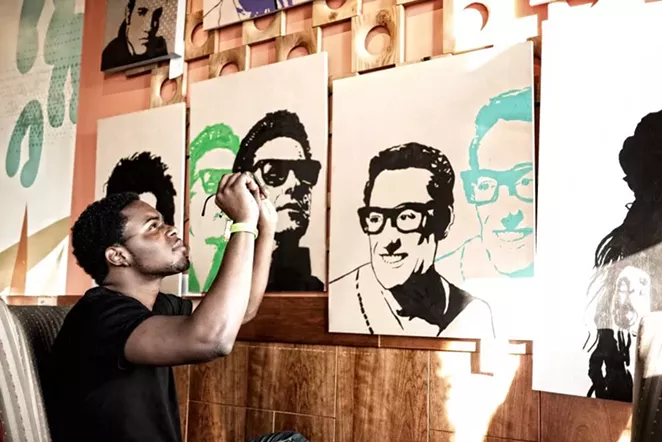 Image via Facebook (Flourish Gang)
While San Antonio is a wonderful outlet for many talented artists, there's an unfortunate tendency in the local scene to push aside certain genres for the sake of others. We cherish scruffy punk rockers and dismal metal heads, but often fail to mention the promising rappers and hip-hop artists in conversations about up-and-coming performers in the Alamo City. Steering attention toward these creatives during a special evening, the shrewd crew at Ventura is hosting a night of pure hip-hop. Showcasing over a dozen acts, the extensive lineup features a diverse collection of single performers and groups. There are dark and brooding architects of rhythm like the Audio Boys as well as the reefer lovin' intellectuals of Flourish Gang, whose inspiration lies in complex lyricists like Method Man and genre-bending rockers like Kid Cudi. Roll up and break it down at Ventura's night of hip-hop.
5pm, $8, Ventura SATX, 1011 Ave. B
Scott H. Biram
Saturday, November 26

Image via Facebook (Scott H. Biram)
Scott H. Biram is a radical performer that counts Kris Kristofferson as a fan, but his innovative songwriting style attracts listeners of all musical proclivities. (Take a moment to prepare yourself – the multi-instrumentalist mingles Depression-era blues with honky tonk attitude, blends proto-punk chaos into black metal anarchy and sprinkles in a dash of Americana for good measure.) Brandishing a sleek '59 Gibson, the dirty ol' man is virtually unsinkable. In fact, after he survived a car crash with an eighteen-wheeler, he managed to perform at Austin's Continental Club the following month with two broken legs and an I.V. still in his arm. If that's not dedication, it's hard to say what is.
8pm, $8, Paper Tiger, 2410 N. Saint Mary's St.