Plastic Pinks
Monday, November 28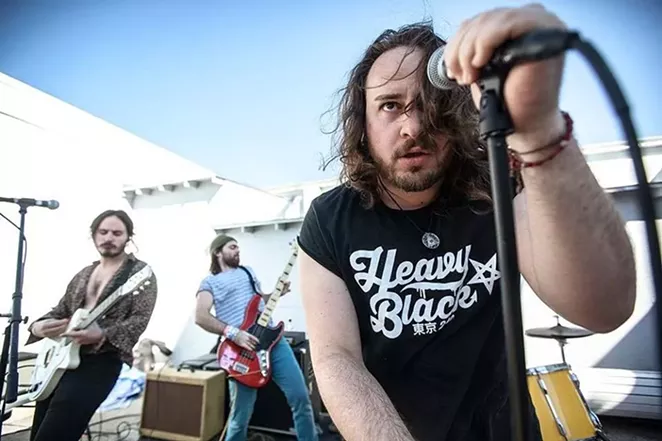 Image via Facebook (Plastic Pinks)
Garage rockers from the sandy flatlands of Miami, Plastic Pinks have split the bill with a diverse array of festival headliners, including the vintage badasses of King Krule and Shannon and the Clams, the dancey savants behind Neon Indian and RJD2 and folky freak shows like the Black Lips and Unknown Mortal Orchestra. While they resemble their various tour mates to varied degrees, the general vibe of Plastic Pinks gently leans toward the balmy languor of their Florida home. (As if to underscore their sunny aesthetic, the band's vocalist goes by the name June Summer.) Forget about sweater weather with the listless rockers of Plastic Pinks and Flowershop at the world's end.
9pm, $5, Limelight, 2718 N. Saint Mary's St
Lauryn Hill
Tuesday, November 29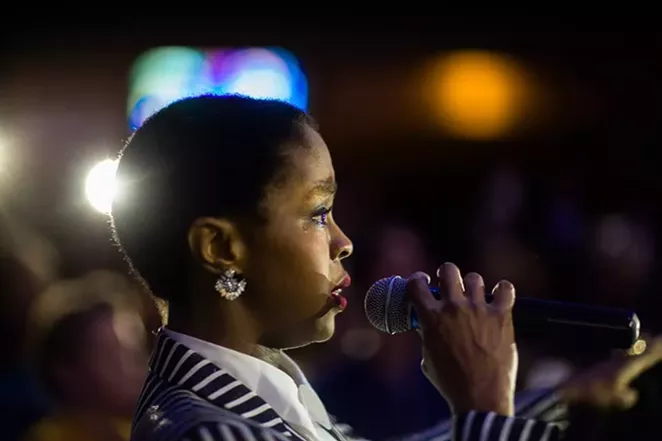 Image via Facebook (Ms. Lauryn Hill)
Refined and worldly, Miss Lauryn Hill is a master of killing us softly. Since her rise to prominence with the Fugees (a multi-platinum group that paired Hill with cousins Wyclef Jean and Pras Michel), she has proved herself with a prolific solo career as a contemporary woman in the realm of neo-soul. In the string of hits released on her 1998 solo debut – including its lead single, "Doo-Wop (That Thing)" – she melts down traditional elements of Caribbean music into quintessential hip hop tracks. The showstopper today prefers the creative freedom of the genre's underground scene from behind the scenes. Her striking contribution to the score of
What Happened, Miss Simone?
emerged as a professional comeback for the studio diva, whose dramatic homage to Nina Simone awed music and film critics alike.
8pm, $77, Aztec Theater, 104 N. Saint Mary's
Henry Rollins
Wednesday, November 30
Photo via Facebook (Henry Rollins/Heidi May)
This fucked up world needs Henry Rollins – the unflinching punk from D.C. who leapt on stage during the chaos of a Black Flag concert to perform alongside the band, shocking the arena with his raw talent and undeniable nerve. (Rollins formally auditioned to take over the microphone and forever changed the group after joining their ranks in 1981.) After Black Flag's eventual diffusion five years later, he formed the Rollins Band and started recording his own material independently. Struggling to recapture the intense spirit of Black Flag, he stumbled upon the second breakthrough of his career at the inaugural Lollapolooza headlined by Jane's Addiction in 1991. In the wake of his new exposure, Rollins began utilizing his band to experiment with pummeling variations of jazz in hard rock. Synonymous with resilience and pointed intelligence, Rollins channels the trauma of existence into unparalleled displays of passion and catharsis.
8pm, $35, Aztec Theater, 104 N. Saint Mary's St.
Broncho, Sports
Wednesday, November 30

Image via Facebook (BRONCHO)
Not ready to wind down their busy year, Broncho is joining forces with Sports to promote their newest release, Double Vanity. Disaffected youths tinkering with indie instrumentation, the ruffians of Broncho ditched the dusty landscape of their Oklahoma home after their bassist Jonathan Ford booked a series of shows without their permission. But, what began as a loose recording session quickly took off, shooting the mischievous rocks into humble prominence with commercial hits like "Class Historian." Bright and amiable, the track bumbles around a knotty melody that feels like a kinetic romp through a field of flowers with Iggy Pop and Julian Casablancas. Similarly, Sports sounds like another crisp undercurrent of indie rock, matching Broncho with wistful numbers about searching for something that's just out of reach.
8pm, $10, Paper Tiger, 2410 N. Saint Mary's St.
Ugly God
Thursday, December 1
Image via Facebook (The Willow)
Visualize Lil Dicky taking his first steps into the codeine-laced streets of Screwston – that's the strange essence of Ugly God, a Soundcloud rapper who crafts his own beats. Like the viral YouTube sensation, Ugly God is aroused by ordinary life at its most uncouth. In crude and outlandish numbers like "I Beat My Meat," we hear him reflect on masturbation to the unmistakable tune of a ringing iPhone. It's an artless response to the glitzy hype that enshrouds the Billboard rappers who dominate radio. Self-depreciating to the extreme, Ugly God stands as a blunt foil to Kanye West's colossal ego and Drake's shallow ostentation. Just as his working moniker implies, he resonates like the deified incarnation of the grimy and unsophisticated facets of life that we encounter everyday.
8pm, $10-15, Paper Tiger, 2410 N. Saint Mary's St.
Island & Tigers
Thursday, December 1
Image via Facebook (Island & Tigers)
The refurbished rock venue housed inside Ventura is hosting Island & Tigers for this month's iteration of its Patio Sessions. The folky band writes simple melodies built on top of slacker riffs with saccharine beats. Embossed by a thin film of college rock grit, their jangly guitars collude with nostalgic surf rock textures in lovelorn tracks like "Groundhog Day." Saturated with shimmering boy-girl harmonies, the band is marked by the refreshing feeling of naiveté. The warmth radiating from Island & Tigers stands in a sharp contrast to the cold night air in December – but, in all honesty, who's opposed to a little burst of sunshine this winter season?
8pm, $5-8, Ventura SATX, 1011 Ave. B