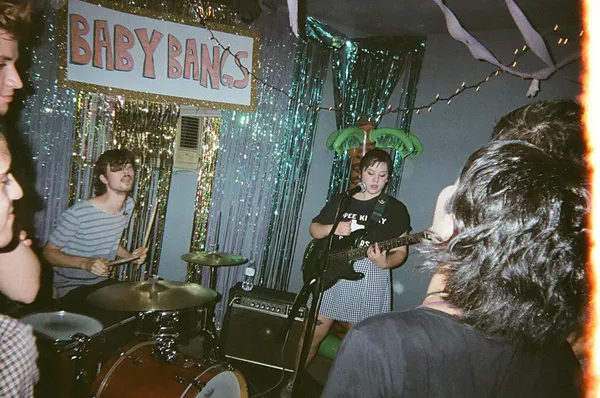 Baby Bangs
Thursday, Jan. 12
This show at Vapure Lounge, which is shaping up to be yet another promising and active DIY venue for the San Antonio music scene, features two of our favorite young bands in town. For starters, Baby Bangs is a rough and tumble bubble-grunge two-piece, led by gifted singer-songwriter Elena Lopez. If you like your lo-fi rock with plenty of pop smarts and raw energy, and maybe a dash of emotional catharsis, then you'll love Baby Bangs. The Freebiez, on the other hand, are more of a no-holds-barred noise rock/experimental act. Still, for those who don't consider themselves noise aficionados, there's plenty of diversity to the Freebiez sonic palette, which also incorporates elements of pop, punk, and even folk music. The band's live shows are particularly engrossing and punishing. Rounding out the bill will be Opaque Ghost, Mouton, and Prahnas. $5.00, 8:00pm, Vapure Lounge, 5431 Grissom Rd, (210) 455-8568, vapuresa.com. — James Courtney

MADD WOLF
Thursday, Jan. 12
A brand new project from ace jazz trumpeter Tony Romero, MADD WOLF is a loose, improvisational, jazz fusion collective. As a matter of fact, Romero, who, among other things, helms longtime SA favorite the Spiders Jazz Quintet (sometimes more, sometimes less), is set to debut this new project this Thursday at Ventura. MADD WOLF, which also features drummer Kory Cook (of Mockingbird Express and a million other things), guitarist Nick Long (of Lonely Horse) and bassist John Lewis Tyler, takes its jazz fusion inspiration from the likes of Sun Ra and Pharoah Sanders. Romero promises that Thursday's performance will feature two, largely improvised, 45-minute sets of music "that reflect the chaos of our modern world." This special show is a must for local jazz fans, as well as fans of psychedelic music of all types, and the generally musically adventurous. $3.00-$5.00, 10:00pm, Ventura, 1011 Avenue B, (210) 802-6940. — JC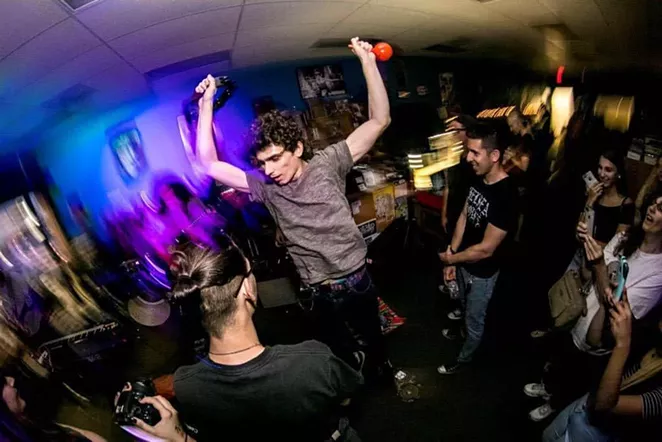 True Indigo
Thursday, Jan. 12
It's easy to see that True Indigo has a power color: the San Antonio quintet plunges headfirst into a psychedelic pool of purple haze, spinning endless webs of noise in acid rock jams like "I Saw Purple." They warmed the stage for Lonely Horse back in December, giving the popular duo a serious run for their money with improvisational works of free-form psychedelia. Now with a full length album on the violet horizon, the band is melding minds with the trippy heroines of Sailor Poon. Thick with smoky layers of feedback and distortion, it looks like indigo is back in style this year. 8pm, $7, K23, 702 Fredericksburg Rd — Abby Mangel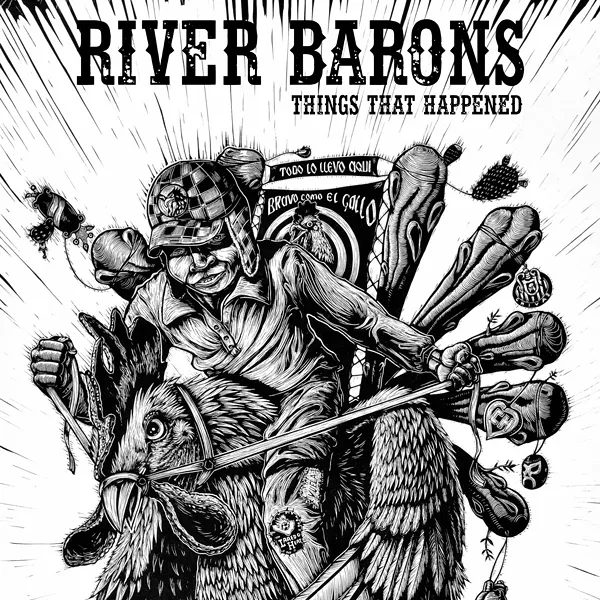 River Barons
Saturday, Jan. 14

One of the best things about Ventura, like The Ten Eleven before it, is the sheer number and diversity of shows the venue hosts. If you frequent the place, you're likely to get an earful of a band or two that really surprises you, an unexpected gem that you can't believe you haven't caught (or maybe even heard of) before. We submit that SA's River Barons might be just such a band. As evidenced on their rad and recent EP Things That Happened, the four-piece makes a lush and not-at-all stale brand of southern rock, with flares of heavy alt-country. But River Barons are far from a typical southern rock band. Aside from incorporating elements of jazz (dig that brass) and alternative rock, the group's music is blessed by uncommonly thoughtful lyrics that earnestly lay out relatable insights into daily life. You can check out River Barons' music at riverbarons.bandcamp.com. $5.00-$8.00, 8:00pm, Ventura, 1011 Avenue B, (210) 802-6940.
— JC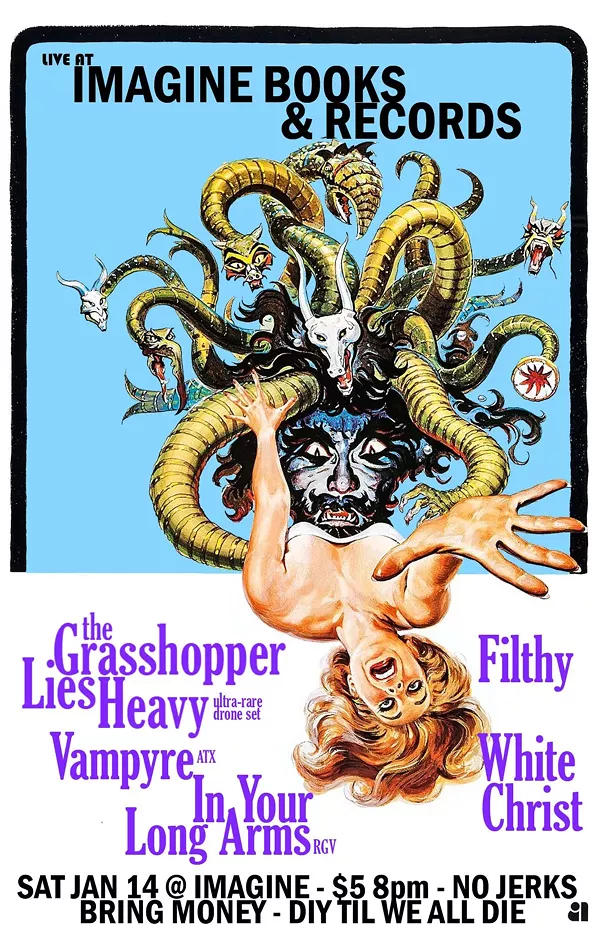 The Grasshopper Lies Heavy
Saturday, Jan. 14

An amp-worshiping staple in the Alamo City, The Grasshopper Lies Heavy might just be the most relevant band heading into 2017. The subversive group borrows its name from a fictional novel within Philip K. Dick's The Man in the High Castle, a book that reimagines life if the Axis Powers had won World War II. Presumably of Biblical origins ("The grasshopper shall be a burden" reads Ecclesiastes), the hardcore outfit's namesake whispers resistance under totalitarian rule. Now that we live in an upside-down world where the alt-right is a real thing, the postmodern landscape of The Grasshopper Lies Heavy takes on firsthand significance. The Forgotten Empire Records band experiments with cathartic explosions of percussion and guitar drones in the style of Fugazi and Quicksand. Intelligent and irate, they're ready to dismantle the bullshit of the sinister master class with a crushing wall of sound. 8pm, $5, Imagine Books and Records, 8373 Culebra Rd — AM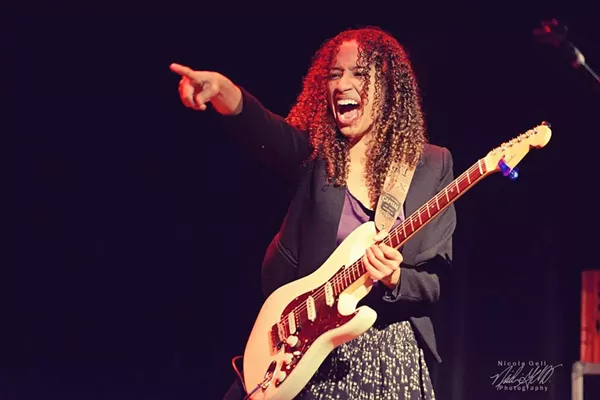 Jackie Venson
Sunday, Jan. 15

As a part of both Dream Week and MLK weekend, we'll be treated to a special show at the Tobin Center. The show will feature, in a booking choice that was made by someone who really knows what they're doing, Jackie Venson, a neo-soul/indie blues singer-songwriter whose star has risen quickly. The 27 year-old Venson, who already comes off as a seasoned vet in terms of performance and songwriting, makes music that crackles with the peculiar strength that arises from facing turmoil, and chasing peace, through art. Her live performances, in which listeners can truly begin to grasp what a vocal and guitar talent she really is, Venson is capable of rolling through a variety of styles and emotions with an organic ease and warm nonchalance seldom seen. For a fine primer on Venson, check out her Bandcamp page (jackievenson.bandcamp.com), and be sure to listen to her stellar live album
Live at Strange Brew
. Venson will be joined in this performance by spoken word artist Christopher Michael.
$22.50, 7:30pm, Tobin Center for the Performing Arts, 100 Auditorium Circle, (210) 223-8624, tobincenter.org
.
— JC

Third Root Presents DJ Chicken George and Friends
Sunday, Jan. 15


As has become something of a pre-MLK Day tradition in San Antonio, Third Root, a socially conscious and politically charged local hip-hop group that everyone should be listening to already, presents the fourth annual DJ Chicken George and Friends event, a night of excellent DJs, revelry, and the kind of togetherness-vibes that only a sweaty dance floor can engender. Aside from an always-on-point performance from Third Root, and of course Chicken George, who is the group's DJ/producer, the show will feature sets from JJ Lopez, Leonard Trujillo, Chorizo Funk, Donnie Dee, and Gibby Diaz. So, if you were hoping for a way to meet some new friends and limber up for the MLK march, Third Root has got you covered.
$10.00, 8:00pm, Paper Tiger, 2410 N St Mary's St, papertigersa.com
. — JC



Femina-X
Monday, Jan. 16
Femina-X returns home after embarking on an international walkabout that climaxed in Podvyazye, Russia. The ambient-leaning group follows the otherworldliness of experimental icons like Björk (seriously, stop whatever you're doing and listen their cover of "Hyperballad" on YouTube), but mutates tribal drums and Delphic vocals into psychotropic, dancey concoction. Now a world away from the frozen plains of Russia, Femina-X continues to push boundaries at the band's first local show of the year. This intimate performance is definitely one to remember. 9pm, $5, Limelight, 2718 N. Saint Mary's — AM
Don Henley
Tuesday, Jan. 17
As a solo artist and (especially) as a founding member of The Eagles, Don Henley was making dad-rock since way before dad-rock was even a thing. The heavily-decorated singer, songwriter, and drummer co-wrote many of The Eagles' most enduring songs (see "Witchy Woman," "Desperado," and "Hotel California") before embarking on a solo career in the early 1980s. Since then—aside from rejoining The Eagles starting in the early 1990s for an indefinite victory lap and the group's surprisingly solid 2007 release Long Road Out of Eden—Henley has released five solo albums of solid country-rock tunes, with the most recent being 2015's well-received effort Cass County. Straight up: your chance to see Henley live, in the intimate confines of The Majestic no less, is a chance to experience one of the true legends of American music, whose voice still sounds as gently soulful and deeply warm as ever. $79.50-$199.00, 7:30pm, The Majestic, 224 E Houston St, (210) 226-3333,
majesticempire.com
.
— JC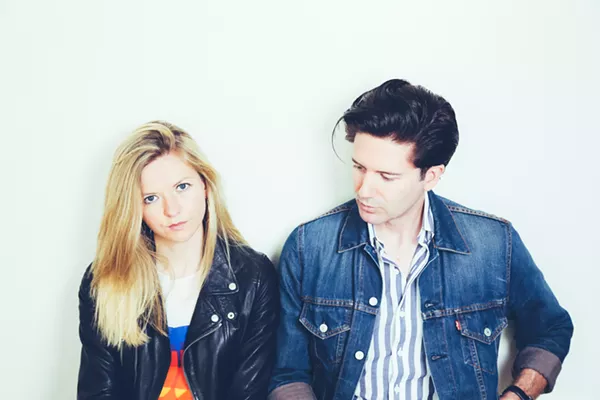 Still Corners
Tuesday, Jan. 17


Still Corners are a dazzling electronic outfit that's redolent of their hazy London home. Not unlike their Sub Pop label mates – Fleet Foxes, Foals, Beach House, etc. – they sound like the perfect score to a retro 80's flick about skipping prom night for some teenage hijinks. Drenched with gentle waves of synth, the group captures a sort of suburban purity in listless tracks such as their latest single "Lost Boys" on
Dead Blue
. The eclectic number loosely orbits the simple vocals of songstress Tessa Murray, entrancing and enchanting listeners through its subdued minimalism. Reminiscent of dreamy oddballs like M83 and Lower Dens, the entire album unfolds like a cinematic slow dance that drifts into rolling credits. It's a celestial treat for space cadets and cool kids alike.
8pm, $15, Paper Tiger, 2410 N. Saint Mary's
— AM