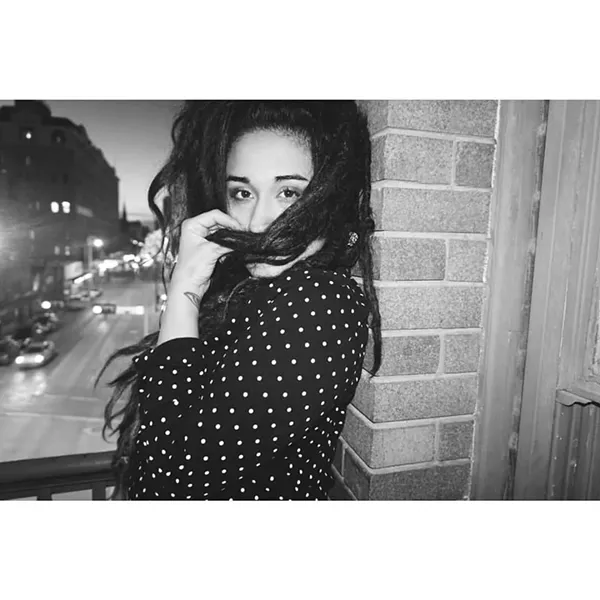 Facebook.com/kree23
Kree23
I've met one too many people who think that enlightenment is something you reach on the physical/ it's more than spiritual/ love, infinite miracles/ but I'm not here to preach just a perspective to reach on

So raps a calm but poignant Kree23 on the track "Open Minded." Within a day of the video's release last year, "Open Minded" was viewed 24,000 times on Facebook (it sits at almost 46k today), a pretty stellar feat for the rapper who's released tracks over the years but has yet to put out any formal collection of music.

Born Kristina Nicole Villegas, Kree23, a female rapper from the southside of San Antonio, hit the ground running a few years ago and hasn't slowed down since. Getting her start in the slam poetry community and with the guidance of local spoken word poet Anthony Flores, Villegas began mastering the craft of spoken lyricism through Fresh Ink Youth Slam, a weekly poetry slam that still runs today at Deco Pizzeria (it was held Friday nights at Bubble Head Tea before it closed down a few years back).


"Sometimes she would come in with a notebook, other times she would freestyle," says host and Fresh Ink co-founder Andrea "Vocab" Sanderson, a nationally recognized poet and performer. "No matter what she did though, she would move the crowd."
Vanessa Villegas
Kree 23
After securing a spot on the Fresh Ink youth slam team, the then-18 year old Villegas traveled to California to compete in the international Brave New Voices youth slam competition, which she says was one of the best weeks of her life. "There was this thing [at Brave New Voices] called The MC Olympics," Villegas says, "and that was the first time I rocked a fucking crowd...that's when I knew I was in love with hip-hop." With exposure to the artistic energy of several hundred other poets and lyricists, Villegas came back to San Antonio charged and ready to show the Alamo City what she's made of.


In the last few years, Kree23 has become a pretty well known name within the rap community in South Texas. Donning long dreadlocks and rapping with the ferocity of a seasoned lyricist, Villegas' style and delivery is reminiscent of the early 90s work from Sage Francis and Atmosphere's Slug. Bouncy and abstract but still landing in the pocket, Villegas' flow is certainly influenced by her early 90s predecessors — but at only 22 years old, she's able to manifest something young and fresh within the craft.

Opening for hip hop heavy-weight R.A. The Rugged Man next week, and an E.P. and album to be released over the course of the next couple months, Kree Villegas is most certainly an artist to watch from the front line this year.




$10-$18, 7pm, Saturday, January 21, Fitzgerald's Bar and Live Music, 437 McCarty Rd. St. 101, 210-629-5141