Wed 1/18
Atmosphere, Brother Ali
I don't know what the hell's in the water in Minnesota that has continuously birthed dope indie rappers. Seriously — like, Sims and Dessa from Doomtree, or Astronautalis, Brother Ali and then the legendary Slug from Atmosphere. Rhymesayers, the heavyweight indie rap label that houses the likes of Aesop Rock and Blueprint, is also based out of Minnesota so, apparently they're doing something right. Formed in the late 80's, Atmosphere has continuously served us super juicy hip-hop whose flavor has never run dry. In the age of mumble rap and dabbing, rapper Slug and producer/DJ Ant echo the roots of true hip hop through every release of a new album like their latest effort Fishing Blues. With Brother Ali, Dem Atlas, Plain Ole Bill, Last Word, 7pm, $25, Paper Tiger, 2410 N. St. Mary's St.
Wed 1/18
Fea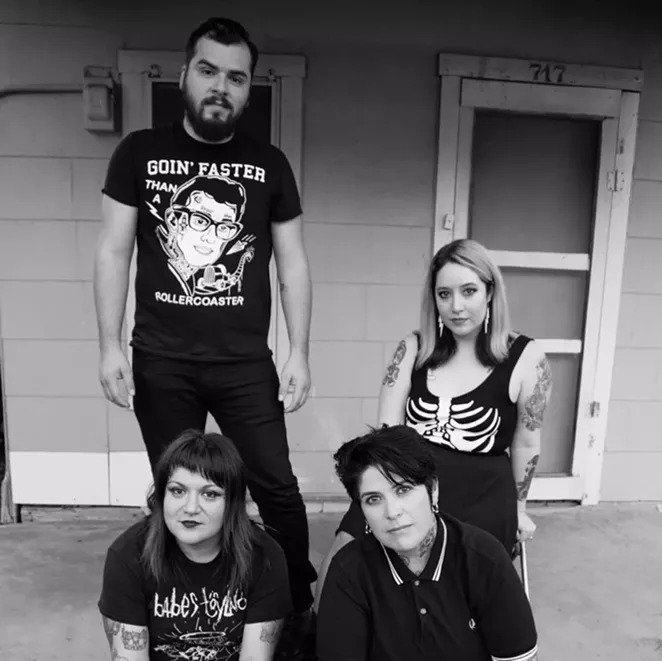 https://www.facebook.com/fea210/
"Don't tell me it's not relevant, Don't tell me I'm not relevant, cuz I'm still oppressed we're gettin' paid less, judged by looks and the way we dress, I don't wanna bring you down, man, I just want us to meet in the middle!" So shouts vocalist Letty Martinez, as guitarist Aaron Magana and Girl in a Coma drummer Phanie Diaz and bassist Jenn Alva power through the track "Feminazi." Riot Grrrl, a pop-ish punk-rock genre with heavy feminist lyricism, has been making a steady comeback as of late and San Antonio natives Fea are at the forefront of the movement. The riot grrrls (and boy) will be kicking off their two month tour at Bang Bang Bar, a bar and venue Alva and Diaz started with former Martini Ranch owner Jamie Hoppe in January of 2016. 10pm, $3, Bang Bang Bar, 119 El Mio Dr.


Thu 1/19
The Darts (U.S.), Voodoo Boogaloo


https://www.facebook.com/thedartsUS/?fref=ts
The Darts (U.S.) call themselves "Garage-psych-rock grrls who will make your head slam and your feet shake." And honestly, I found myself doing both as I listened through their 2015 release Below Empty and Westward Bound, a fast paced yet simultaneously casual album swelling with 90s garage rock nostalgia. Opening for the Darts is Canyon Lake mystics Voodoo Boogaloo, a psychedelic trip hop couple that opens portals to other dimensions with their LSD-inspired songwriting, sexy female vocal melodies and trapped out electronic production. 9pm, $5-$8, Limelight, 2719 N. St. Mary's St.

Fri 1/20
J Boog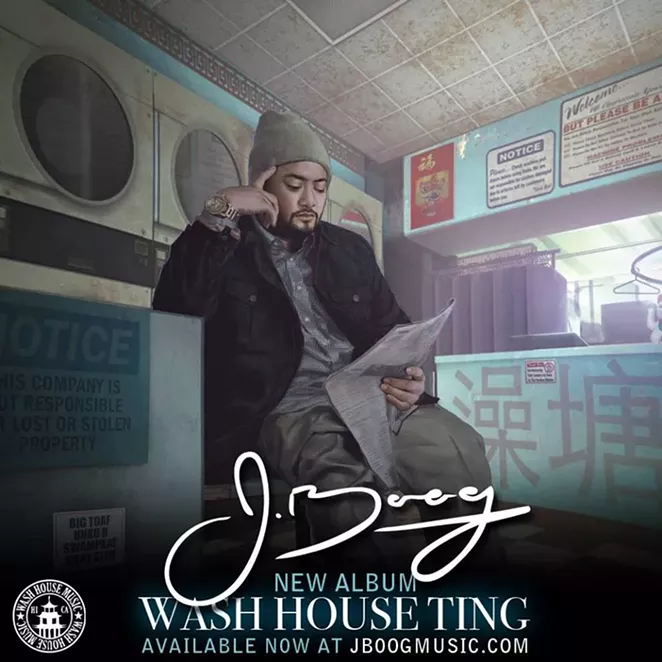 https://www.facebook.com/jboogmusic/?fref=ts
Sometimes I think terrible reggae passes for listenable reggae more often than its rock or hip hop counterparts because...marijuana maybe? I don't know. My point is that a lot of bad reggae exists and J Boog, thankfully is not that. Blending a perfect mix of brass, R&B vocals and subtle hints of pop, J Boog manages to rise above his yawn-worthy brothers and sisters in the genre to bring an interesting and enticing flavor of reggae that's rare and exciting. With Jo Mersa Marley, Jemere Morgan, 8pm, $16, Paper Tiger, 2410 N. St. Mary's


Fri 1/20
Kane Brown



https://www.facebook.com/KaneBrownCountry/?fref=ts
Citing Chris Young, Lee Brice, Garth Brooks and George Strait as influences, Kane Brown incorporates country and pop-rock aesthetic while interestingly ties in subtle trap rhythms. There definitely aren't hi-hat rushes and 808s, but there's a distinct beat that Brown introduces to a worn genre that sets him apart from his pop-country peers. With banjos whispering through his production, feel good lyrics and a baritone country twang, the Tennessee native is certainly someone to pay attention to in the pop country scene. With Jordan Rager, 8pm, $25-$35, Aztec Theatre, 104 N. St. Mary's St.


Sat 1/21
Brujeria, The Casualties, Piñata Protest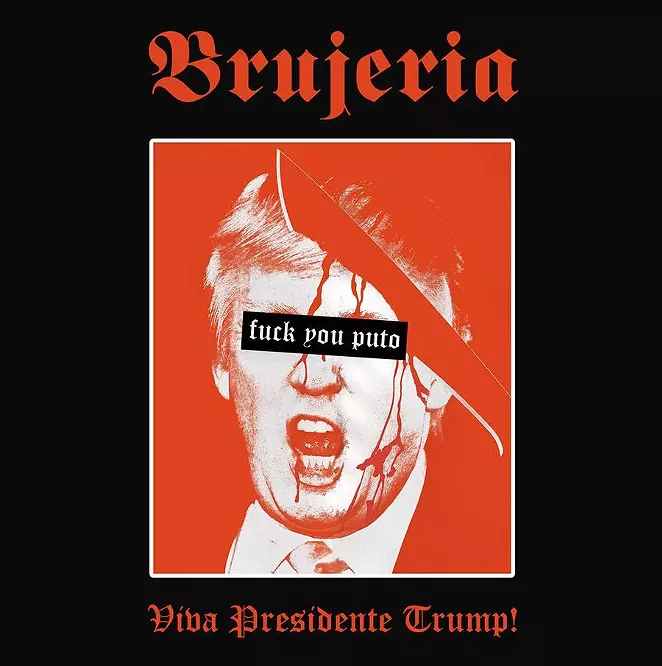 https://www.facebook.com/Brujeria/
"El quiere guerra igual que yo hechando chingasos entrale cabro!" an enraged vocalist of Brujeria shouts (there's three so I can't which one is actually saying this), referencing Donald's Trump absurd idea to build a wall between the United States and Mexico. Formed in the early 90s and including a few members of Fear Factory and Napalm Death, Brujeria raged through the extreme metal airwaves with rapid double bass kicks and lyrics referencing Satanism, narcotics smuggling and politics. On tour with the brujos are are San Antonio's very own accordion powered Tex-Mex punk band Piñata Protest. With punk icons The Casualties also in the mix, this show is gearing up to be a must-see for January. 8pm, $22-$25, The Rock Box, 1223 E. Houston St.


Sat 1/21
Wayne Holtz, House of Kenzo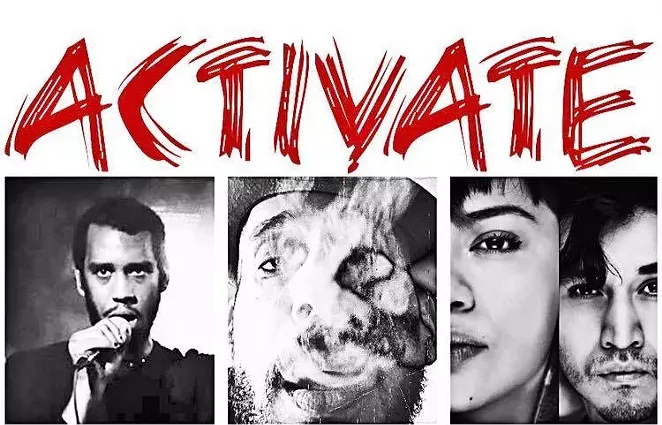 https://www.facebook.com/events/1828430770728364/
San Antonio is gay AF. If you don't believe it, maybe it's high time you peep a Wayne Holtz or House of Kenzo show. Oh look, here's one for you. Wayne Holtz is San Antonio's Neo from the Matrix, exposing us to realities and truths we may not be ready to understand with his elaborate choreography, baritone crooning and poppy instrumentation. House of Kenzo are basically aliens from another planet death-dropping through portals from the future and vogueing the audience and and whatever venue they're playing into a live performance art piece. With Joshua K. Swensen, 9pm, FREE, La Botanica, 2911 N. St. Mary's


Sat 1/21
R.A. The Rugged Man, A.F.R.O
https://www.facebook.com/RA-The-Rugged-Man-Official-Page-180800567216/?fref=ts
In Ego Trip Vol. 1, Issue 3, a New York based hip hop magazine, the Notorious B.I.G. was quoted as saying, "I thought I was the illest," referencing R.A. The Rugged Man AKA Richard Andrew Thorburn. Despite having worked with the Erick Sermon, Wu-Tang Clan, and the late Biggie Smalls, Thorburn never seemed to break through the underground like his early 90's counterparts. Only until 2013 with the release of his second album Legends Never Die (his first album being released ten years prior) did Thorburn start to see commercial success with the album landing at number 17 on the Billboard Top R&B And Hip Hop Albums chart. With A.F.R.O., Kree23 + more, 7pm, $10-$18, Fitzgeralds Bar and Live Music, 437 McCarty Ste. 101


Sun 1/22
Jim Lauderdale
https://www.facebook.com/JimLauderdaleOfficial/?fref=ts
Bluegrass is like the Swedish death metal of country music. Seriously, if you threw some distortion on the banjos and mandolins, then maybe slid that major key into the relative minor to make it sadder, you'd have the most aloof of death metal fans emotionlessly nodding in approval. Basically, more of you should try out Jim Lauderdale if you haven't already, because he's the best of the best in the bluegrass department. With 27 albums released over the course of several decades, and a Grammy for best bluegrass album, Lauderdale is sure to deliver a taste of hyper strumming and technical finger work to get that foot tappin'. 7pm, $18-$75, Sam's Burger Joint, 330 E. Grayson St.

Tue 1/24
Puroslam "Not My President Trump: Free Speech or Bust Slam"

https://www.facebook.com/puroslam/
Starting in 1999 by Benjamin Ortiz PuroSlam is one of the if not the oldest slam poetry crews in South Texas. At their very first appearance at National Poetry Slam competition in 2000, the young group competed against 54 other teams and secured a second place spot at the competition — a notable feat for the first time competitors. New members keep the spirit of Puroslam alive every Tuesday night at The Korova and this week will have a special post inauguration theme where they will "express our disdain and contempt for our less-than-civil 'leader.'" With DJ Donnie Dee, 930pm, $1, The Korova, 107 E. Martin St.