https://www.facebook.com/pg/ExplosionsInTheSkyMusic/
Explosions in the Sky
Thursday, April 6
Formed in 1999 in Austin, Explosions in the Sky helped pioneer the genre known as post-rock, a form of experimental rock which uses traditional rock instruments to produce instrumental soundscapes. In fact, they're still probably one the most recognized in the genre, alongside Mono, Godspeed! You Black Emperor and Sigur Ros. Explosions combine shimmering cascades of reverberating guitar riffs with echoey roll drumming for a style they refer to as "cathartic mini-symphonies." The band had already seen plenty of success with the release of their first three albums, but it was their heavy contribution to the Friday Night Lights soundtrack that gained them major mainstream attention — and an audience that catapulted them far away from the trenches of underground music. Carving a path for a generation of post-rock bands to follow (including San Marcos' This Will Destroy You and San Antonio's Bright Like The Sun), Explosions In The Sky continue to write ethereal and thunderous compositions that have been entrancing audiences for almost two decades. With Thor & Friends, 7pm, $25, Paper Tiger, 2410 N. St. Mary's St.
https://www.facebook.com/flipgatesofficial/
Lil' Flip
Thursday, April 6
One of the more well-known artists to emerge from Houston in the 2000s, Lil' Flip started out as a freestyle and battle rapper before signing with independent Houston label Suckafree Records in 1999. Eventually, he landed a major deal with Columbia Records in 2002. Lil' Flip, born Wesley Eric Weston, Jr., was first discovered by the late DJ Screw who added Weston to his rap crew, the Screwed Up Click, which has featured members like Fat Pat, Z-Ro and Trae The Truth. Definitely considered a part of the chopped-and-screwed southern hip-hop movement, Weston's flow and vocal delivery remains calm and collected as he punctuates his songs with stories of growing up in Cloverland Park, a neighborhood on the south side of Houston. Stepping back from the forefront of mainstream hip-hop, Lil Flip is still ridiculously active, telling The Source last year that he still writes 20-30 verses a week for features on other rappers' songs. He might even appear in the Guinness Book of World Records pretty soon since he's appeared on a whopping 5000 albums. 9pm, $12-$15, Limelight, 2718 N. St. Mary's St.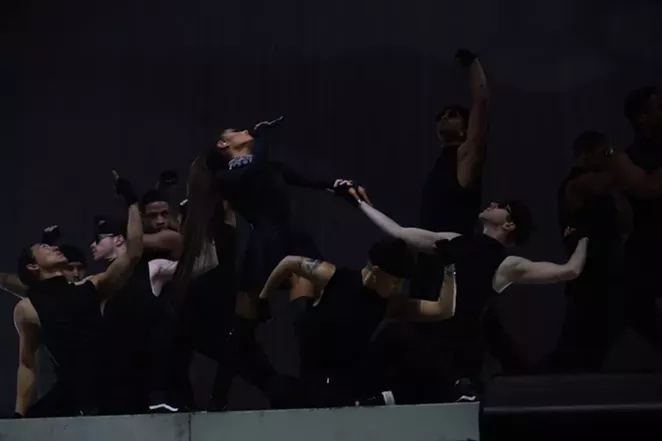 https://www.facebook.com/arianagrande/
Ariana Grande
Thursday, April 6
Bursting into pop music after her role as Cat Valentine in the Nickelodeon series Victorious, Ariana Grande is quickly becoming one of the most admired female pop vocalists on the planet, not only because of her voice but also the charming and goofy persona she often lets shine through her TV appearances, like on SNL and most recently NBC's live broadcast of Hairspray. But the road to stardom hasn't been all bubble gum and booty shakes. Grande was turned down for a White House gig because of a July 2015 scandal when she licked other people's donuts and said, "I hate America", in a donut shop in Lake Elsinore, California. While the singer/actress says the comment was to make a point about healthy eating, the controversy hasn't exactly tarnished her reputation as she still remains the fourth most followed person on Instagram and continues to pack arenas across the U.S. On tour in support of her latest album, Dangerous Woman, Ariana Grande's definitely one of the biggest names to roll through Alamo City this year. 7:30pm, $36, AT&T Center, 1 AT&T Center Pkwy.
https://www.facebook.com/ofmontreal/
Of Montreal
Friday, April 7
Officially part of the Elephant 6 Collective, which has spawned heavy-hitting indie acts like Neutral Milk Hotel and The Apples In Stereo, of Montreal have been serving up their own special blend of psychedelic indie pop since the late 1990s. Formed in Athens, Georgia, Of Montreal began as just one person, frontman Kevin Barnes, before adding additional members prior to the release the 1997 record Cherry Peel. Though the band has kept a general psyche tone throughout the years, their sound has taken on a number of different manifestations — ranging anywhere from The Beatles circa 1969 to Blonde Redhead and Animal Collective. Whatever the sound, the music is almost always weird and probably would sound amazing on a dose of magic mushrooms (not that we would know). So if you're up for a strange trip, don't miss Of Montreal's stop at Paper Tiger on Friday. With Christina Schneider's Jepeto Solutions, 8pm, $16, Paper Tiger 2410 N. St. Mary's St.
Maverick Music Festial
Friday April 7 - Saturday, April 8
With its fifth installation and a recent partnership with The Tobin Center, the Maverick Music Festival is gearing up for an explosive weekend of solid music. Perhaps most notable this year are hip-hop heavy weights De La Soul, the legendary rap trio from Long Island with their classic jam "Me, Myself and I" and a Grammy award winning collaboration with Gorillaz on "Feel Good Inc." Also on the Maverick roster is Bastille, Young The Giant, The Naked and Famous, Minus The Bear, Honey Honey, Generationals, Honey Honey, Small Black, Carla Morrison and
Book Of Love, a recently re-united synth-pop band from the late 1980s. Since its inception in 2013, Maverick Music Festival's aim has been to "elevate live concerts in the Alamo City to the next level." It's something they've certainly done in recent years with headliners like Run The Jewels, Flaming Lips and Cypress Hill. What's also pretty dope about Maverick is their inclusion of local talent. San Antonio bands don't have the opportunity to rub elbows with national acts as frequently as bands in other Texas cities, like Austin and Dallas, so getting the chance to share stages with artists that don't play shows in San Antonio often is an awesome opportunity for hometown talent, which this year will include soulful indie rockers Fishermen, experimental prog trio Verisimilitude and Wayne Holtz, a local queer icon and indie pop performer.
$99-$169, La Villita Historic Arts Village, 418 Villita St. For more information on the Maverick Music Festival, visit maverickmusicfestival.com. And, for regular festival updates, check out Twitter @MaverickFestTX.
https://www.facebook.com/bettyelavette/
Bettye Lavette
Saturday, April 8
It's not every day a soul singer from the 60s teams up with a rock and roll band to put out a record, but that's exactly what happened when singer Bettye Lavette joined forces with southern alt-rockers Drive By Truckers to produce the 2007 album The Scene of the Crime. Before hanging out with the Georgia based group, Lavette got her start in the the Detroit club scene in the 1960s and wound up going on tour with the then newcomer Otis Redding after recording her first single "My Man—He's a Lovin' Man" at only 16 years old. Though Lavette continued to perform and record over the years, it wouldn't be until 2005's I've Got My Own Hell To Raise did she really break out into mainstream circuits. I've Got My Own Hell To Raise was a cover album of songs written by artists like Fiona Apple and Dolly Parton and was released on punk rock label Epitaph's sister label Anti-, which hosts a strange combination of artists and bands including rapper Sage Francis, country singer-songwriter Merle Haggard and indie rockers Wilco, to name a few. Within a few seconds of listening to Lavette's soulful vibrato and life experience that she carries through her vocal performances, you'll understand why this is a concert you'll definitely need to stop by this weekend. 8pm, Pre-sale $42.60, Carver Community Cultural Center, 226 N. Hackberry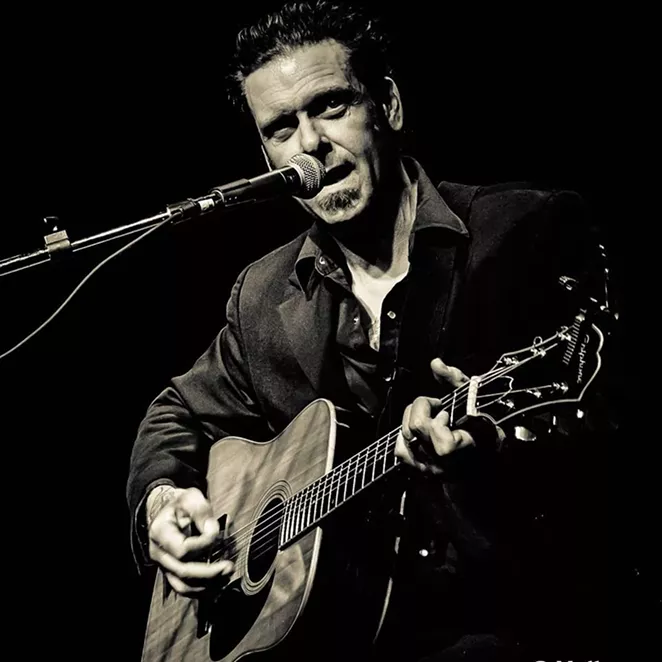 https://www.facebook.com/StevieTombstoneTour/

Stevie Tombstone
Saturday, April 8
Stevie Tombstone's music sounds like he sold his soul to the devil for a bottle of whiskey and he's just riding out his last days singing sad country songs on his acoustic guitar 'til hell takes him home. It's great, and to be honest, a little bit unexpected considering how many country and Americana folk artists we come across living in South Texas. Matching vintage blues with country twang, the Georgia-born artist has been an active performer since immersing himself in the 1980s underground rock scene in Atlanta before pursuing the dusty acoustic path he's currently walking. Ranging from alt-country rock to gritty southern gothic folk music, Tombstone isn't exactly trying to mask his gloomy lyrics with upbeat happy guitar riffs (a common attribute to his traditional country counterparts). It's raw and unashamedly depressing, yet catchy enough to keep listening to. And even if you start crying thinking about all the mistakes you've made with your life, you'll probably still be tapping your foot to beat. 5pm, Free, Barriba Cantina, 111 W. Crockett St. #214