A Perfect Circle
Wednesday, April 26
Nu-metal prog rockers A Perfect Circle are back on the road and have announced a new record that's supposedly due out sometime this year. The last song they released was "By and Down" back in 2013, but it's been about 13 years since they've released a full album, even longer for an album that wasn't full of cover songs. But apparently this newest venture has been in the works for years. Founding member and lead guitarist Billy Howerdel was actually a guitar tech for several bands, including Tool, which is how he got linked up with singer Maynard James Keenan and eventually started A Perfect Circle. In a recent interview with the Salt Lake Tribune, Howerdel said he's been sending music to Keenan for years. Go figure Keenan's busy – in addition to his roles in A Perfect Circle and Tool, he's also got his own side project Puscifer, a winery, and a family to attend to. Basically: touring is kind of a rare occasion. Touring and the possibility of hearing new tracks? That, my dears, could make this a special show for longtime APC and Maynard fans.
With Prayers, from $37.50, Freeman Coliseum, 3201 E. Houston St.
– Chris Conde





Tech N9ne
Thursday, April 27


In hip-hop, east coast, west coast, and the south all have their distinctive sounds. From the east coast's complex lyricism, to the South's slowed-down chopped-and-screwed style, each area has a separate identity and contribution to the genre. So what did the Midwest bring to the table? Hip hop heads will argue it's the rapid fire "chopper" style of Cleveland's Bone Thugs N Harmony or Chicago's Twista. Include on that list Kansas City's Tech N9ne, who, since the early '90s, has been delivering a healthy dose of machine gun fire verses. Jumping to several record companies before starting his own label, Strange Music, in 1999, Tech N9ne, born Aaron Dontez Yates, has sort of assumed the role of black sheep of the hip-hop world. His lyrics are no-holds-barred, and he's even brought on rock vocalists to collaborate, like Korn's Jonathan Davis, who was featured on last year's "Starting To Turn". With 13 albums set to drop through his label this year as well as a huge tour with label kin Krizz Kaliko, Brotha Lynch Hung, Ces Cru and Stevie Stone, Yates' 2017 is gearing up to be a busy one as he continues to lead the pack in the world of strange hip-hop.
8pm, $33.50-$46, Aztec Theatre, 104 N. St. Mary's St.
– CC



The Dip
Thursday, April 27
I cannot stress to you how amazing Seattle's The Dip is. If typing in all caps wasn't the worst thing ever, I would do it just so you could realize (or just imagine me holding a Dip album to the sky screaming, "Yass bitch!"). If you listen to this 7-piece vintage-sounding soul group, you'll probably have a similar reaction. At the very least, you'll start tapping your foot with a smile as singer/guitarist Tom Eddy's breathy soul vocals lull you to the dance floor to shake that groove thang. Eddy definitely gets out of the way long enough to let the music breathe and fill up a room. Backed by a horn section called The Honeynutt Horns, the gang covers a range of sounds from high energy, bass-forward funk to casual stroll-through-King-William jazz inspired soul. They're good. Really, really good. And if you're looking to watch a band that knows how to simultaneously display remarkable musicianship and, you know, get down, this a show you won't want to miss.
With The Foreign Arm, Alamo City Soul Club, Friends of Sound Records, 9pm, $5, Limelight, 2718 N. St. Mary's St.
– CC
Atlas Genius
Thursday, April 27

If folk-tinged, indie electro-pop is your bag—or if you just enjoy melodramatic performances by should-be pop stars of the moment—then you'll want to catch the rambunctious and talented Aussie outfit Atlas Genius in action. Helmed by brothers Keith and Michael Jeffery, the (I'd say underrated) band's songs are catchy as hell and its performances are known to be full of surprises and gusto, kinetic affairs that carry its songs to new proportions, in all their relatable and anthemic-yet-saccharine glory. Atlas Genius, formed in 2009, has released two albums: 2013's When It Was Now and 2015's Inanimate Objects, both of which were fairly successful in terms of college/alternative radio airplay and generating a buzz. That buzz, as we await the band's third album, brings them (and perhaps you too) to the Tiger this week.
$18.00, 8:00pm, Paper Tiger, 2410 N St Mary's St, papertigersa.com.
— James Courtney
Pat Benatar
Friday, April 28

The 1980s were a spectacular time for the music industry. Technical innovations were introduced which greatly impacted the sound, deliverance and genres of music. The synthesizer generated entirely new subgenres and altered existing ones forever. The advent of MTV caused a spike in music video production. Among the icons who arose was one fearless female with a trained mezzo-soprano voice who cultivated a tremendous following of loyal rock-and-roll fans. Pat Benatar came to true celebrity in the early '80s, with beautiful ballads and rebellious rock hits like "We Belong", "Hit Me With Your Best Shot" and "Invincible". Her legendary vocals demanded equality in a genre dominated by men, empowering audiences around the globe – especially young women. With a reputation that includes four consecutive Grammy awards (and nine nominations) in the "Best Female Rock Performance" category, the rebel (with a cause) ingrained herself in rock-and-roll history. Pat Benatar, along with her husband and long-time musical partner Neil Giraldo, tours annually every summer. As a musician, producer and writer, Giraldo has an equally impeccable reputation in the music industry with a vast catalogue of solo hits and collabs. Together, they took the rock scene by force and even became the first female and first guitarist to be featured on MTV. After three decades, the celebrity couple is still selling out auditoriums around the world.
8pm, $35-$100, Tobin Center For The Performing Arts, 100 Auditorium Cir
. –
Kimberly Rivera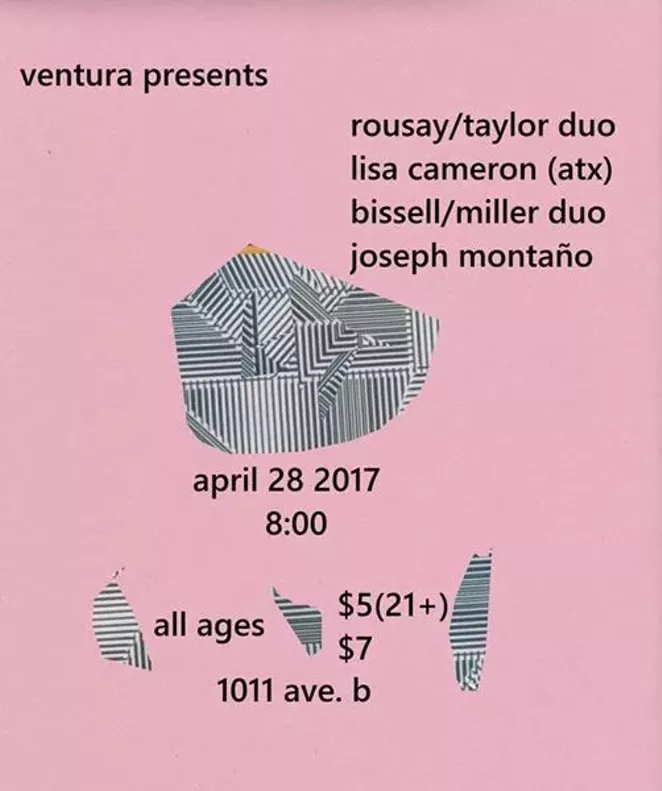 A Night of Contemporary Composition
Friday, April 28

Experimental music, in all of its various forms, is an acquired taste to be sure. Some come by their love for the avant-garde in music through theoretical concerns and in-depth study/practice. Others learn to love experimental music by tuning their ears to the weird and boundary-pushing, wherever they find it. Whichever of these categories you might fall into, or if you're still waiting to be seduced by the mind-expanding capabilities of outre aural stimulation, Ventura's "Night of Contemporary Composition" is a can't miss show. The all ages event will feature performances by the Dane Rousay/Cameron Taylor Duo (free jazz/improv featuring unconventional implements), Lisa Cameron (experimental composer/percussionist from ATX), the Jacob Bissell/Daniel Miller Duo (performing their percussion and electric guitar piece "Statement"), and Joseph Erik Montano (of local experimental noise/pop group The Freebiez fame).
8pm-midnight, $5-$7, Ventura, 1011 Avenue B, (210) 802-6940.
— JC


Sinkane
Saturday, April 29

Blending a mix of krautrock (Kraftwork, Tangerine Dream) with free jazz, shoegaze, R&B and prog rock, Sinkane (born Ahmed Gallab) writes some seriously psychedelic music without necessarily falling into the psyche-rock category. The tracks are almost always bass and drum heavy as Gallab's light and airy vocal melodies drift over the beat. It's a juxtaposition that might even remind you of Sade, just newer and a bit more electronic. Born to English college professors in Sudan, Gallab moved to the U.S. when he was five and eventually worked as a session musician for artists and bands including Caribou, of Montreal, and Yeasayer (to be honest, the first couple Sinkane records sound like they could've been Yeasayer albums – not necessarily a bad thing). On top of fronting Sinkane, Gallab also plays in a super group called Atomic Bomb!, which plays the songs of Nigerian funk musician William Onyeabor. The core group features members of Hot Chip, LCD Soundsystem, Beastie Boys, and Blur. On tour in support of the new album Life & Livin' It, Sinkane continues to be one of those artists bridging pop and the fringes of experimental music.
8pm, $12, Paper Tiger, 2410 N. St. Mary's St.
– CC