San Antonio's music community is rich and diverse, spanning multiple genres, from the R&B vibes of Amea to the post-rock sounds of Bright Like The Sun. However, it's plain to see that our town still has an affinity for metal and its numerous sub-genres. Why else would bands like The Dillinger Escape Plan, Dream Theatre or Mayhem play shows here on the weekly?


On top of the vast amount of touring metal acts that descend upon the Alamo City, there still are a number of metal groups here, some national acts now, working to keep San Antonio "Metal City USA."
Maneaters of Tsavo


Named after the lions that killed construction workers on the Kenya-Uganda Railway, Maneaters of Tsavo blend heavy distorted blues riffs with swells of psychedelia for a mix that's as intense as getting eaten alive by tigers.





https://www.facebook.com/darknessdivided/
Darkness Divided

Following in the footsteps of metal bands who sing about Jesus (think Norma Jean or Living Sacrifice), some might simply write off Darkness Divided as breakdown-heavy Christian music. Regardless of message, you can't deny that these guys are good — good enough to land a spot on hardcore label Victory Records, which is no small feat. And for being in a genre that's only become less popular over the years, the band manages to bring something fresh to the table.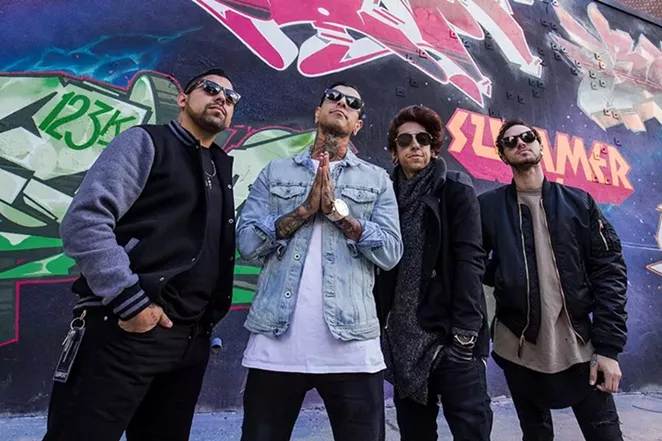 https://www.facebook.com/uponaburningbody/
Upon A Burning Body

From igniting riotous crowds at The White Rabbit to headlining national tours, Upon A Burning Body rep Alamo City hard throughout their entire metal core catalog. Sure, over the years their music has gotten a little bit more "produced" sounding but, the boys still live inside waves of thunderous breakdowns and high-energy guitar enough to keep shit from getting too mainstream. It's no surprise that love for their hometown city draws out huge crowds whenever they come back to play.



https://www.facebook.com/shapingthelegacy/
Shaping The Legacy


Punctuated with oodles of electric guitar tapping and drums so tight you'd think they were computer programmed, Shaping The Legacy are probably the closet thing to the rapid-fire staccato guitar jabbing of "djent" our town has seen out of a local band. Made up from members of Counterculture and metal core heavyweights Upon A Burning Body, Shaping The Legacy, blends versatile vocal styles with technical musicianship for a combo that's balanced and brutal.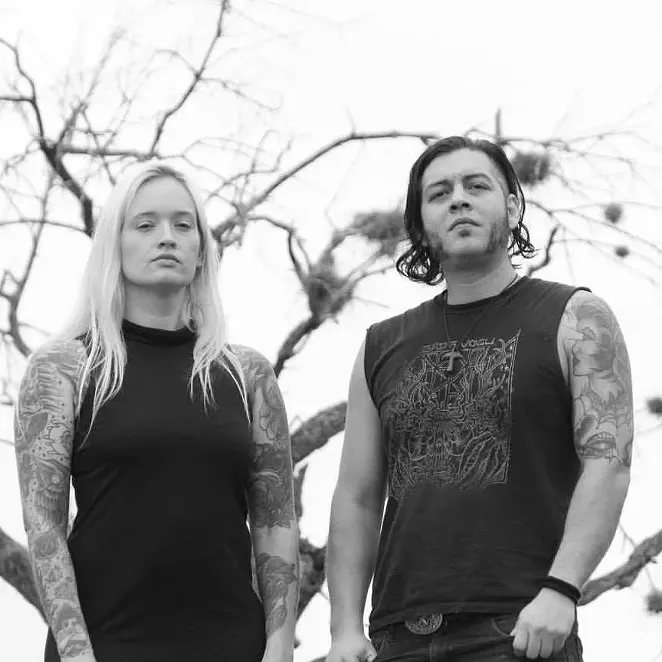 https://www.facebook.com/cursusdoom/
Cursus


Slow and brooding, like the sound of a bomb exploding in slow motion, this two piece doom-metal outfit prove that you don't need lightning fast riffs to sound heavy AF. If there's a band in San Antonio that could open up a portal to hell with their thick guitar sounds and echoing drum hits, it'd probably be this duo. With a tour planned to coincide with their album release, Cursus is shaping up to be one of the more buzz-worthy metal bands in South Texas.




https://www.facebook.com/grasshopperliesheavy/
The Grasshopper Lies Heavy

Progressive, spacey and emotive, The Grasshopper Lies Heavy have been rocking SA audiences for the better part of a decade with instrumental and deep, heavy musings. While the band recently said on Facebook that it will be taking a bit of a hiatus, TGLH has been an important part of the aggressive music community here for a while. Certainly more is coming from the band and its members.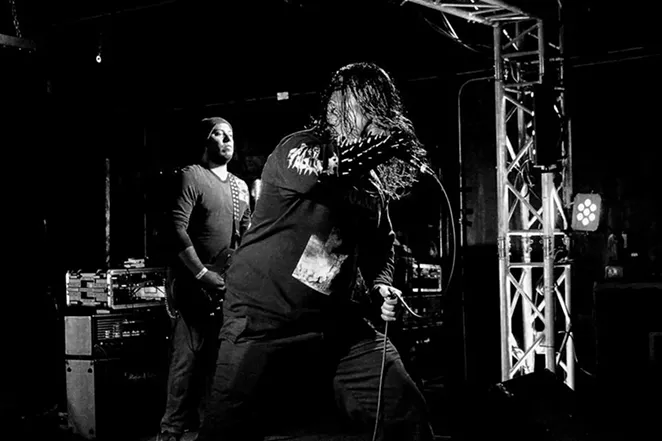 https://www.facebook.com/chaotic3nd/
Chaotic End


If you're not privy to the sub-genre "Blackened death metal," Chaotic End pretty much embody it. Matching the echoey shrieks and growls of black metal with the technical guitar riffing of death metal, this four piece is as tight as it is ferocious. Which isn't exactly an easy task considering how much their drummer incorporates blast beats throughout each track.




https://www.facebook.com/Flesh-Hoarder-156767857723220/
Flesh Hoarder

Flesh Hoarder do pig squealing vocals as good as any grind or death metal we've come across with interesting transitions to keep things interesting through the savage wall of sounds they create. Take the track "Ejaculating on the Faces of the aborted" for instance. At 1:03, after a pretty straight forward death metal verse, the band plunges into a 3/2 time signature breakdown for a delightful and unexpected surprise transition, like your best friend showing up at your door with pizza and beer.



https://www.facebook.com/TolucaSATX/
Toluca

In typical grind format, Toluca's tracks range anywhere from 22 seconds to less than two minutes. But length doesn't matter much when your band delivers punishing blows of rapid-fire drums hits with pig-squealing vocals and garbled guitar tones throughout the entire song. In fact, we're not sure we could handle anything longer.




https://www.facebook.com/Auroreanband/
Aurorean
What stands out with this death core band are the surprise transitions and swing-heavy grooves. Especially on the track "Malevolence", where we got this giant-squid-attacking-a-ship kinda vibe from the way the guitars move around the rhythm of the groove-heavy drum blasts. While Aurorean still charge through with moments of double bass-driven waves of distortion, their ability to keep shit interesting is notable. Also, their vocalist can hit that high-pitched banshee scream better than most.