Bubble Puppy
Friday, June 23
If you think Bubble Puppy's only good song was their hit "Hot Smoke And Sassafras", I urge you to dust off that album (or jump online) and re-listen to the record in its entirety. It's a solid piece of rock and roll that deserves another whirl. After opening for The Who in 1967, the then San Antonio-based band moved to Austin and signed a recording contract with Houston's International Artists, a label shared by psych-rock familia The 13th Floor Elevators and Red Krayola. After parting ways with the label, the band changed their name to Demian and headed out to Los Angeles to record a new self-titled album. When that wasn't as successful as their effort, the band to split up. However, almost four decades later, the psychedelic rock and rollers resurfaced in 2011, with a few new members, to play the Austin Chronicle Music Awards and have been active ever since. If you can't catch them this week, the band's also slated to headline K23's psych rock fest, Psych Del Rio in September.
With The Damn Torpedoes, $18-$60, 7pm, Sam's Burger Joint, 330 E. Grayson St., 210-223-2830 — Chris Conde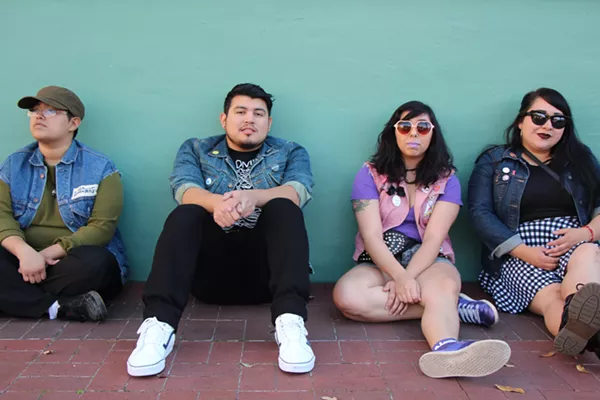 Lloronas
Friday, June 23

For our money, Lloronas, set to play Bang Bang Bar this weekend, are one of the most promising new-ish bands in town at the moment. While the foursome's driving, angular, and often danceable brand of punk rock is certainly nothing novel in this town, the songs themselves are unique and noteworthy, showcasing the young outfit's knack for hooks, for emotion that seems to lunge forward toward impossible crescendos, and for savvy lyrics, charged with political and social commentary. One listen to Lloronas' feminist anthem "American Puta" (that title tho!) will have you convinced that you need this band to shake up the pathetic simulation of safety that pervades your would-be progressive existence. Also: it rocks. You can dig this track and some of Lloronas other recorded output at lloronas.bandcamp.com.
Vegan Street Tacos and Macho Peach will also perform. Free, 9:00pm, The Bang Bang Bar, 119 El Mio Dr, (210) 320-1187. — James Courtney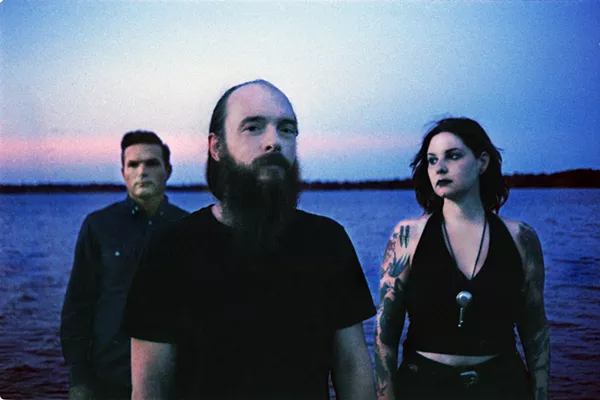 True Widow
Saturday, June 24
Dallas-based outfit True Widow, despite the name, which sounds like a badass all-female death metal crew, is a slowcore rock three piece that deftly teeters upon the line betweeen the assault of hard rock and the refuge of post-rock. Whether you refer to the band's music as shoegaze, easy going doom, stoner rock, alternative or psych rock, you're not wrong. The truth of the matter is that True Widow isn't too interested in fitting into a genre or settling into an easy to pidgeonhole sound. Fresh off touring Europe with its most recent release AVVOLGERE, which is hallmarked by an almost bewildering sense of artfulness as well as swelling and sweating riffage, the band will play Paper Tiger this weekend. If you like your hard rock with heavy doses of finesse: True Widow is your bag, even if you don't know it yet.
$12.00, 8:00pm, Paper Tiger, 2410 N St Mary's St, papertigersatx.com. — JC



Iron Maiden
Saturday, June 24

Formed on Christmas Day in 1975, British metal band Iron Maiden have put out a colossal 38 albums since the release of their 1980 eponymous debut record. Equipped with high-pitched wailing and screeching guitar solos, Maiden continued to set the bar with each release throughout the '80s and today have become one of the most revered metal acts ever. On tour in support of their latest album The Book Of Souls, the band continues to rock sold out arena concerts night after night. And for a band who's members are mostly in their 60's, that's no easy task.
$39.50-$89.50, 7:30pm, AT&T Center, 1 AT&T Center Pkwy, attcenter.com – CC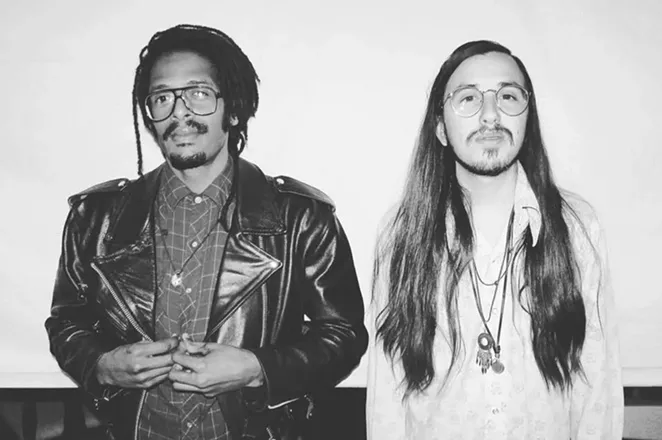 Lonely Horse
Saturday, June 24
If it seems that we have spilled a great deal of ink on local desert-rock dynamo Lonely Horse, that's because we have. And, with damn good reason. The former duo, now turned trio, is led by Nick Long with his singular energy, his heart on his sleeve, and his preternatural gift for blues-influenced guitar demolition. Long's stage presence is absolutely, jarringly engaging. But, importantly, his ability to turn his sonic ideas and musical gifts into excellent songs that become excellent recordings is uncanny and uncommon, to say the least. Lonely Horse will be joined on this big time rock and roll bill by local trio Verisimilitude, a young instrumental band that makes heavy and multi-layered psychedelic garage rock. If you are among the uninitiated with either of these two fine acts, we recommend you educate yourself at lonely-horse.bandcamp.com and v-tude.bandcamp.com respectively.
Free, 10:00pm, Lowcountry, 318 Martinez St, (210) 560-2224, lowcountrysa.com. — JC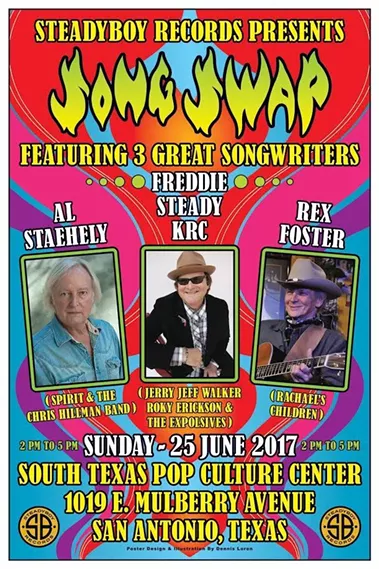 Tex-Pop Song Swap
Sunday, June 25


We've noticed that the good, far out folks of the South Texas Polular Culture Center (Tex-Pop for short) have been putting on an increasing amount of events over the past year or so, and that is music to our ears. The institution, as hippie as they come, exists to "Collect, document, exhibit, preserve, interpret, and celebrate South Texas music and music-related art and history." It's a noble mission, but the organization isn't just some hushed hall where hangers-on reminisce, it's a living a breathing force in San Antonio music. This Sunday, in a special showcase, visitors will be treated to an old fashioned song swap, the likes of which helped birth some of the most beloved Texas (and other) tunes. Participants in this particular swap are veteran Texas songwriters Al Staehely, Freddy Steady, and Rex Foster.
$5.00 (suggested donation), 2:00pm-5:00pm, South Texas Popular Culture Center, 1017 E Mulberry Ave, (210) 792-1312, stpcc.org. — JC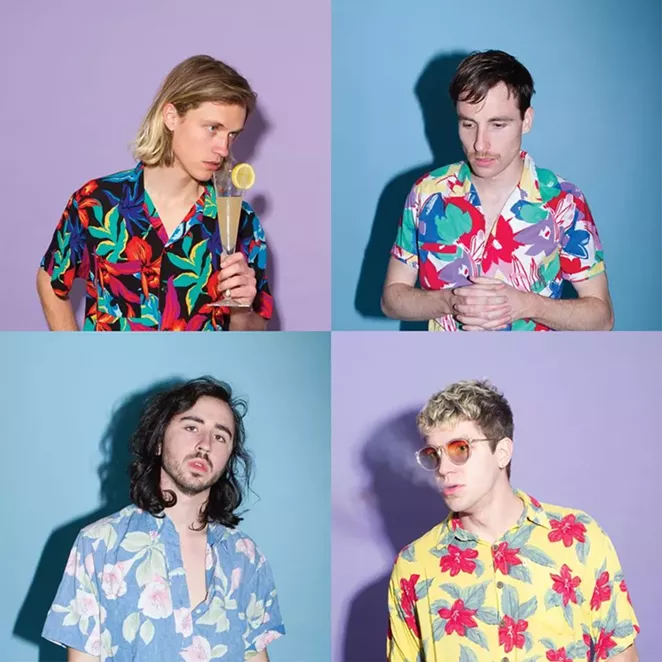 Hot Flash Heat Wave
Monday, June 26


It's rare to hear a newish indie band say they're based in San Francisco anymore. Much like what's happened to Austin in the last 10 years, the tech boom of that last two decades pushed out many artists and others who couldn't afford the skyrocketing cost to live in the city by the bay. But that hasn't stopped the dudes in Hot Flash Heat Wave from hunkering down and continuing to write their psych-ish doo-wop-like indie rock. Since 2015, Adam, Ted, Nathaniel and Nick have been pumping out shimmering waves of rainbow colored dream pop perfect for a summer day at South Padre Island.
With Inner Wave, $10, Paper Tiger, 2410 N. St. Mary's St., papertigersatx.com – CC

Black Marble
Tuesday, June 27

In the vein of Depeche Mode, Bauhaus and '80s darkwave, Black Marble is another project riding this latest surge of synth-driven sad electronic music. The vocals sound a little bit like SA-born Neon Indian and the music lands somewhere between the echoey drum hits of Com Truise and guitar riffing of The Cure. A staple of the current New York darkwave scene (until his recent move to California) Chris Stewart started his project in 2012 and though he's only released two records since then (the latest, 2016's It's Immaterial), Black Marble remains at the helm of the newly revived dark electronica scene.
With DRAA, Body Of Light, 8pm, $12, Paper Tiger, 2410 N. St. Mary's St. – CC