Albuquerque's Red Light Cameras to Play Paper Tiger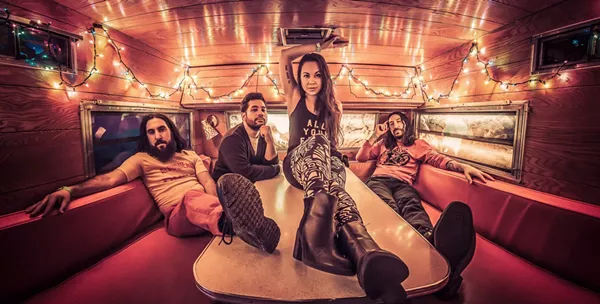 Facebook, Red Light Cameras
Albuquerque band the Red Light Cameras has a few different sounds that it seems to move in and out of with seamless ease. From silky and often danceable indie pop to soulful garage rock, Red Light Cameras just might be better off not knowing exactly where to place itself.

You can dig the band's music, full of stomping energy and hallmarked by lead singer Amanda Machon's earthy voice, at redlightcameras.bandcamp.com.



Joining the traveling outfit on this bill will be local indie-pop-rock upstarts Booty Feet, which, from where we sit, is one of the most talented (and entertaining) acts in town (especially live). For a listen to Booty Feet's kinetic sound, dig the group's recent split EP (with Elnuh) at bootyfeet.bandcamp.com.

Friday, July 28, $10, 8pm, Paper Tiger, 2410 N. St. Mary's St., papertigersatx.com.

Support Local Journalism.
Join the San Antonio Current Press Club

Local journalism is information. Information is power. And we believe everyone deserves access to accurate independent coverage of their community and state. Our readers helped us continue this coverage in 2020, and we are so grateful for the support.

Help us keep this coverage going in 2021. Whether it's a one-time acknowledgement of this article or an ongoing membership pledge, your support goes to local-based reporting from our small but mighty team.

Join the San Antonio Press Club for as little as $5 a month.