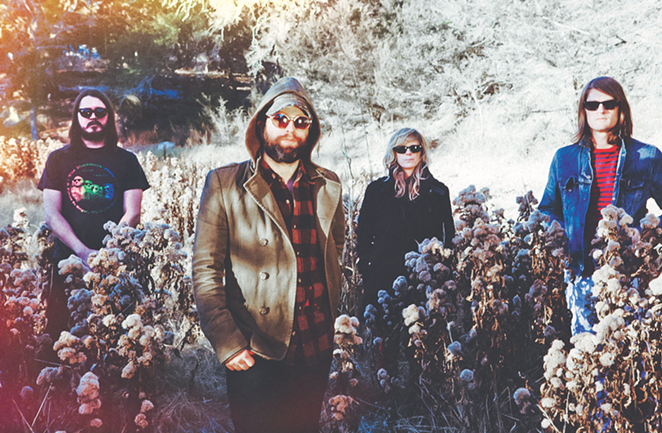 Wed 10/11
The Black Angels
The Black Angels are an integral, if sometimes overlooked, part of the contemporary psych-rock scene. The veteran Austin outfit delivers reverb and riffs aplenty, and boasts a flair for adventurous sonic detours from its droning, driving backbone. In the live setting, the band's experimental nature blooms into unpredictable explosions of smudged majesty. Meanwhile, Car Seat Headrest, worthy of equal billing, is the lo-fi indie rock project of young songwriter Will Toledo. Since 2010, Toledo — who has now recruited a full band to support the project — has churned out messy, angular, emotive, lyrically sophisticated rock music at breakneck speed (10 albums and two EPs tho). Car Seat Headrest's sound, as you can hear for yourself at carseatheadrest.bandcamp.com, embraces a little bit of everything that's ever been righteous about indie and alt-rock.
$14-$60, 7pm, Aztec Theatre, 104 N. St. Mary's St., (210) 812-4355, theaztectheatre.com
. — James Courtney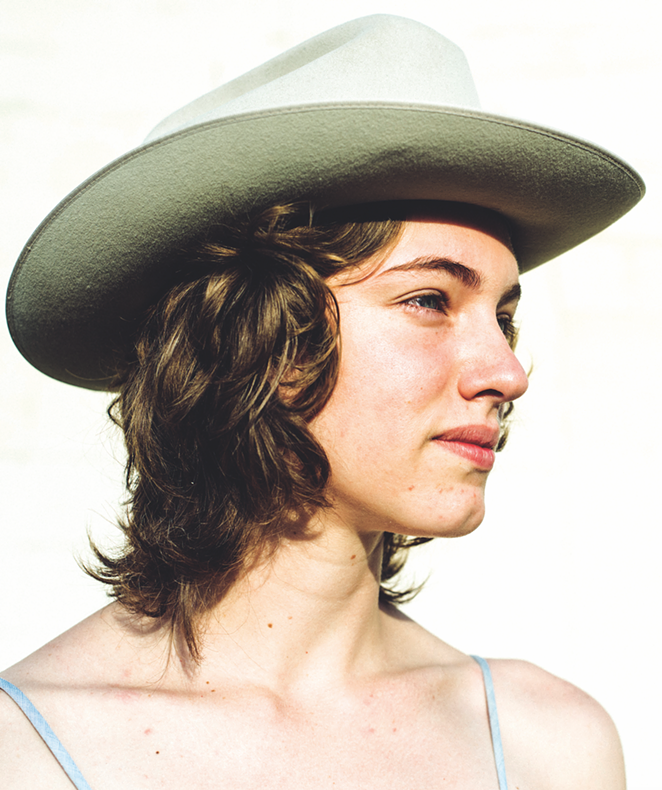 Thu 10/12
Georgia Parker
Singer-songwriter and multi-instrumentalist Georgia Parker's sound is like the weather of the Texas Hill Country from which she hails: sometimes calm and sunny as hell, sometimes blustery, sometimes drenched in torrents of gray rain, always an adventure, subject to change at a moment's notice. An adept upright bass player, Parker played in Texas and Colorado swing bands for years, honing her ear for the sounds that she would eventually make her own. In 2015, she started getting serious about making her own music. That music, hallmarked by a creek-flow kind of purity, melds country with folk and western swing. While her subject matter, at least on the three songs she's dropped so far (check them out at georgiaparker.bandcamp.com), may seem steeped in cowboy lore, her multi-layered lyrics also prove potent ruminations on the way we make caricatures of ourselves, playing narrator with our ego instead of succumbing to the chaotic flow of actuality.
Free, 9pm, Lowcountry, 318 Martinez St., (210) 560-2224, lowcountrysa.com
. — JC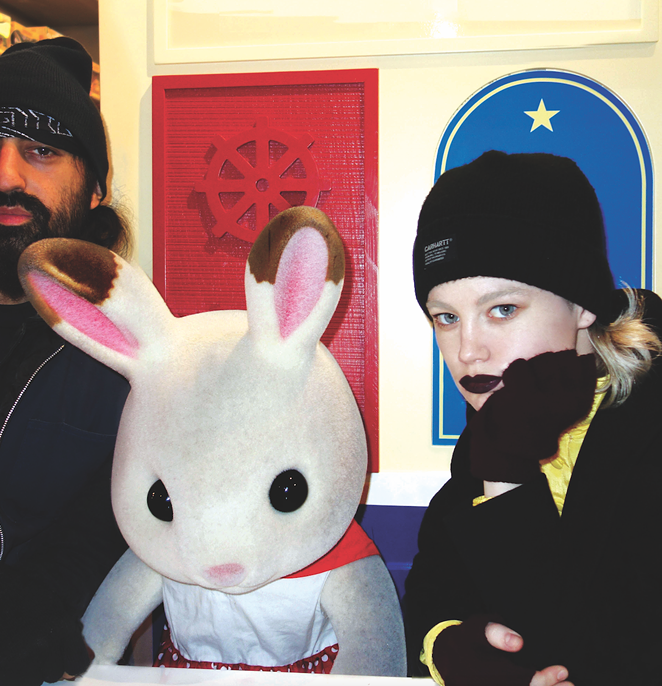 Thu 10/12
Crystal Castles
In 2015, experimental electronic/dark synth act Crystal Castles (largely the creative vehicle of producer Ethan Kath), began releasing its first music with vocalist Edith Frances, who replaced original vocalist Alice Glass not long before that. Glass' departure from Crystal Castles, for personal and professional reasons, left some fans a bit shook over the project's future. However, Crystal Castles' heavy, prismatic, and overall gnarly 2016 album Amnesty (I) quickly blew away any concerns that the noise-worshiping band with the near-cult following would lose a step. Opening the show will be Austin/Houston outfit Night Drive, which deals in some of the same experimental electronic currency as Crystal Castles, but leans more towards synth-pop.
$20-$35, 7pm, Aztec Theatre, 104 N. St. Mary's St., (210) 812-4355, theaztectheatre.com
. — JC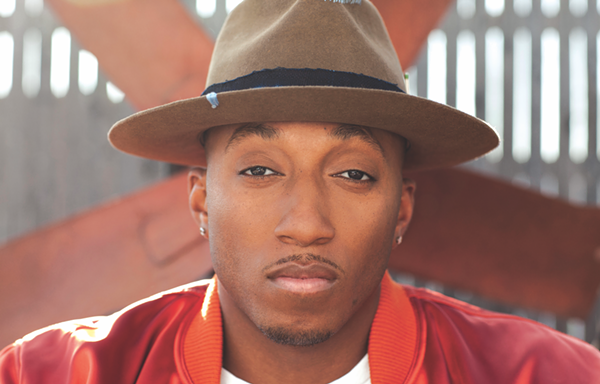 Fri 10/13
Lecrae
In 2017, I think we're probably at a point where no one sort of gives a fuck what religion/faith/spiritual faith any artists subscribe to as long as their music is dope, right? From bands like local metalcore dudes Darkness Divided who are pretty open about their faith in Jesus to artists like King Dude who visited Paper Tiger last year and sing songs like "Lucifer's The Light Of The World," good music is just good music. On the Jesus-leaning side of the spectrum comes rapper Lecrae who is probably the most well-known rapper to emerge from Christian-music spheres (and, in our opinion, one of the best rappers out period) and actually won two Grammys for his work including Gospel Album Album Of The Year for his album Gravity in 2013 – the first time the award went to a hip-hop album. The Houston-born rapper released his LP and first major label debut All Things Work Together in September and will tour in support of the record with a stop in San Antonio. Even if you don't exactly get down with Jesus, those who appreciate solid hip-hop won't want to sleep on this show.
$23-$52, 6pm, Aztec Theatre, 104 N. St. Mary's St., (210) 812-4355, theaztectheatre.com
. — CC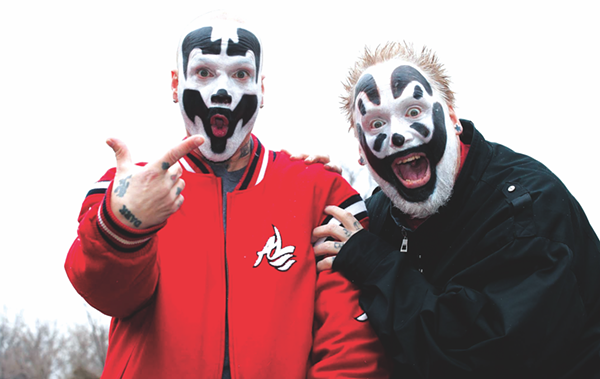 Fri 10/13
Insane Clown Posse
Just in case you were wondering – yes, it's true. Your favorite rapping clown crew, Insane Clown Posse is coming back to town on — get this — Friday, October 13, with what is sure to be a Faygo-drenched concert experience at the Alamo City Music Hall. I remember my brother owning The Great Milenko on CD back in '97 and I may have curiously checked out their music to see what all the fuss was about but didn't exactly become a fan back then. I actually met Violent J a couple of years ago while bartending downtown and him and the Psychopathic Records crew were actually really nice, so, I mean, at least there's that, right? Anyway, the cult-like draw they've had over the last two decades is pretty impressive and slightly disturbing considering they're a crew of rapping clowns that rap about killing people. Oh, and one of the best rappers ever, R.A.The Rugged Man (check out his collab with the late Notorious B.I.G.), will be there too.
$28-$30, 6pm, Alamo City Music Hall, 1305 E. Houston St., alamocitymusichall.com
. — CC
Sat 10/14
Gojira
I didn't actually know about Gojira until they showed up in my Meshuggah Radio Spotify playlist back in 2013. And like many a grumpy old metal listener, I had been so disappointed with newer metal bands that either sounded too much like the post-hardcore boys Underoath or just tried to be super extreme for extreme's sake — but just ending up sounding sloppy (we get it, your drummer knows how to blast beat). Hearing their track "L'Enfant Sauvage," was a breath of fresh air. The song was progressive, groovy as fuck and technical enough to stay interesting, making me an instant fan. I wasn't the only one. Last year, Gojira received a Grammy nomination for Best Rock Album of the Year for their latest album Magma and a nomination for Best Metal Performance for their track "Silvera." Combining several elements of metal for a sound that's garnering international attention, Gojira is easily becoming one of the most sought after bands to see within the genre.
With Torche, Code Orange, $35-$37, 6:30pm, Alamo City Music Hall,1305 E. Houston St., alamocitymusichall.com
. — CC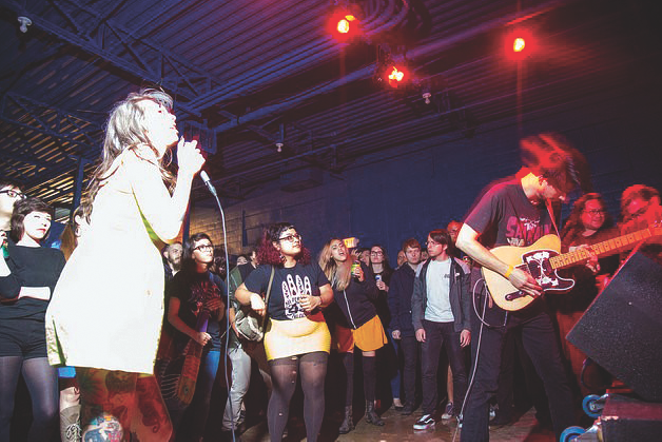 Sat 10/14
Spokesmodel + HÖTZI + more
Fans of hardcore punk (or its nearest approximations) will want to be at Hi-Tones this weekend for a special event that will boast some of the best, budding and well-established, local practitioners of the raucous genre tree. The show will celebrate the release of a four-way split 7-inch record, provocatively titled The Problem With San Antonio Is…, that features Spokesmodel (dead ahead, fuck all noise-punk, featured left), HÖTZI (droning, riff-heavy doom-punk with exquisitely dark yet thoughtful lyrics), Death and Texas (blood-curdling crust punk), and The Cutthroats (growling, fast, hardcore punk). I'd say that you should definitely bring some earplugs for this one, but, on the other hand, there's something pretty fucking punk about trying to go to sleep with your ears ringing.
$5, 9pm, Hi-Tones, 621 E. Dewey Pl., (210) 785-8777, hitonessa.com
. — JC