Daniel Topete
Protomartyr
Thu 10/19
Protomartyr
Upon listening to "Maidenhead," the opening track off Protomartyr's 2015 release Under Color of Official Right, I can't help but think "yeah, these dudes definitely were definitely into The Smiths." Which is certainly not a bad thing. And while the band retains elements of post-punk in their brand new album Relatives in Descent, it's clear the Detroit four-piece have decided to go in a bit more of an experimental noise rock direction. The songs are less straight-forward, but give the drums an opportunity to narrate, and with vocalist Joe Casey delivering his baritone vocals reminiscent of the late Ian Curtis of Joy Division, it appears the band has found its identity.
With Flasher, The Gospel Truth, $12-$15, 8pm, Paper Tiger, 2410 N. St. Mary's St., papertigersatx.com.
– Chris Conde
Shutterstock
The Weeknd
Thu 10/19
The Weeknd
Get ready to not feel your face, or, have him not feel his face, or ... the point is, The Weeknd is coming to San Antonio. So may the face-numbing commence. This Thursday, the Canadian singer, songwriter and record producer will touch down in San Antonio on the "Starboy: Legend of the Fall" world tour with Gucci Mane and Nav, a Canadian rapper signed to The Weeknd's label, XO. Born Abel Makkonen Tesfaye, The Weeknd released a few mixtapes and one album before releasing Beauty Behind the Madness containing "Can't Feel My Face." On the heels of his latest album, Starboy, The Weeknd continues to push dark R&B-laced pop music into the future.
$39.50-$685.50, 730pm, AT&T Center, 1 AT&T Center Pkwy., (210) 444-5000, attcenter.com.
– CC
Thu 10/19
6lack
For a genre that's saturated with so much of the same monotonous artists singing over the same sounding beats, Atlanta-based singer-songwriter 6lack manages to rise above the wackness to deliver something fresher than a brand new pair of Nikes. Born in Baltimore before finding a home in the A-T-L, Ricardo Valdez Valentine, better known as 6black (pronounced "black"), began releasing music through his Soundcloud account before signing with LoveRenaissance and Interscope Records. His debut studio album, Free 6lack, peaked at number 34 on the Billboard 200 chart. Valentine was also guest performer on The Weeknd's Legend of the Fall Tour, and performed his song "Prblms" from his debut album during a break in the headliner's set. Part R&B, part rap, and all soul, Valentine proves that there's always room for more in the ever-expanding sub-genres of hip-hop.
$25, 8pm, Paper Tiger, 2410 N. St. Mary's St., papertigersatx.com.
– CC
Chapman Baehler
Primus
Fri 10/20
Primus
Have you ever tripped on mushrooms and thought the thoughts that you're not supposed to think when you're tripping – "What if I'm stuck, and I'll be tripping forever?", "How long have I been tripping?, "Have I been tripping my entire life?" It's a terrifying experience and, while I don't know any cases of people actually getting "stuck" in perpetual trippiness, Les Claypool and the boys in Primus might actually be stuck. At least that's what their extensive catalog of jam band, metal, funk, experimental rock music suggests. But they seem to be pretty alright with it. Along with the psychedelic imagery that accompany their live shows, one thing's for certain: This San Francisco-based three-piece are unapologetically wacky, unique and have been making waves in the rock 'n' roll world since the mid-'80s.
$29.50-$249, 630pm, Sunken Garden Theater, 3875 N. St. Mary's St., (210) 207-3050.
– CC
Sat 10/21
Conjunto Bash at Pan Am Plaza
With some fall air finally teasing us, stirring up romantic dreams of sweethearts held close and the particular electricity of an autumn night out in San Anto, we can think of nothing sweeter than a spontaneous Monday escape to a conjunto show. Hosted in the decidedly unpretentious (thus ideal) confines of a Southside pulga, it seems like this show is just the ticket to keep the weekend going even after the work week has begun. The special concert will feature Conjunto Romo from Kyle and local act Flavio Longoria and the Conjunto Kings, both of which make no bones about sticking strictly to the traditional approach of Tejano/conjunto. Best part: you may be able to actually dance to your heart's content without sweating like a mafioso on the lam.
$8-$10, 7:30pm, Pan Am Plaza, 1419 Commercial Ave., (210) 922-6968, facebook.com/panamplazaofficial.
– James Courtney
Sun 10/22
West Side Oldies Dance Party
On Sunday, October 22, San Anto Cultural Arts will be hosting a Westside Oldies Dance Party featuring DJ Plata (Tucker's Kozy Korner, Sexto Sol), plus The Frank Rodarte Band (Saxophonist in the Del Kings and Los Blues). The event will kick off fall programming for San Anto and raise additional funds needed to sustain many of the youth initiatives hosted by the organization throughout the year. One of the Westside's crown jewels, San Anto Cultural Arts has been creating engaging and educational community programs since 1993. Founded by Manny Castillo, Cruz Ortiz, and Juan Miguel Ramos, the nonprofit continues to foster positive growth throughout the Westside including the creation and management of some of the city's most cherished murals. With so much emphasis on the Westside sound and Chicano oldies as of late, San Anto's true roots oldies dance party will prove to be the real deal.
$10, 6-9pm, Guadalupe Cultural Arts Center, 723 S. Brazos St., 210-226-7466, sananto.org.
– JJ Lopez
Mon 10/23
Gogol Bordello
If you're a devotee of Gogol Bordello, whether you prefer the old stuff or new, you know better than to miss any chance to catch one of the band's breakneck live shows. The gypsy punk outfit's bread and butter is raucous, Dionysian live blowouts — the exact kind of scene you imagine when you listen to the group's singularly wild music. Since 1999, this New York-based crew has been making inventive music that combines eastern-European sounds with punk, Latin rock, folk, and dub. In this way, like the city it hails from, Gogol Bordello is truly of the whole world. Back in August, the band released its tenth album, Seekers and Finders, which figures to feature heavily at the act's SA stop.
$20-$45, 7pm, Aztec Theatre, 104 N. St. Mary's St., (210) 812-4355, theaztectheatre.com.
– JC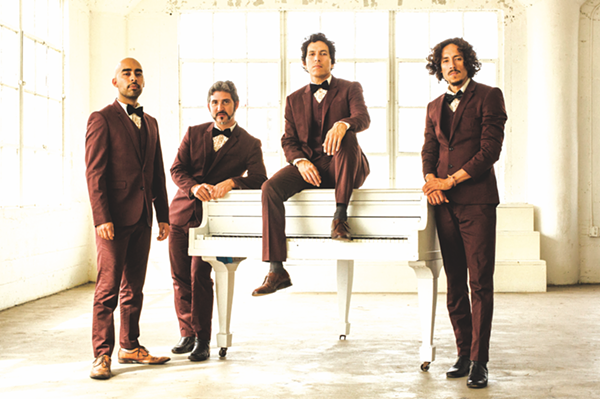 ATO Records
Chicano Batman
Tue 10/24
Chicano Batman
Boasting a sound that's as eclectic as it is in flux from one song to the next, LA's Chicano Batman deftly melds disparate aspects from soul music, tropicalia, reggae, cumbia, pop, and psych-rock. The band has created a whole new aesthetic that's as much SoCal as it is pan-Latin. In the live setting, like any good jam band, the group's tunes become even less predictable, even more intense and far-flung. Joining the touring favorite on this bill is Houston experimental psych-rock band Khruangbin, which proffers a sonic onslaught that blends mystical Eastern sounds with krautrock, surf, blues, and more. Taken as one, this bill represents the pinnacle of contemporary genre fusion, each band crafting something wholly new out of familiar parts.
$20, 7pm, Paper Tiger, 2410 N. St. Mary's St., papertigersatx.com.
– JC