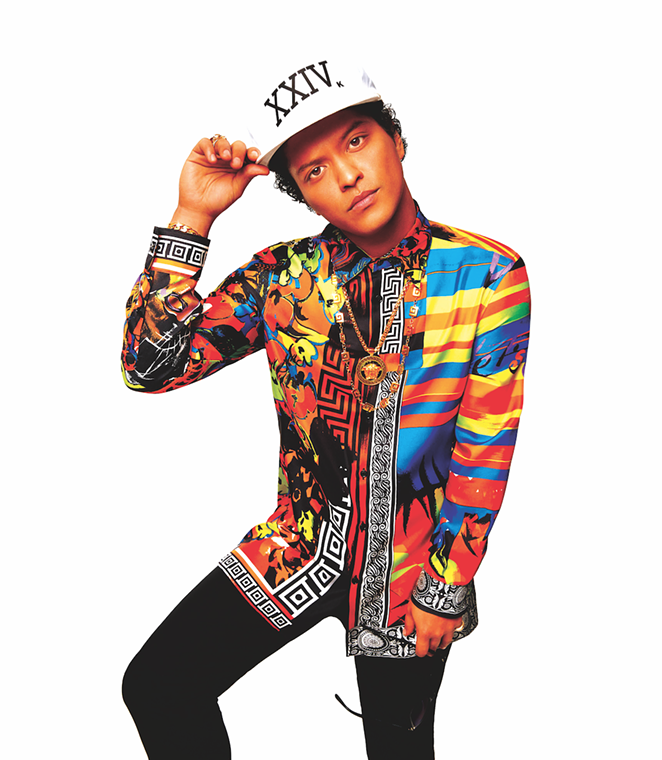 Wed 10/25
Bruno Mars
When Bruno Mars showed up on my radar with "Locked Out Of Heaven" back in 2012, I thought to myself, "Yeah, I guess it's been awhile since The Police broke up, so this makes sense." And don't get me wrong, I like The Police and there really wasn't anyone that sounded like Mars (I mean, besides The Police), so hearing something different in the often-stale circuits of pop music was refreshing. Born Peter Gene Hernandez, but known to everyone now as Bruno Mars, the Hawaii native moved to LA to pursue a career as a performance artist. After getting dropped from Motown Records, Mars eventually signed to Atlantic and began writing songs for other artist before releasing his debut album Doo-Wops & Hooligans and then blowing up with his second album Unorthodox Jukebox.
$142.88- $1,505, 8pm, AT&T Center, 1 AT&T Center Pkwy., (210) 444-5140, attcenter.com.
– Chris Conde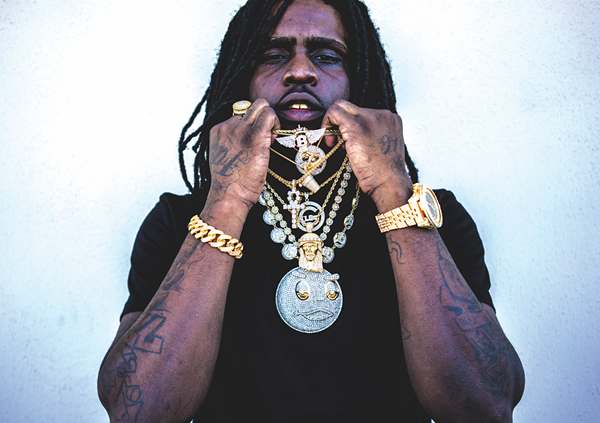 Wed 10/25
Chief Keef
When you're landing features on Kanye West albums at 18 years old, ya gotta be doing something right. For Chief Keef though, this wasn't exactly an overnight matter. With a couple of mixtapes out that were garnering the attention from Chicago's Southside, and then landing a record deal with Interscope Records, showing up on "Hold My Liquor" from West's 2013 album Yeezus, was proving that that young rapper had certainly been making some positive career moves. From creating a buzz in the circuits of Chi-town's underground street rap community to becoming one of most well-known young artists in the game, Chief Keef's longevity in the business doesn't look like it'll be called into question anytime soon.
$28.50-$84.50, 730pm, The Korova, 107 E. Martin St., (210) 226-5070, thekorova.com.
– CC
Thu 10/26
Cuco
Harnessing the chilled out a e s t h e t i c s of vaporwave with the synth-chord progressions you might find scoring your Tia's favorite novella, LA's Cuco has been making a buzz as of late, and only 19-years-old, that buzz most likely continue for the young Chicano heart throb. Sort of sounding like slowed down (and stripped down) tracks from Neon Indian's Psychic Chasms, and with lyrics like "Cuando veo esos ojos / ahí es donde quiero vivir / Si me besan esos labios / ahí si quiero morir" (lol, calm down mijo), Omar Banos, better known as Cuco, has a catalog of tracks that are raw, soulful and bleeding edge contemporary.
$12-$14, 7pm, Paper Tiger, 2410 N. St. Mary's St., papertigersatx.com.
– CC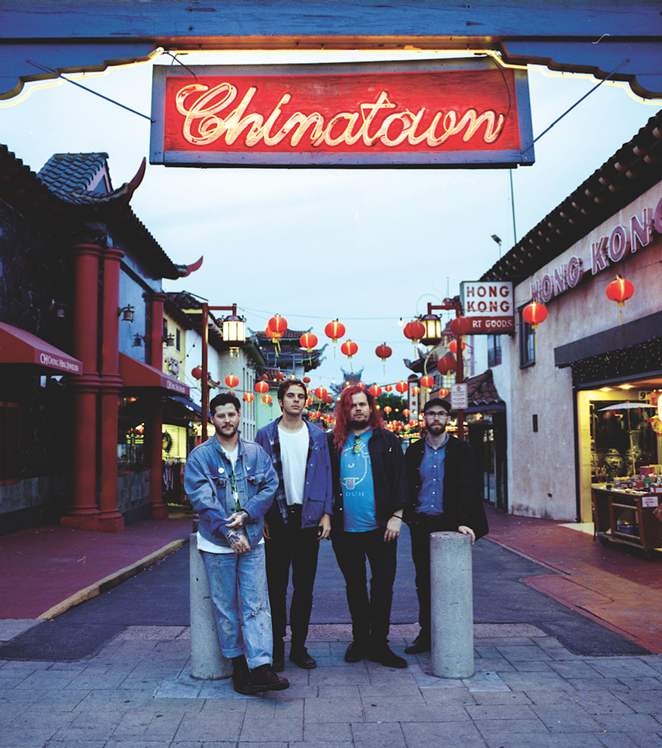 Fri 10/27
Wavves
For a contemporary pop-punk/post-punk show par excellence, Paper Tiger will host three rad California bands this weekend. At the top of the bill, Nathan Williams' band Wavves has been going strong (to the tune of six albums and near-constant touring) since bursting into the indie music spotlight in 2008 with its gritty, gnarly, delightfully haphazard brand of pop-punk. Wavves has progressed in sound and subject matter quite a bit since the grimy, lo-fi vibes of the albums that first endeared them to the indie press. But, all things considered, Williams and company are still remarkably adept at making music to be bummed out in the sun to. For their part, Joyce Manor and French Vanilla, falling loosely into the same categories as Wavves, make chilled out pop-punk and moody/gently psychedelic post-punk respectively.
$22, 7pm, Paper Tiger, 2410 N. St. Mary's St., papertigersatx.com
. – James Courtney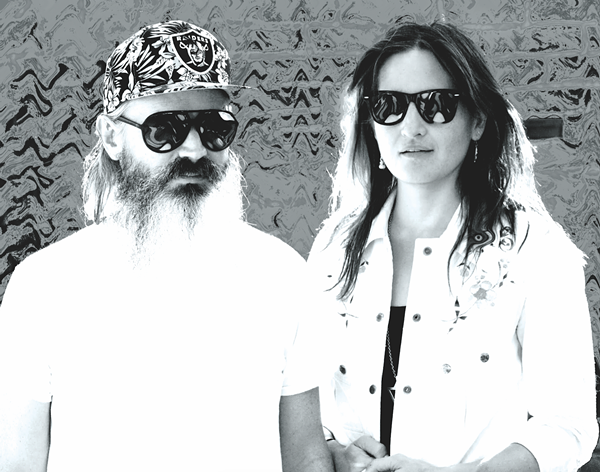 Sat 10/28
Moon Duo
Moon Duo is an arty psych-rock act from Portland that boasts an amorphous sound, somehow meditative and blistering at once, incorporating elements of drone and krautrock. But, that description fails to get at the real truth of the band. In actuality, Moon Duo is a mystical and exploratory force, plumbing the depths of the subconscious world of the archetypes with music that throbs and writhes with a primordial duality, never as crystallized as on its new tandem of albums Occult Architecture Vol 1 and Vol 2. Holy Wave, meanwhile, is a psych-rock quintet with an uncommon sense of nuance and ambience, more straight-ahead, jangly, and sun-soaked than Moon Duo, but less one dimensional than many of its would-be contemporaries. That this show is going down within the pristine but haunting confines of The Spire, an old church become a venue, is all the more reason to get your tickets on the double.
$17.77, 9pm, The Spire, 230 Center St., k23.ticketbud.com.
– JC
Sat 10/28
Night of The Creeps III
Mondo Nation once again steps in with the clutch Halloween (or thereabouts) happening that is Night of the Creeps, back for a third installment. For this special show, which has become a tradition well worth observing, various local musicians don the sonic (and physical) costumes of a musical hero of their choosing. The resulting cover show represents a wide spectrum of genres and time periods. This year's Night of the Creeps will feature more than 20 acts. We are particularly looking forward to catching members of The Grasshopper Lies Heavy, White Christ, and Power Trip as Helmet, D.T. Buffkin and company as The Rolling Stones, Ellis Redon as The Clash, and Wayne Holtz as Madonna. The affair will also feature seasonally-appropriate visual art for viewing and purchase from local artists including Regina Morales, Justo Cisneros, Michelle Dobbs, and more.
Free, 7pm, Paper Tiger, 2410 N. St. Mary's St., papertigersatx.com.
– JC
Sat 10/28
Barrio Oldies Dance
Put on your Sunday best as The Chicanos of Soul host a Barrio Oldies Dance at the Hermann Sons Rathskeller Bar. Since 2016, the collective has been filling dance halls, lounges, and bars throughout the city featuring the best in classic oldies, ballads and slow jams. It's not out of the ordinary to hear select 45's from San Anto's own Little Henry, The Royal Jesters, and Little Jr. Jesse coupled alongside LA's Thee Midniters and crossover classics from Barbara Mason and The Meters. Featured DJs include founder of the Chicanos of Soul, Strey Uno, guests Gypsy and Bear Acosta from California, and San Antonio's own, Deoca and Chuco Garcia. "The place has a real vintage feeling that compliments the onda we're going for. We want to invite everyone including all the veteranos," Chuco said.
Free, 8pm-1am, Hermann Sons Rathskeller Bar, 525 S. St. Mary's St., (210) 226-5432, facebook.com/hsrathskeller.
– JJ Lopez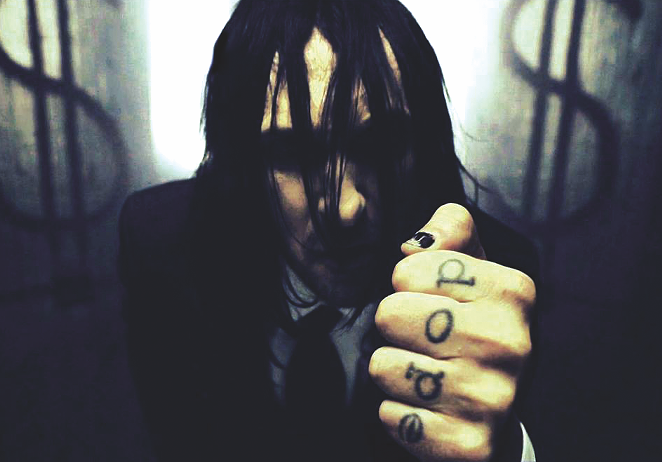 Tue 10/31
Dope + Hed P.E.
Deriving their name from actually selling drugs in their early days, Dope rose to fame during the swell of '90s nu-metal and alternative rock even though the band had a bit more of an industrial edge. With slight ties to Marilyn Manson through being friends with Manson bandmates Ginger Fish, the late Daisy Berkowitz, and Zim Zum (which most-likely helped further their career), Dope eventually signed with Epic Records and released their 1999 debut Felons and Revolutionaries which contained the cover "You Spin Me Round (Like A Record)" and showed up on the American Psycho soundtrack. On tour with Hed P.E., another band nu-metal band out of the same era, this halloween show is gearing up to be a can't-miss show for those who love all things '90s metal.
$17.50, 7pm, The Rock Box, 1223 E. Houston St., (210) 677-9453, therockboxsa.com.
– CC