Wed 11/29
Saliva
Showing up on rock playlists next to the likes of Drowning Pool, Trapt and Soil, Saliva were yet another one of these bands that were heavy enough to draw in the regular rock music listener and angsty enough to appeal to most pissed off teens in the early 2000s. While the band is probably best known for their track "Click Click Boom," this nu-metal four-piece has continued to put out music over the years with their latest release being a cover of Eminem's "Lose Yourself."
$20-$25, 7pm, The Rock Box, 1223 E. Houston St., (210) 677-9453, therockboxsa.com.
– Chris Conde
Courtesy
Leela James
Thu 11/30
Tank + Leela James
Turning down an opportunity to play college football, Tank, born Durrell Babbs toured with Ginuwine as a backup singer before starting to focus on his own music. Probably one of the most underrated male singers in R&B despite having five albums debuting at No. 1 on the Billboard R&B charts, the singer matches a mix of old school '90s vocal runs with just enough of a contemporary hip-hop edge to stay relevant. Also on the bill is Leela James, who, if you haven't heard, you really need to check out. Pro-tip listen to her song "Music."
$30-$65, 7pm, Aztec Theatre, 104 N. St. Mary's St., (210) 812-4355, theaztectheatre.com.
– CC
Thu 11/30
Part Time + Hairkut + Borzoi
Lo-fi pop music will never go out of style. Well, I mean, it hasn't yet. Yeah, if it's got a beat, and a upbeat melody, we'll fucking get down to that shit. Look how much we've eaten up bands like Neon Indian (who is coming back to Paper Tiger on December 30, by the way) and Ducktails over the years. Part Time fall into this category as well. With aesthetics that parallel vaporwave, Part Time sounds like they could easily write the soundtrack for a movie that takes place in the '80s. Popped collar optional.
$10, 8pm, Paper Tiger, 2410 N. St. Mary's St., papertigersatx.com.
– CC
Fri 12/1
John Fullbright + Jacob Tovar
With a Grammy nomination for Best Americana Album for 2012's From The Ground Up, it's clear that more than a few folks of taken notice of John Fullbright's unique sound. While, the singer isn't exactly doing anything super new to the genre (it's Americana after all), Fullbright's soulful vocals add a bit of a pop edge to his rustic sound for a blend that's contemporary, lush while sounding vintage.
$15-$20, 7pm, John T. Floore's Country Store, 14492 Old Bandera Road, Helotes, (210) 695-8827, liveatfloores.com.
– CC
Josh Huskin
Nina Diaz
Fri 12/1
Nina Diaz, Merci Raines, Femina-X
An all-woman chingona of a concert will be held at Sam's Burger Joint featuring badasses Nina Diaz, Femina-X, and Louisiana artist Merci Raines. This will be the first time Nina and Femina-X share a stage, promising a serious evening of music, bringing 2017 to a close. "I'm looking forward to playing. Playing for the people and singing," Diaz told the Current. "We'll be playing material from our latest album The Beat Is Dead. I'll also be playing with my husband [drummer Jorge Gonzalez] as his wife for the first time!" Over the last couple of years, Femina-X have made their way to the top of the local art rock scene and will be hitting the stage in full regalia. Rounding out the evening, Merci Raines released her debut self-titled EP earlier this year featuring a unique brand of Southern big-beat (a la pop) soul.
$12-$50, 8pm, Sam's Burger Joint, 330 E. Grayson St., (210) 223-2830, samsburgerjoint.com.
– JJ Lopez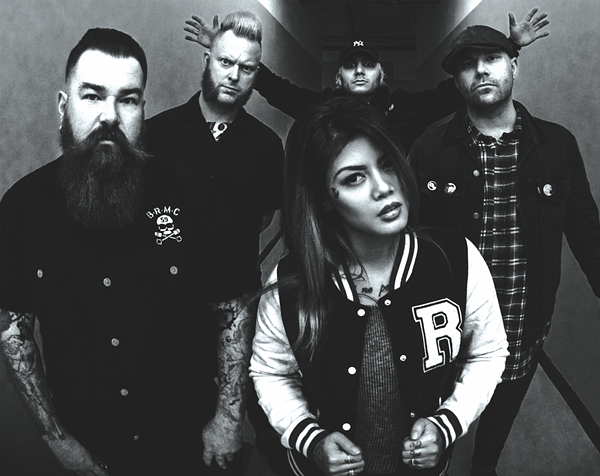 Union Lsbel Group
Creepshow
Fri 12/1
Fea + Creepshow
"Don't tell me it's not relevant, Don't tell me I'm not relevant, cuz I'm still oppressed we're gettin' paid less, judged by looks and the way we dress, I don't wanna bring you down, man, I just want us to meet in the middle!" So shouts vocalist Letty Martinez, as guitarist Aaron Magana and Girl in a Coma drummer Phanie Diaz and bassist Jenn Alva power through the track "Feminazi." Riot Grrrl, a pop-ish punk-rock genre with heavy feminist lyricism, has been making a steady comeback as of late and San Antonio natives Fea are at the forefront of the movement. The riot grrrls (and boy) will be rocking out at Limelight with Creepshow, a psychobilly punk band in vein of Koffin Kats and Horrorpops.
$7-$12, 9pm, Limelight, 2718 N. St. Mary's St., thelimelightsa.com
. – CC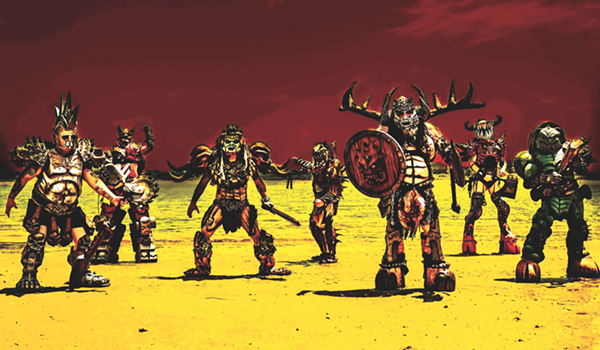 Fri 12/1
Gwar
Blur the penis! During in an interview with Gwar vocalist, Blothar, back in 2015, FOX 29 reporter J.T. Street was fired for not blurring out the prosthetic penises bouncing off the singer's costume. While Street's journalism career was cut short (he does PR now), Gwar continue to rampage through the years with their crazy monster costumes, gory on-stage antics, and metal tunes – a combo that's made them infamous since 1984.
$22, 8pm, Aztec Theatre, 104 N. St. Mary's St., (210) 812-4355, theaztectheatre.com.
– CC