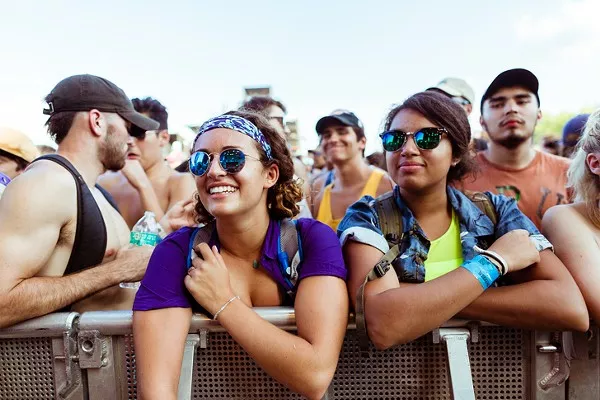 Earlier this year, the folks behind Float Fest, which is back for its fifth year, announced a S-T-A-C-K-E-D bill, which is honestly their best looking lineup since the inaugural event.
However, before the lineup was announced, the festival came into some issues with the permits – something that Float Fest isn't exactly new to. Current Events LLC and Guadalupe County Commissioners Court couldn't see eye-to-eye upon the capacity for the event, but eventually came to the agreement of 20,000 guests. The original request for 30,000 guests was denied back in February.
With all the logistics worked out, and to get you prepared for a weekend (Saturday, July 21 and Sunday, July 22) of tubing, camping and live music shenanigans, we've picked 5 acts you absolutely need to throw in your itinerary.
Run The Jewels

Saturday, 10:15-11:30pm
Sun Stage
If you've been paying attention to the underground alternative hip-hop scene the last couple decades, then you've most likely heard of the producer/rapper and former Definitive Jux label owner El-P. The Brooklyn-born artist has produced an enormous catalog of music for himself and other artists including his biggest effort yet, Run The Jewels. Shoulder-to-shoulder with rapper Killer Mike, who manages to match conscious hip-hop with raw rap, Run The Jewels might be a more iconic duo than peanut butter and jelly.
Lil Wayne

Saturday, 7:45-9pm
Sun Stage
What can be said about Lil Wayne that we haven't already heard? Dude's been in the game since he was a little kid, pumped out a grip of hits, possibly maybe might have an addiction to liquid hydrocodone (lean), and we're all still waiting for The Carter V to come out (which apparently is closer to coming out than ever). But even through the multiple seizures, legal battles, and controversial stance with the Black Lives Matter movement, his music still bangs. It's no surprise he's a headliner.
Com Truise

Saturday, 3:45-4:30pm
Water Stage
You know that dark progressive synth track that opens the Netflix show Strangers Things? Yea, you know the one. Anyway, though that song was written by dudes from S U R V I V E, their music is very similar to electronic producer Com Truise. So much in fact that I thought it was Com Truise who produced the music for the show. Anyway, if you love '80s synth textures that soar into poppy melodious bliss before plunging into haunting, dark corridors, you're not going to want to miss this dude.
Tame Impala

Sunday, 9:30-11pm
Water Stage
The first time I heard Tame Impala's "Feels Like We Only Go Backwards," I knew that I had greatly underestimated this band that I had previously disregarded as basic, hipster trash. Listening to more of the Australian frontman Kevin Parker's sounds, I knew that this band was an important asset to the indie music world as a whole. If you're unfamiliar with their tunes, Tame Impala writes pop music for indie kids essentially. Warm textures with synth pop tones punctuate his tracks as Parker's honey-tenor vocals pull listeners through swirling landscapes of kaleidoscopic experiences.
Snoop Dogg
Sunday, 7:-8:15 pm
Water Stage
When Float Fest announced that Snoop Dogg was headlining, we through deuces to the gods of weed and bumped "Gin And Juice" in the office 'til, well, the song was over. Since 1993, the rapper and pop culture icon has released thirteen albums (his first one being
Doggystyle
, which debuted at #1 on the Billboard 200 chart and sold over 800,000 copies in the first week – damn), collaborated with pretty much anyone who's worth collaborating with, and arguably taught us all how to smoke weed.
Get our top picks for the best events in San Antonio every Thursday morning. Sign up for our Events Newsletter.