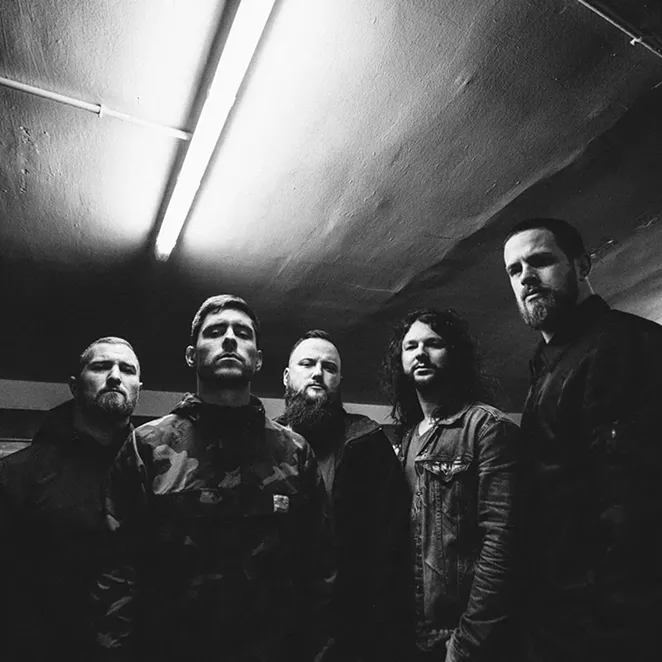 It feels weird that we haven't announced anything metal-related in a few weeks as scores of bands from the genre seem to pillage the streets of the Alamo City on a monthly basis.
Welp, the wait is over, y'all. The Chaos and Carnage Tour has just been announced and the lineup is B-R-U-T-A-L.
Headliners Whitechapel, which gained traction in the deathcore scene in the late aughts, have introduced a little bit more of a active rock edge to their sound. In most cases, this takes the balls out of a band's sound and usually makes them a bit less appealing, especially for their original fanbase. But on their latest single "Third Depth," the singing and chord progressions add some depth and maturity to their music rather than taking anything away.
Also on the bill is co-headliner Dying Fetus, who have stayed pretty true to their sound over the course of eight studio albums. What's dope about these dudes is their ability to merge a lot of genres together without sounding completely contrived. From groove-heavy almost nu-metal riffing to complex tech-metal shredding and grindcore drumming and vocals, Dying Fetus continues to set the bar for metal bands across a variety of genres.
The tour heads to San Antonio for a show at The Rock Box on Saturday, May 9.
Peep the full lineup below:
Whitechapel

Dying Fetus

Revocation

Fallujah

Spite

Uncured

Buried Above Ground

Cerebral Desecration

Wulfholt

Life Cycles

Wrathtongue

Bad Ideals

$26-$30, Sat May 9, 4:30-11:45pm, The Rock Box, 1223 E Houston St., therockboxsa.com
.
Get our top picks for the best events in San Antonio every Thursday morning. Sign up for our Events Newsletter.