If there's a particular culinary pocket that's seen as much growth in San Antonio as New American eateries and third-wave coffee shops and roasters, it's bakeries. Though we can point to Bakery Lorraine as a catalyst for San Anto's love of all things baked, our love of pan can be traced back to Mexico's search for independence. In this issue we look at the connection between pain and pan, while also looking ahead and bakers who are shaking things up with their impeccable techniques. We take a moment to explore the growing world of donuts in the area, and finally, we pin-point baked goods — from baguettes to whoopie pies — that make us drool. Run to your nearest bakery (and shave off some calories) now.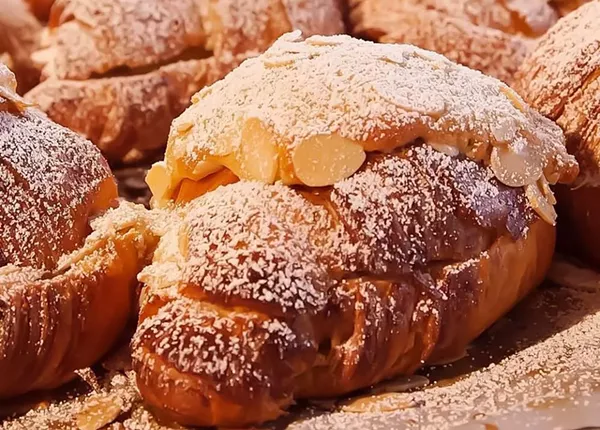 Almost Tequila Croissants//Courtesy of La Panaderia
Almond Tequila Croissants // The classically trained David Caceres leaned on this unique pastry when he and brother Jose first launched La Panaderia at the Quarry Farmers & Ranchers Market. It's easy to see why — the dessert combines the flakiness of a croissant, the creaminess of almonds and the tartness of tequila to delicious results. La Panaderia 8305 Broadway, (210) 375-6746.
Birote // The Castle Hills bakery hangs its hat on its sandwiches, which rely on fresh baked birotes to win over customers. Used in at least half of the breakfast and lunch menu at Malinalli Bakery & Bistro, these fresh loaves are made by owner Alan Freeman every morning. Try it with the torta ahogada or as a breakfast sandwich. 2211 NW Military Hwy., malinalli.us.

Courtesy of Malinalli Bakery & Bistro
Baguettes // La Boulangerie's artisanal loaves keep us coming back for more. Whether the baguettes are used in their slim and portable sandwiches or solo with a smear of goat cheese, or sliced and toasted into crostini with bright bruschetta or torn off by hand with goat cheese and jam, there's no wrong way to enjoy them. 207 Broadway, (210) 639-3165.
Brioche Loaf // One could argue that several breads at The Bread Box could serve as a based for French toast, but we're partial to the buttery, egg-y brioche. Have it for breakfast at the shop, where it's soaked in custard and topped with maple pecan syrup, or try your own recipe at home — that is if the loaf makes it that far. 555 W. Bitters Road, (210) 277-8612.

Conchas // Whether you're choosing pink, yellow, white or "chocolate" conchas based on their sugary toppings alone, you can't go wrong with the rounds at Bedoy's, which has created these and other pan dulces since 1961 off Hildebrand Avenue and most recently Cupples Road. Dip them in your cafecito or better still, hot mug of Abuelita hot chocolate and enjoy. Multiple locations, bedoysbakery.com.
Croissants // You have to be pretty special to have your own Pecha Kucha presentation. Though there are a plethora of baked goods to savor at Bakery Lorraine (the obvious macarons, the beautiful tarts, the fruity pop tarts, the drool-worthy raspberry Danish, et al), the not-so-humble viennoiserie pastry relies on its dozens of perfectly executed folds and layers to win us over. Multiple locations, bakerylorraine.com.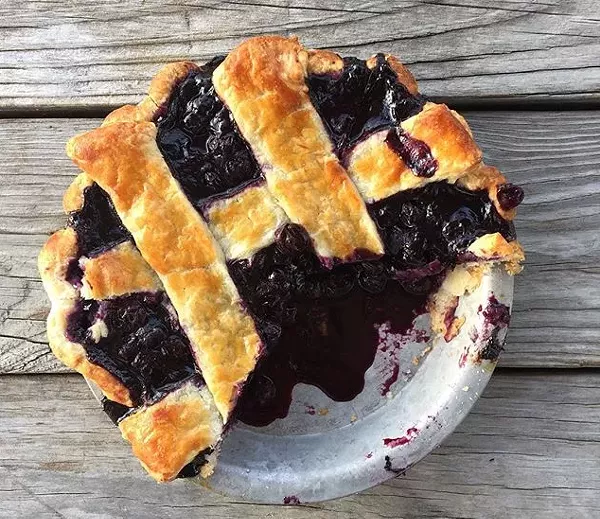 Courtesy of Young Lion Pie Makers
Pie // When DJ Khaled crashed into our Snapchats with his keys to success in 2015, Young Lion Pie Makers wasn't yet around for him to include in his list — but they should be. Launched in 2016 by piemaker Jason Tantaros, the pies are rustic, filled to the brim with local ingredients and encased in the flakiest of crusts. 2347 Nacogdoches Road, younglionsa@gmail.com.
Burnt Marshmallow & Toffee Rice Krispie Treat // We'll blame this on nostalgia. Though pastry chef Jenn Riesman continues to wow us with hand pies and expertly decorated cakes, we're suckers for these sweet squares at Larder. The sizable cube combines burnt 'mallows with sweet toffee and effortlessly upgrades a childhood favorite. No offense, moms of the world. 136 E. Grayson St., (210) 448-8355.

Viennois Au Nutella // At CommonWealth Coffeehouse & Bakery, everything looks and tastes heavenly. But it is the viennois au Nutella that stands out. Made daily, this confection, as beautiful as it is tasty, is an eclair on steroids. Decorated with Nutella piping on the outside and stuffed full of the somewhat-controversial hazelnut chocolate spread on the inside, the shiny pastry's horned exterior is a sight to behold and the taste doesn't disappoint. 118 Davis Ct., (210) 560-2955.
S'mores Whoopie Pie Elusive isn't usually a word used to describe baked goods, but the whoopie pies from Bird Bakery are just that. Served during mid- to late summer, perhaps as an ode to campfires and fireflies, this dessert layers a cake-like graham cracker cookie, rich marshmallow buttercream, double chocolate cookie and finishes with a heavy drizzle of dreamy chocolate ganache. It's messy, just like its namesake, but oh-so-worth-it. 5912 Broadway, (210) 804-2473.