ADVERTISEMENT. San Antonio Current news staff was not involved in the creation of this content.

Brunch is the highlight of our week. This list highlights our top brunches in San Antonio, TX curated by SATX-Rated. The list Includes the best boozy new brunch spots and some long time classics. SATX-Rated is San Antonio's food and fun ambassadors. Highlighting the great city of San Antonio. Highlighting all the things to eat, drink and do in the city. Check us out on social media @satxrated and our website
www.satxrated.com
for more suggestions on things to do in the city.

List of Brunch Spots


Gold Feather (Daily Brunch)
834 NW Lp 410, Ste 106, San Antonio, TX 78216
For an interesting twist on brunch, try Gold Feather's Chicken and Waffles with your choice of waffle. Choose from Churro, Red Velvet or original
( 📸 @satxrated)
Alamo Biscuit Co (Daily Brunch)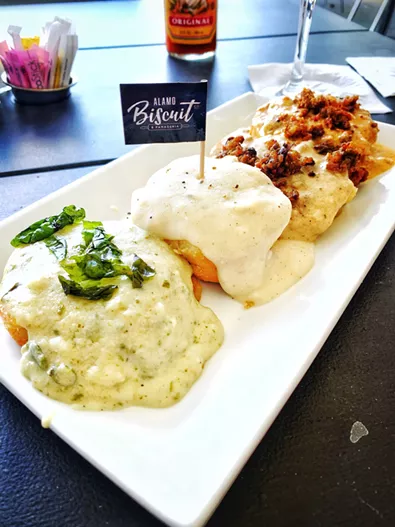 a9630 Huebner Rd, Ste 103, San Antonio, TX 78240
Established in 2019. Alamo Biscuit Company & Panaderia is the breakfast restaurant for amazing food for all of you early birds in San Antonio. Breakfast, brunch and desserts served daily.
( 📸 @satxrated)
Stixs & Stone (Sunday Brunch)
5718 B Wurzbach Rd. San Antonio, TX 78238
Open for brunch on Sunday from 10am - 3pm. Stixs & Stone is the home of the Free Mimosa Sunday Brunch
( 📸 via Instagram)
Ida Claire (Sat & Sun 9-3)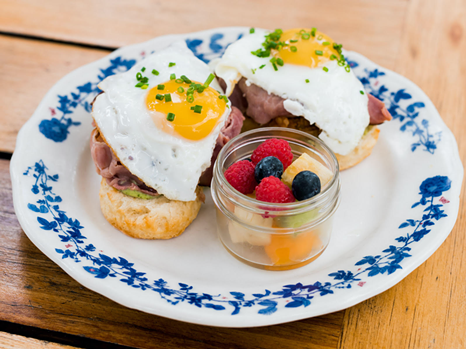 7300 Jones Maltsberger Rd, San Antonio, TX 78209
Ida Claire is a funky, southern influenced restaurant & bar. Serving up some classic and southern style brunch options and cocktails
( 📸 @satxrated)
Nola Brunch & Beignets (Brunch Wed-S
un)
720 E Mistletoe Ave, San Antonio, TX 78212
New Orleans style brunch with a San Antonio twist! Open for dine-in, take out, + delivery! Wednesday-Sunday | 8:00- 2:00
( 📸 @satxrated)
La Panadería Bakery and Café (Daily Brunch)
17030 Fiesta Texas Dr
8305 Broadway
301 E Houston St
With 3 locations in San Antonio La Panadería spreads their Cultura by delivering fresh pan dulce and a delicious brunch menu
( 📸 via Instagram)
Ocho (Sunday Brunch 10am-2pm)
1015 Navarro St. (Located in Havana hotel)
Situated in a glass conservatory overlooking the River Walk, Ocho serves breakfast, lunch, dinner and late-night snacks
( 📸 @hausoftony)
Conroy's Stone Oak (Brunch Daily)
21119 HWY 281 S San Antonio, Texas
A Scratch Kitchen offering a wide variety of Family Favorites. Enjoy a craft cocktail and breakfast all day.
( 📸 @satxrated)
Sand Box (Sunday Brunch 11am-3pm)
7280 UTSA Blvd, San Antonio, TX 78249
From classics like Chicken and Waffles to Brisket Hash Sand Box has a fun atmosphere with cocktails and games.
( 📸 @drunktones)
Magnolia Pancake House (Brunch Daily)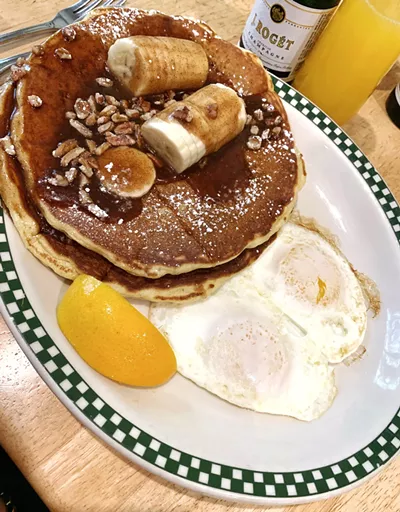 606 Embassy Oaks, Ste 100 San Antonio, Texas (+2 additional locations)
Family Owned and Operated since 2000 & Serving San Antonio's Best Breakfast Featuring the "World's best buttermilk pancakes"
__

The statements made in this sponsored post are those of the paid sponsor and not those of San Antonio Current.