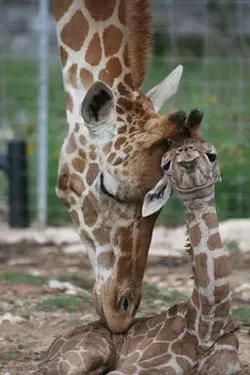 Nakato and His Mother Carol
1. Female twin Wasswa's name is African for the first born of twins and Nakato is the coordinating name given to the second born of twins.
2. The twins, born at Natural Bridge Wildlife Ranch on May 10, are the second set of living Reticulated Giraffe twins born in the U.S. and the ninth set of living twins born in the zoos of the world.
3. Their parents' names are Carol and Marshall.
4. Male twin Nakato is being hand-reared to make sure that he receives adequate nutrition. Carol showed slight aggression towards him at first, believing him to be "stealing" Wasswa's mik.
5. Wasswa weighed in at 95 pounds and measured 4.5 feet tall at birth, much smaller than is normal for a baby giraffe.
Wasswa Nurses
6. The average giraffe's gestation period is 15 months.
7. Giraffes give birth standing up.
8. Giraffes are the tallest living land mammals with average height ranging from 16-19 feet.
9. When being birthed, Calves fall 6 feet to the ground, and stand up to run and nurse within an hour of birth. Nakato took more than two hours to stand, and was originally taken to an isolated enclosure for safety.
10. At four days old, Nakato was re-introduced to his family at the giraffe facility. He was placed in the enclosure next to his mother & sister. They are allowed short, supervised visits in the same enclosure.
10. Zookepers do not know if Carol will eventually stop seeing Nakato as a threat to Wasswa. The twins and mother Carol may one day be able to co-exist in the same enclosure, but the births are so rare that science is not yet able to define what's to come.