1. Rob Baird & Cody Jinks – September 7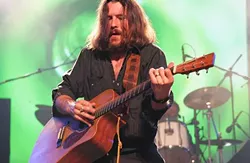 With his new album release 'Black Sheep' dropping in June, Traditional Country singer and Texan Cody Jinks performs an afternoon show at 1p.m. and a night show (with opening act and fellow Country singer Rob Baird joining him) at 9p.m. at Luckenbach. Far from his past in a thrash metal band, Cody has developed an American outlaw sound resembling Waylon Jennings.   2. SA Lights (Journey Tribute) – September 7
San Antonio local Journey tribute band Lights perform the classic rock band's greatest hits along with other covers like Bon Jovi, Sanatana, Mana, Don Henley, Billy Idol, ZZ Top and more at the Retox Bar at 10pm. Text or call  (210)775-2886 for reservations.
3. The Mo-dels – September 7
With a wide range of music ability stretching through the decades 50's Big Band Swing to 90's Techno Rock, The Mo-dels like to describe themselves as your favorite party band. Catch them performing at the Cove this Saturday from 9pm to midnight.
4. Reggae/Rock/Indie Show – September 5
This Thursday at the Mix three bands resemble the name of the venue when Reggae group Rock Belly, Rock band Deep In the Heart, and Indie group Bite Lip Bleed are mixed into one night of music appreciation on three different sides of the genre spectrum. All bands are from the Lone Star State and their music is available for purchase on reverbnation.com where half the money goes to Every Mother Counts charity. 5. Family Night & Dance – September 8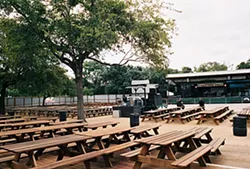 Every Sunday in September is Family Night and Dance at Floore's Country Store in Helotes from 6-10pm, giving everyone the perfect opportunity for some quality family time. Floore's is known for the fact that the venue isn't actually a store but a unique dancehall and café where concerts have been held for over 60 years. 6. Saturday Night Live! – September 7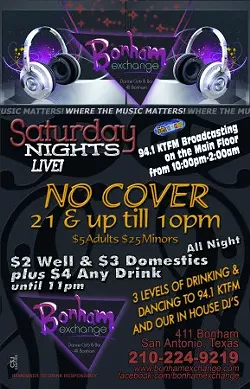 For all those 21 and over, be sure to head down to the Bonham Exchange this Saturday night before 10pm. After 10 the charge is 5$ for adults and 25$ for minors. Plus, local radio station 94.1 KTFM will be broadcasting on the main floor from 10pm-2am with in house DJs as well to keep you dancing throughout the night. 7. Two Ten Tuesday – September 3
Locals Teal Feel and Rad Envelope x Espre along with this week's guest Boondoggle show off what they've learned from San Antonio's newest DJ school Two Ten Beat School at the Korova starting at 9pm tonight. 8. Carissa Leigh Acoustic – September  7
On her Not the Same Girl Tour designed towards smaller venues for a more personal experience with her supporters, up-and-coming country singer Carissa Leigh performs an acoustic version of her latest album release Not the Same Girl at Boneshakers Tap House and Pizzeria this Friday at 7pm. 9. Jazz Ensemble - Photographs by Polly Harrison – September 5
As a recognized jazz musician herself, Polly Harrison has unique perspective with her photos in that she knows what it feels like to be on both sides of the camera. You can see her collection of black and white photos of Jazz musicians from all across America on Thursday in the Louis J. Blume Library Gallery from 4-5:30pm. 10. Open Mic Night – September 3
"Talent not required" according to Zombies Bar and Live Music Venue for their open mic night tonight starting at 9:30pm. Showcase your musical abilities, or lack thereof, while having fun in front of a live audience. Keyboard and guitars are available to accompany your performance if needed.