Wed 9/3

San Antonio | The Saga
French artist Xavier de Richemont has created high-tech sets for theater and opera and collaborated with the avant-garde visionary Robert Wilson but is arguably best known for his dazzling video installations, which have graced the facades of historic locales across Europe, Canada and Mexico. On view periodically for the next decade, Richemont's 23-minute spectacle "San Antonio|The Saga" employs San Fernando Cathedral as a canvas to "narrate the historical discovery, settlement and development of San Antonio" via a 7,000-square-foot projection choreographed to music in surround sound. Free, 9pm, 9:30pm, 10pm Tues, San Fernando Cathedral, 115 W. Main Plaza, (210) 227-1297, mainplaza.org
Thu 9/4
The Breakfast Club
"Saturday, March 24, 1984. Shermer High School, Shermer, Illinois, 60062." The quintessential 80's teen classic from director John Hughes is on the big screen to remind you of your agonizing years in high school. Free, 7pm Thu, Santikos Bijou Cinema Bistro, 4522 Fredericksburg Rd, (210) 734-4552, santikos.com
Thu 9/4
Naomi Nye: Turtle of Oman
Beloved local author Naomi Nye visits the Twig in support of her new book exploring themes of moving, family, nature and immigration. Free 4-8pm Thu, The Twig Book Shop, 306 Pearl Pkwy, (210) 588-3903, thetwig.indiebound.com
Thu 9/4 - Fri 9/5
Jennifer Ling Datchuk: "Dark & Lovely"
Hair might seem like an odd source of inspiration for a ceramic sculptor, yet Ohio-born, New York-raised, San Antonio-based Jennifer Ling Datchuk reminds that "these delicate strands have the power to identify us to the world, and this world can make assumptions about us based on its shape, color and condition." Often exploring her own unique heritage (which includes Chinese, Irish and Russian ancestry) as well as underlying themes of identity and femininity, Datchuk favors pristine porcelain as a medium but also works delicate magic with fabric, embroidery and floral patterns. Amusingly titled, her solo show "Dark and Lovely" takes over Blue Star's Middle Gallery and runs concurrently with Philadelphia artist Caroline Santa's multi-layered offering "Code-Mixing" (Project Space), an exhibition highlighting local photographer Lané Pittard (Gallery 4) and Hill Country-based Catherine Lee's sculptural installation "Emergence," which comes to life with collaborative performances (7pm and 8pm Thu, 7:30pm Fri) courtesy of the Shay Ishii Dance Company (Main Gallery). Free, 6-9pm Thu-Fri, Blue Star Contemporary Art Museum, 116 Blue Star, (210) 227-6960, bluestarart.org – Bryan Rindfuss
Thu 9/4
Catherine Musemeche: Small: Life and Death on the Front Lines of Pediatric Surgery
As a pediatric surgeon, Catherine Musemeche operates on the smallest of human beings, manipulates organs the size of walnuts, and uses sutures as thin as hairs to resolve matters of life or death. Her recent book takes readers into the realm of pediatric medicine and the maladies that afflict children. Free, 7pm Thu, Barnes and Noble, 15900 La Cantera Pkwy, (210) 558-3903
Fri 9/5
"Echoes: Reconstructions of Images Past"
SAY Sí students explore the fine line between past and present by deconstructing and reconstructing photographs through physical and digital manipulation. Free, 6-9pm Friday, SAY Sí, 1518 S Alamo, (210) 212-8666, saysi.org
Sat 9/6
Artist Talk by Teresita Fernández
Teresita Fernandez Night Writing (Tristan and Isolde), 2011 Colored and shaped paper pulp with ink Jet assembled with mirror. 58 X 108 inches. Courtesy of the artist.
If you've visited the Linda Pace Foundation's intimate and serene CHRISpark, you've likely noticed Miami-born, Brooklyn-based art star Teresita Fernández's site specific "visual experiences," which include Starfield (a constellation of tiny blue lights embedded in concrete) and Wednesday's Child (a poignant homage to Pace's late son Chris rendered in illuminated glass stepping stones). Hailed by Architectural Digest as a "master at transforming basic materials into something provocative and poetic," Fernández is a 2004 MacArthur Foundation Fellow who served from 2011 to 2014 on the U.S. Commission of Fine Arts-a federal panel that advices the President, Congress and governmental agencies on national matters of design and aesthetics. Known best for immersive installations that evoke landscapes and natural phenomena (via materials that range from silk yarn and suspended pyrite nuggets to optically shifting multicolored glass and swarms of mined graphite rocks), the Artpace alumna sheds light on her fascinating works in conjunction with SPACE gallery's inaugural exhibition "Pace Gems." Free, 11am Sat, SPACE, 111 Camp, (210) 227-8400, lindapacefoundation.org – Bryan Rindfuss
Sat 9/6
Pagan Pride Day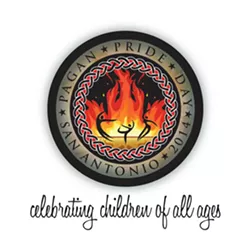 If your idea of paganism involves bare-ass moonlit cavorting, good luck finding a place to stick your nametag at SA's Pagan Pride Day. This year's theme is "Celebrating Children of All Ages" and national guidelines ban all sexual content and pretty much anything else that might "offend a reasonably tolerant, middle-of-the-road, non-Pagan." Instead, look for witchcraft workshops including "Coming Out of the Broom Closet" and entertainment from the Reformed Congregation of the Goddess' a cappella choir and Red the Clown, who "does not wear clown makeup or a costume." Free but donations accepted, noon-7pm Sat, Alamo City Event Center, 2899 ME Loop 410, sapaganpride.weebly.com – Jeremy Martin
Sat 9/6
KRTU Indie Overnight Radio Invasion
Loose Eel Ball
The first gig put on by KRTU's indie programming since a 2010 Radiohead tribute from Chris Maddin and Chuck Kerr, the Indie Overnight Radio Invasion is a welcome reprise from the Trinity station. Maddin returns in an absurdist form as half of Loose Eel Ball, an exercise in wordplay, outlandish behavior and sonic experimentation with SA pop contortionist Marcus Rubio. Back in town from a summer recording session at the Sonic Ranch in West Texas, Mike Carrillo and his indie orchestra Deer Vibes show off the work impending on their debut LP. Power trio Crown lets loose on the muscled, blues-rock riffs of their second release of the year, Are These the Good Days? With Demitasse, Advance Cassette, DJ Gib. Free, 4pm Sat, 9/6, Ruth Taylor Courtyard, Trinity University, 1 Trinity, (210) 999-8917, facebook.com/krtuindie
Sun 9/7
Seth Cam
In the local art scene distinguished both by folky inclinations and high-concept installations, painter Seth Camm stands out as something of a throwback. Typically rendered in oil on linen or gessoed panels, Camm's works maintain a classical sensibility whether falling into portrait, still life or landscape territory. Named 2014 Artist of the Year by the San Antonio Art League, Camm is set to unveil a collection of 50 paintings, some of which highlight his 15-year project focusing on the homeless. According to Camm, these portraits are "the true trophies" of his art career so far. Free, 3-5pm Sun, San Antonio Art League and Museum, 130 King William, (210) 223-2826, saalm.org  – Bryan Rindfuss