Tue 9/23
Mark Obama Ndesandjo: An Obama's Journey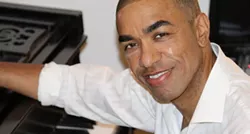 Courtesy photo
Mark Obama Ndesandjo visits Barnes & Noble (La Cantera) in support of his memoir recounting his complex relationship with his older half-brother, President Barack Obama, including their first meeting in Kenya over 20 years ago. Free, 7pm, 9/23 Tuesday, Barnes & Noble, 15900 La Cantera Pkwy, San Antonio, (210) 558-3903
Wed 9/24
Reception for Bryson Brooks: "Texas Beauty"
Enjoy art, sangria, small bites and music with artist Bryson Brooks at the reception of his collection "Texas Beauty." Free 5:30pm-7:30pm, 9/24 Wednesday, Twin Sisters, 6322 N New Braunfels, (210) 822-0761
Thu 9/25
Sansho the Bailiff
Set in 11th-century Japan, Sansho the Bailiff tells the tale of two children who are separated from their parents, sold into slavery and attempt to escape from their brutal captor, Sansho (Eitaro Shindo). Directed by Kenji Mizoguchi, the film is based on a short story of the same name by Mori ?gai, and won the Silver Lion at the 1954 Venice International Film Festival. A wine reception at 6:00 pm precedes the feature film. Sansho the Bailiff is part of the McNay Art Museum's GET REEL: 60th Anniversary Film series and is included with general admission which is free from 4-9pm every Thursday. Free, 6:30pm-8:30pm, 9/25 Thu, McNay Art Museum, 6000 N. New Braunfels, (210) 824-5368, mcnayart.org
Thu 9/25
Cultura Dura Tour
Third Root
Billed as a celebration of the future of urban Latin music, Cultura Dura is an eight-city tour presented by Brooklyn's Remezcla and Mike's Harder Lemonade. The San Anto incarnation of the tour will feature Austin's shape shifting Latin-fusion/EDM tribe Peligrosa and the bilingual, salsa and cumbia sampling hip-hop stylists Third Root (SA) and Álvaro Díaz (ATX). Whether you're into thoughtful lyricists spitting fire at "the man," or you're just looking to dance all night, Cultura Dura's got you covered. The strictly 21-and-up event is free with your RSVP at the website listed below. Free, 10pm, 9/25 Thursday, The Korova, 107 E Martin, (210) 995-7229, remezcla.com/culturadura. —James Courtney
Thu 9/25
Ferris Bueller's Day Off
This week for Wonderland of the America's free movie night, it's every teenager's school-skipping fantasy. Ferris Bueller is a clever fast talker and a legend at his school. He decides to fake sick in order to skip school to embark on a wild adventure involving his girlfriend, Sloane Peterson, his best friend, Cameron Frye, and a Ferrari. Hijinks ensue. Free, 7pm, 9/25 Thursday, Santikos Bijou Cinema Bistro, 4522 Fredericksburg, (210) 785-3500, santikos.com
Fri 9/26
Local Organizing for the Rights of Mother Earth
Eleanor Bravo, the Southwest organizer for Food and Water Watch, shares her insights from working with communities in Dallas and Los Angeles to ban or restrict fracking. The film Rooted Lands/Tierras Arraigadas, which focuses on a New Mexico county of Hispanos that has become the first in the United States to ban fracking will follow. Free, 7pm, 9/26 Friday, Esperanza Peace & Justice Center, 922 San Pedro, (210) 228-0201, esperanzacenter.org
Fri 9/26
Slab Cinema: High Society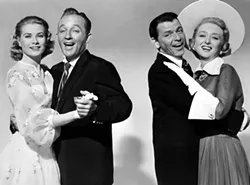 In this 1956 musical comedy, a woman must choose between three very different men in a course of self-discovery. With an amazing cast consisting of Bing Crosby, Grace Kelly and Frank Sinatra. Free, 7pm, 9/26 Friday, San Antonio Botanical Garden, 555 Funston, San Antonio, (210) 829-5100, sabot.org
Sat 9/27
National Public Lands Day
(via)
National Public Lands Day is the nation's largest single-day volunteer effort for public lands. Volunteers will focus on trail and native plant garden maintenance to ensure students and visitors are educated about local ecology and conservation. Free, 8am-11am, 9/27 Saturday, Mitchell Lake Audubon Center, 10750 Pleasanton (210) 628-1639, mitchelllake.audubon.org
Sat 9/27
Museum Day Live!
The UTSA Institute of Texan Cultures will open its doors free of charge on Saturday September 27, as part of Smithsonian magazine's tenth annual Museum Day Live. A nationwide event, Museum Day Live offers free admission to visitors presenting a Museum Day Live ticket at a participating museum or cultural institution. Museum Day Live is an opportunity to visit the museum's main exhibit floor, featuring more than 20 cultures that have contributed to the Texan identity, exhibits on display will include the Texas Contemporary Artists Series group show, featuring 12 artists who have exhibited at the ITC over the past five years; and Texas Art Quilts and Modern Masterpieces, featuring more than 40 quilts traveling from the Texas Quilt Museum in La Grange.  Print out your free admission for two coupon at Smithsonian.com/MuseumDayLive. Free, 9am-5pm, 9/27 Sat, UTSA Institute of Texan Cultures, 801 E César Chávez, (210) 458-2300, texancultures.com
Sat 9/27 - Sun 9/28
Hispanic Heritage Weekend
Bombasta Barriobigband (Courtesy Photo)
Market Square and KEDA co-host a family fun weekend with spicy fare, arts and crafts and performances by Ramiro Villareal, Stefani Montiel, Bombasta and more. Free, noon-8pm, 9/27 Saturday - 9/28 Sunday, Market Square - El Mercardo, 514 W. Commerce, (210) 207-8600
Sun 9/28
Síclovía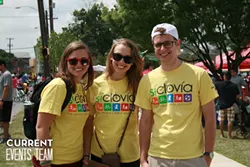 Photo by Stephen Guzman
Making recreational use of closed-off city streets since 1976, Colombia's cycle-centric concept Ciclovía (Spanish for "cycleway") has inspired adaptations across the globe, with events taking place in Argentina, Australia, Brazil, Belgium, Canada, Ecuador, New Zealand, Mexico, Peru and all over the U.S. Launched in 2011, SA's fast-growing version Síclovía (a collaboration between the YMCA, the Mayor's Fitness Council and others) was an instant hit and is now considered the Alamo City's "largest free health and wellness event." Expected to draw more than 65,000 participants, Síclovía's latest chapter sees the car-free, kid-friendly outing taking over a stretch of Broadway between Alamo Plaza and Lion's Field Park. The 3.25-mile route also includes an Eastside extension encompassing Dignowity and Lockwood Parks along with designated Reclovías to relax and refuel.  Free, 10am-3pm, 9/28 Sunday, Alamo Plaza, 300 Alamo Plaza, Lion's Field Park, 2809 Broadway, (210) 207-3029, ymcasatx.org/siclovia