Gossamer Frontier Plays the Mix
10pm, Thu, Jun 5
Gossamer Frontier's Bandcamp bills the band as "Spaghetti Western," a telling descriptor for the dark folk and light psych of the Austin quartet. With like-minded SA quintet Creatura and Afterhours.
Venue: the Mix, 2423 N St. Mary's
"Spinning Yarns: Photographic Storyteller"
6-9 pm, Thu-Fri, June 5-6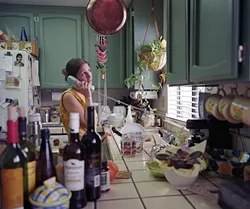 Whether building on fact or fiction, the artists wrapped up in "Spinning Yarns: Photographic Storytellers" present visual dialogues curators Anne Leighton Massoni and Libby Rowe admit present "more questions than answers." Supported by the Kendall College of Art and Design and Monmouth University, the traveling show comprises 64 works representing photographers from across the US as well as India and the UK. Taking over Blue Star's main gallery throughout the summer, "Spinning Yarns" opens concurrently with Austin-based Virginia Fleck's "Mixed Mantras" (a series of large-scale mandalas collaged from upcycled plastic bags) and Dallas-based Gabriel Dawe's "Plexus no. 26," a site-specific installation that employs thread to explore fashion, architecture, gender and identity.
Venue: Blue Star Contemporary Art Museum, 116 Blue Star
Opening of Xavier Gilmore: Memory
7-10pm, Thu-Fri, Jun 5-6
Xavier Gillmore, Hello Studio
Xavier Gilmore opens his first solo exhibition at Hello Studio after returning to San Antonio from The School of Art institute of Chicago, where he studied sound and painting. Pulling from his academic background, the show consists of video and sound installations, as well as three large-scale abstract paintings created from found objects.
Venue: Hello Studio, 1420 S Alamo
Band of Bandits Performs Dor?ol Distilling Company
9pm, Sat, Jun 6
SA electric bluegrass outfit Band of Bandits face a difficult challenge on Friday night: singing about whisky at a bar that only serves Eastern European moonshine. But if moonshine is moonshine, then the Band of Bandits' "Drinkin' Time" should go over just fine.
Venue: Dor?ol Distilling Company, 1902 S Flores
Gold's Gym Sweat Fest
9-11am, Sat, Jun 7
Photo by Andrew Lopez
It turns out quite a few San Antonions, soldiers and civilians, love to spend their Saturday morning sweating it up with an outdoor boot camp. For Summer Sweat Fest, Gold's Gym is holding a series of crazy fun and free boot camps on Saturday mornings to help you get in shape to kick some Barkley butt. Check out the photos from last weekend's workout.
Venue: Gold's Gym, Concord Plaza (Alamo Quarry area)
Ladybug Girl and Bumblebee Boy
10:30am, Sat, Jun 7
Miss Anatasia and the Twiglets are calling all twiglets, boys and girls alike, to don their rainboots, bug wings, or tutus and help the lovely spirited hostess, Lady Bug Girl, kick off the Summer Reading Program. Start the summer off with Lady Bug Girl and Bumblebee Boy's marvelous book collection, crafty crafts, and yummy snacks. After the kick-off strike a pose for your "Bug Squad" photo with Lady Bug Girl herself.
Venue: The Twig Book Shop, 306 Pearl Pkwy, Ste 106
Paletas y Poesía
4-9pm, Sat, Jun 7
"We want to promote a 'go local' literary movement with Paletas y Poesía," says Sheila Black, executive director of Gemini Ink. The literary fair is born from the organization's desire to create a participatory, family-friendly event and City Councilmember Rebecca Viagran's desire to activate the South Side's new Mission Marquee Plaza, the former Mission Drive-In Theater revamped as a multi-use public park. Following a variety of youth workshops and writing activities, native Southsider and San Antonio Poet Laureate Laurie Ann Guerrero (above) will read with artists Anthony the Poet, Terry Ybanez, Amanda Flores, Don Mathis and Jim Lavilla-Havelin. The evening closes with a performance by "barrio big band" Bombasta. Giveaways include locally published poetry anthologies and paletas for everyone.
Venue: Mission Marquee Plaza, 3100 Roosevelt
Grand Opening: Pride Center San Antonio
4-8pm, Sat, Jun 7
Pride Center San Antonio celebrates its grand opening with live entertainment, community information fair, and complimentary beer and wine. The Lisa Marshall Band (70's Soul-a-delic) headlines the entertainment line-up, which also features R&B vocalist Valerie Fernandez and the Live Oak Singers, San Antonio's newest LGBT & friends chorus.   

Venue: Pride Center San Antonio, 147 East Mistletoe Ave
Snake Hawk Press Launch Party
6-9pm, Sat, Jun 7
Local artist Cruz Ortiz's "new old timey-style print-based design firm" Snake Hawk Press takes flight with a party featuring vintage letterpress and screen-printing demos, T-shirts, prints and posters on display, music by DJ Sneaky Le Sneak, food from Raspa Troca and beverages from sponsors Dos Equis and Absolut Vodka.
Venue: Snake Hawk Press, 144 Zapata
NBA Finals Game 2 Watch Party
8pm, Sun, Jun 8
We know we don't have to drop big bucks for nosebleed seats to experience the thrill of the NBA Finals and the Spurs Drive for Five. There are a slew of patio watch parties around town. But if you're looking for comfy seats, a big screen and air conditioning the Alamo Drafthouse is the place to "black out" and shout "Go Spurs Go!"
Venue: Alamo Drafthouse Park, multiple locations