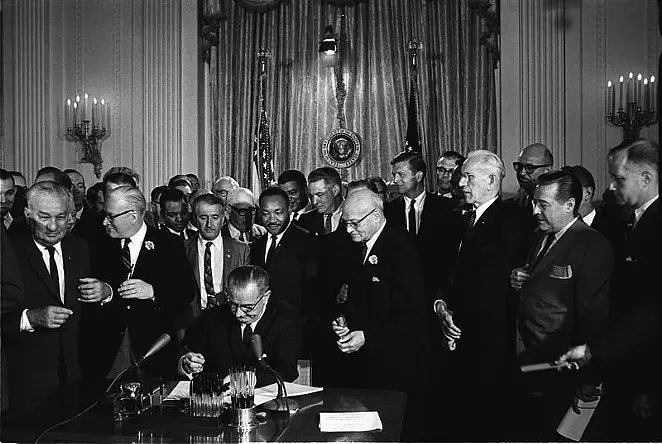 Cecil Stoughton, White House Press Office (WHPO) | Wikipedia
This photo shows President Lyndon B. Johnson signing the Civil Rights Act on July 2, 1964. Lone Star State Democrats will take up a resolution at the Texas Democratic Convention this week supporting the Equality Act of 2015, which would add protections for sexual identity and gender orientation to the Civil Rights Act.
The Texas Democratic Convention will spill into San Antonio at the end of the week, when Lone Star State Democrats will choose who to send to the national convention where Hillary Clinton is expected to beat Bernie Sanders for the presidential nomination.
But that's not all that goes on at the convention. Texas Democrats will also vote on resolutions to shape the party's state platform.
With that said, here is our pick of 10 resolutions recommended by the party to keep an eye on:
10. The Equality Act of 2015
As the country mourns for the
49 victims killed at a popular gay bar in Orlando
by a gunman just weeks before the anniversary of the historic U.S. Supreme Court ruling affirming the right of same-sex couples to marry, Texas Democrats will likely back a resolution supporting the Equality Act of 2015.
This federal legislation would amend the Civil Rights Act of 1964 to include protections for sexual orientation and gender identity, which is particularly important in Texas as Lt. Gov. Dan Patrick has vowed to introduce a bill next year that would discriminate against transgender people by making it illegal for them to use the restroom that corresponds with their gender identity.
9. Radioactive Waste Storage
There's not much out in West Texas, but does that make it the perfect place to store radioactive waste?
A company called Waste Control Specialists, which already stores low-level radioactive waste at a facility in Andrews County, near the New Mexico border, applied to the Nuclear Regulatory Commission seeking permission to store high-level nuclear waste like spent fuel rods,
the Associated Press reported in April.
The proposal would cart radioactive waste from across the country to the tiny rural community.
Texas Democrats will vote on a resolution that opposes not only the storage of high-level radioactive waste, but also the use of Lone Star State highways and railways to transport the toxic substances.
8. Respecting Religious Diversity and Defending Religious Liberty
On June 26, one year will have passed since the U.S. Supreme Court ruled that same-sex couples have the constitutional right to marry.
Since then, numerous states across the country have been devising or planning to amend laws that protect religious liberty. While that sounds like a no-brainer, some of these laws —
like this Texas proposal
— are seen as underhanded maneuvers to discriminate against the LGBT community.
At issue in this resolution is the 1999 Texas Religious Freedom Restoration Act, which was bipartisan legislation protecting religious liberty by barring government from "substantially burdening" religious belief and expression. In 2015, Republican efforts to amend the law by removing the word "substantially" stalled after opposition from the business community,
the Texas Tribune reported.


Supporters of the effort claim the amendment is needed to allow people to decline certain services — like marrying a couple — if it conflicts with their religious beliefs. Opponents say that the effort allows for discrimination against the LGBT community under the guise of religious liberty.
This convention resolution would affirm the Texas Democratic Party's support of the original 1999 Texas Religious Freedom Restoration Act and the right of all faith communities to self-govern while opposing efforts to amend the law.
7. Opposing All Blue Laws
Texas is one of 12 states in the country where you can't buy booze from a liquor store on Sundays, according to the
Distilled Spirits Council of the United States.
The Lone Star State also prohibits people from buying cars on Sundays.
These arcane laws are Prohibition-era leftovers that were crafted to enforce religious rules. This resolution opposes these laws and encourages Democrat legislators to file bills repealing the state's remaining blue laws.
Gabby Mata | San Antonio Current
6. Opposition to Campus Carry
On August 1, campus carry becomes a reality in Texas. Signed by Gov. Greg Abbott last June, the legislation allows concealed license holders to carry handguns on public college campuses. The bill also allows for the storage of handguns in dorms.
This resolution might be a pipe dream, but it reaffirms the Texas Democratic Party's opposition to campus carry and signals an effort to amend the bill to also allow public colleges to opt out of campus carry like private universities, which are allowed to decide whether to permit or prohibit concealed carry on campus.