Yes, these are only 10 tacos out of the thousands of tacos we could be enjoying today. But here's how we're going to celebrate the holiest of Taco Tuesdays on National Taco Day.
Brisket tacos at 2M Smokehouse & Catering
2M Smokehouse is quickly becoming a must-hit spot for barbecue in San Antonio. Not only can you get great 'cue but the tacos (sold in pairs with your choice of chips) are a must when stopping by. The pop-up shop specializes in "Mexican barbecue," they coined the term by smoking their own brisket, pork, and turkey, and throwing the mouth-watering meats on homemade flour tortillas. They don't stop there though — you can top the tacos with their crispy slaw (a nice crunchy contrast to the juicy filling) and 2M's sweet barbecue sauce. If you really want to kick it up a notch, order a side of the peppers and pickled nopales (cactus paddles) and throw those on top as well for a taco made in heaven. Absence makes the heart grow fonder with these tacos, since for the time being the owners have halted Saturday pop-ups to get their brick and mortar building open.
2731 S. W W White Road. —
Erin Winch
Charlie Smith
Trompo tacos from Marioli
Tacos de Trompo at Marioli
Marioli, set in a wee, unassuming café offering sandwiches, small plates and scrumptious desserts in Stone Oak just outside Loop 1604, largely focuses on their catering services through their "Gourmet To Go" concept. However, at 6 p.m., the trompo cart comes out, and traditional tacos de trompo start slangin'. Their deliciously well-seasoned shaved pork is brilliantly garnished with pineapple and the resulting flavors are surprisingly mouth-wateringly better than I've had anywhere else. Add their homemade rojo or verde sauce – I prefer verde – for an extra kick that compliments and amps up the entire dish. Get your taco fix here seven days a week. Owner/Chef Mariana Oliver, who hails from Mexico City, serves up the flavors unique to southern Mexico in all her offerings. If you go earlier than 6 p.m. for other fare (Sopes! Enchiladas! Chocoflan!), call ahead to make sure they're open. Their posted hours seem to be "approximate" most times we've gone. Indoor and outdoor seating available.
18730 Tuscany Stone, (210) 496-1111. —
Charlie Smith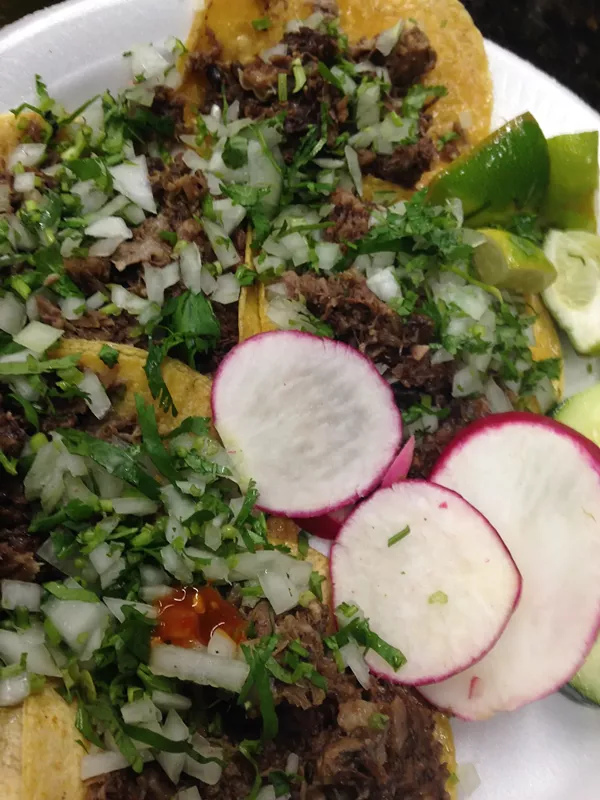 Charlie Smith
Cabeza tacos from Taquitos West Avenue
Cabeza Street Tacos at Taquitos West Avenue
You want authentic and traditional street tacos? This San Antonio open-air kitchen has exactly what you were looking for. There's indoor seating for those who want it — Taquitos West Avenue is almost always packed with locals, and many times features long lines. And yes, it's worth the wait. Choose from tripas, bistek, lengua, cabeza, suadero and al pastor. No matter which you go with, you made the right choice. Our fave? You can't go wrong with the cabeza. Lean and flavorful, the meat served on these five mini corn tortillas are garnished with chopped cilantro and onion. Squeeze some limes, add some salsa, grab some beer and you're off to the races! First timers tip: it may seem like you pay up front, but settle your bill after you chow down….
2818 West Ave., (210) 525-9888.
— Charlie Smith
Charlie Smith
Mini tacos from El Regio
Asada Mini Tacos at Tacos El Regio
If this taco truck (there are two of 'em) were on every corner, we don't think we'd hear many complaints. What's good here? Take your pick. They've got corn in a cup, borracho beans, mini tacos, tacos, quesadillas, burritos, tortas and more. I require a serving of their asada mini tacos at least once a week. These are serious, drive-across-town tacos. Get them all the way with cilantro, onions, queso fresco, avocado slices and limes. Make sure to ask for the jar of in-house pickled onions if they're not out – you can add your own. And their rojo y verde salsas are so hot you can't stop. The truck on St. Mary's opens at 11 p.m. and closes at 4 a.m., perfect for those late-night cravings. If you're in the mood around dinner time, head over to their second location on Nacogdoches. They open at 7 p.m., close at 4 a.m., and offer a recently added outdoor dining area.
2726 N. St. Mary's St. & 12757 Nacogdoches Road
— Charlie Smith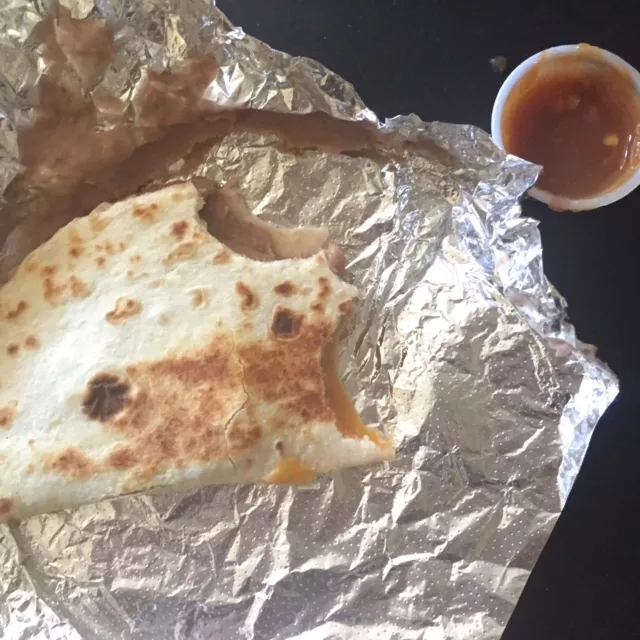 Alexis Barnhart
Bean and cheese from The Original Donut Shop
Bean and cheese tacos from The Original Donut Shop
It's widely accepted that cash-only restaurants have crazy-good food. Original Donut Shop is no exception to this rule. As its name suggests, Original Donut Shop has amazing donuts, but don't stop there. Their breakfast tacos are not to be missed, whether on a sleepy weekend morning or on the drive to work. The bean and cheese taco in particular speaks to my soul. Fresh, piping-hot, and gooey, the bean and cheese taco is classic and absolutely worth mentioning in a city known for breakfast tacos. For even more deliciousness, order your tortilla toasted. The added crispiness and almost-charred flavor makes the bean and cheese taco stand out even more. Of course, Original Donut Shop's tortillas are made fresh — you can even watch one of the ladies kneading balls of dough as you wait to order. Needless to say, there is always a line at Original Donut Shop, but it is so worth the wait. Bring cash and bring a friend, and start your day right with an amazing breakfast taco.
3307 Fredericksburg Road, (210) 734-5661. —
Alexis Barnhart
Kim Olsen
Barbacoa taco from La Bandera Molino
Barbacoa tacos on homestyle corn tortillas at La Bandera
Molino
I was introduced to this place by a friend who lives in the area. They really do have the best corn tortillas. They're made in house and rolled thicker than the regular corn tortillas thus making them hold together better because of it. This is not one of those corn tortillas that will fall apart at the first sign of fillings. This makes the tortilla perfect for their all meat barbacoa taco. Made in house and super popular on Saturdays and Sundays but available all week long the barbacoa is the perfect taco to cure anything. Sleepy, hungover, hangry? Grab a taco and feel better instantly. The taco always comes with a good meat to tortilla ratio and is juicy without being greasy. Add some salsa or salt but the meat already tastes great without it. Take my word for it and try them soon!
2619 N. Zarzamora St. —
Kim Olsen
Bean and cheese from Panchos & Gringos
The bean and cheese taco, in all its simplicity, somehow manages to get screwed up all over this taco city. To some folks, a lukewarm tortilla with a tiny spoonful of under-seasoned beans and unmelted cheese is fine — but that just won't do for us bean and cheese aficionados. Pancho and Gringos managed to take store-bought tortillas and American cheese and turn it into something beautiful. The diner prides itself on its jumbo tacos — two of them will fill up even those with the largest breakfast appetite — and the bean and cheese is no exception. Each taco comes on a thick flour tortilla with two slices of American cheese and a huge portion of perfectly seasoned refried beans. Owner Sergio Calderon, originally from Puebla, Mexico, makes his own sauces, which you can apply as lightly or liberally as you choose. Watch out for the verde, as it packs a punch.
900 Nolan St., (210) 227-6700.
Morcilla Taco at El Milagrito
Somewhere between brick red and maroon, studded with nibs of weathered peppers, disembodied like hamburger but pursed by its tortilla into a loose, sticky tube, the morcilla taco at El Milagrito is not traditionally attractive, though this is to be expected. There is no garnish of cilantro, nor of cheese or onion or guacamole or even salsa for that matter. Indeed, there is no attempt at all made to lighten or distract from the fact that you are eating blood sausage. Its taste is singular, sweet with faint notes of nutmeg, but powerfully metallic, primordial, and earthy. Let it cool but add nothing to it. Bask in its sanguinity. You will, I guarantee it, ask why you have eaten so very little blood before now.
521 E. Woodlawn Ave., (210) 737-8646. —
Mark Stenberg
The Torres Taco at Taco Haven
Was I to make a list of foods with whose textures and I have a complicated relationship, it would go, in order: Oysters, bananas, the Torres Taco at Taco Haven, and okra. Of the four, the only one I can afford, cook, and eat before it spoils is the taco. Composed solely of bean, cheese, avocado, and bacon, eating the Torres is what I imagine drowning mouth-open in a mudslide would taste like, provided you were already somehow chewing bacon. The mouthfeel could be described as smooth at the least, though the crunchy pork provides backbone enough to keep the bite from delving into Gerber territory. The thick, fresh, hot house-made tortillas don't hurt either.
1032 S. Presa St., (210) 533-2171. —
Mark Stenberg
Brisket taco from Garcia's Mexican Food
How does one choose a taco? Just like pizza, I could eat tacos in any form — puffy, corn, flour — at any time of the day. But for today, if I could make my taco dreams come true, I would order two brisket tacos with guac from Garcia's Mexican Food. Juicy brisket that's smoky enough to convey the dozen or so hours it spent in the smoker out back, with just enough guac (avocado only, no funny business) to create an extra rich creaminess. I might just go get them for lunch.
842 Fredericksburg Road, (210) 735-4525. —
Jessica Elizarraras