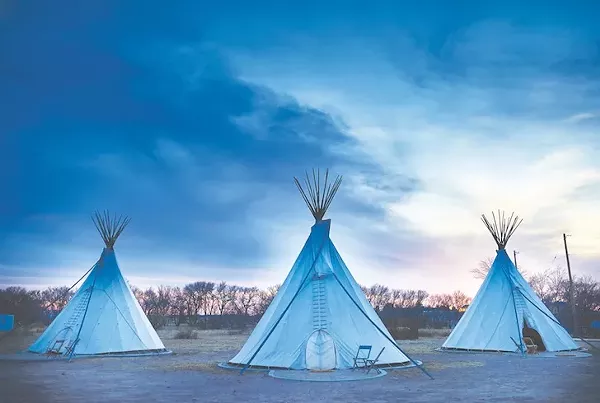 Fall is officially here, which means we can finally sit outside without breaking major sweat. It's the one time of year that we all fully embrace the outdoors, welcoming the cooler weather with open arms. So, to take full advantage of the change in season, we've gathered 10 of Texas' best camping spots to get you ready for the fall. Tent not included.
Lost Maples State Natural Area
37221 F.M. 187, Vanderpool, TX 78885
Distance from San Antonio: 95 miles, 1.5 hours
There's no better time than the fall to visit Lost Maples. Seriously. Autumn colors are abundant in this natural area and there are 10 miles of trails to explore. Campsites range from primitive to "standard," which offers accesses to water, picnic tables and electricity. And the best part about Lost Maples? Your four-legged friends are welcome.
Caprock Canyons State Park & Trailway
850 Caprock Canyon Park Road, Quitaque, TX 79255
Distance from San Antonio: 430 miles, 6.5 hours
Ideal for those who like to hit the trails, Caprock Canyons State Park boasts an impressive 13 trails, covering nearly 90 miles of land. Trails range from the easy breezy to rugged terrain, so experienced mountain bikers can get their adrenaline fix. And if you've never seen a bison before, here's your chance. In 2011, a herd of 80 bison were released to roam 700 acres in the park, and visitors are welcome to view the animals from a safe distance.
Colorado Bend State Park
Bend, TX 76824
Distance from San Antonio: 145 miles, 2.5 hours
Outdoor enthusiasts will be pleased to know that Colorado Bend State Park offers a plethora of things to do. From cave tours to kayaking the Colorado River, you'll find plenty of ways to keep yourself busy.
El Cosmico
802 S. Highland Ave., Marfa, TX
Distance from San Antonio: 404 miles, 5.5 hours
It's hard to ignore how trendy Marfa has become in recent years, but all that hype has to be for something, right? The "nomadic hotel and campground" has picture-perfect trailers, teepees, tents and a 22-ft. yurt that screams luxury camping. So if you're looking for a campground that isn't necessarily away from it all or one that will look good on Instagram, El Cosmico is for you.
Possum Kingdom State Park
3901 St Park Rd 33, Caddo, TX 76429
Distance from San Antonio: 286 miles, 5 hours
If you get your kicks from being on the water, you'll find that Possum Kingdom does not disappoint. Swim, boat or dive into Possum Kingdom Lake (because it's Texas and cold weather is nowhere near), or take in over 300 miles of shoreline views. For campers who aren't totally into the whole sleeping-outside thing, cabins that include A/C units, kitchen appliances, outdoor grills and beds are available.
Hueco Tanks State Park & Historic Site
El Paso, Texas
Distance from San Antonio: 555 miles, 8 hours
This desert sanctuary is a rock-climber's paradise. Choose from self-guided climbs or go with a pro through the park's designated climbing spots. And for history buffs, there are plenty of pictographs and petroglyphs to see that date back more than 1,500 years. Tours, available upon request Wednesday-Sunday, are offered for three different routes, ranging in difficulty.
Pedernales Falls State Park
2585 Park Road 6026, Johnson City, TX 78636
Distance from San Antonio: 75 miles, 2 hours
If you don't have too much time to get away but want to take in the all foliage, Pedernales Falls State Park is only two hours from San Antonio and offers a great taste of the scenic Hill Country. Choose from half-mile, six and 10-mile hikes or go horseback riding on 10 miles of rugged trail (horses welcome, but not provided). Hike into a primitive camp spot or take it easy at the park's campsites that come with electricity and water.
Big Bend National Park
Big Bend National Park, TX
Distance from San Antonio:410 miles, 5.5 hours
What is there to say about Big Bend that hasn't been said before? The national park was rated one of the top 20 Best Hikes in National Parks by National Geographic, putting it on the top of our camping bucket list. Situated at the northern end of the Chihuahuan desert, prepare for long nights of stargazing, mesmerizing views and plenty of terrain to cover.
Inks Lake State Park
3630 Park Rd 4 W, Burnet, TX 78611
Distance from San Antonio: 106 miles, 2 hours
An hour Northwest of Austin lies a Hill Country gem that offers nine miles of hiking trails through forests and rocky hills. With nearly 200 campsites and 22 cabins, Inks Lake State Park is an ideal spot for camping with friends and family. Because the lake's level stays pretty consistent year-round, campers can rent kayaks, canoes or paddle boats during their stay.
Palo Duro Canyon State Park
11450 Park Road 5, Canyon, TX 79015
Distance from San Antonio: 500 miles, 7.5 hours
We recommend you place Palo Duro Canyon towards the top of your camping "must sees" lists, and if you've been to the state park before, you know exactly why. Located in the Panhandle, Palo Duro is the second-largest canyon in the United States and is an impressive 70 miles long. A hike to the the Lighthouse, a truly unique rock formation at the edge of an eroded cliff, will make the 7.5-hour drive completely worth it.